Three outstanding alumni Dr. Fredric Mao Chun-fai, BBS, Dr. Alfred Cheung Kin-ting and Miss Becky Lee marched in glamorously with rounds of applause from the audience after a stunning opening video was shown at the Alumni Sharing Forum – Make Arts and Culture a Glamorous Career held in the evening of 7 October 2014. Being the first one in the academic year 2014/15, the Alumni Sharing Forum was a great success which attracted over 220 students, alumni, staff and University senior management including Chairman of the Council and the Court of HKBU Mr. Cheng Yan-kee, President and Vice-Chancellor Prof. Albert S.C. Chan and Chairman of the Alumni Committee of HKBU Foundation alumnus William Leung, BBS, JP, to name but a few.

All being alumni of the Faculty of Arts, these celebrity alumni captured the attention of the audience with their practical experience on stage, in arts and culture and in life. Theatre maestro Dr. Fredric Mao, BBS, shared his passion for theatrical production since his youth and how he realised his dream career by working hard and making sacrifice. Well-known film director Dr. Alfred Cheung shared his belief in legacy to the next generation which motivates him to make films and write books and columns. Multi-talented artist Miss Becky Lee shared her challenges and opportunities she encountered in her entertainment career.

The Forum was also honoured to have Executive Associate Dean of Graduate School Prof. Eva Man Kit-wah as moderator for the panel discussion whereby participants asked questions proactively. All three speakers think that there is no windfall success. It takes time, hard work, trial and error as well as life-long learning to climb up a career ladder. When one has a dream and a firm belief, only the sky is the limit.

To know more about the insights shared by the speakers at the Forum, please click to read People . Wisdom of this issue of BUddy Post.

To know more about the Forum, please visit Alumni Affairs Office website.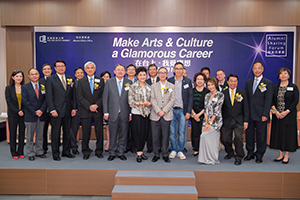 Senior Management of the University pose for a group photo with alumni speakers at the Forum
(Front row from left) Director of Alumni Affairs Dr. Melanie Lee, Associate Vice-President Prof. Ricky Wong, Chairman of Alumni Committee of HKBU Foundation Mr. William Leung, BBS, JP, Associate Vice-President Prof. Frank Fu, Chairman of the Council and the Court Mr. Cheng Yan-kee, Mrs. Amy Mao, Dr. Fredric Mao, BBS, Dr. Alfred Cheung, Miss Becky Lee, President and Vice-Chancellor Prof. Albert S.C. Chan, Vice-President (Administration) and Secretary Mr. Andy Lee and Executive Associate Dean of Graduate School Prof. Eva Man kit-wah
(Back row from left) Director of Finance Mr. Edmund Li, Director of International Office Mr. Peter Li, Director of Communication and Public Relations Ms. Rowena Li, Academic Registrar Dr. So Kwok Sang, Honorary University Fellow alumnus James Tsien, Associate Dean of Faculty of Arts Prof. Chow Kwok-ching, Head of Department of Chinese Language and Literature Dr. Lo Ming-tung and Head of English Language and Literature Prof. Stuart Christie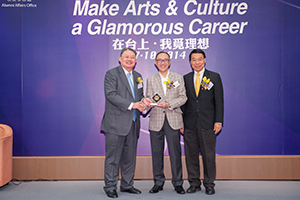 Chairman of the Council and the Court Mr. Cheng Yan-kee (left) and President and Vice-Chancellor Prof. Albert S.C. Chan present souvenir to Dr. Fredric Mao, BBS (centre)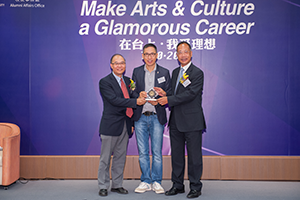 Vice-President (Administration) and Secretary Mr. Andy Lee (right ) and Associate Vice-President Prof. Ricky Wong present souvenir to Dr. Alfred Cheung (centre)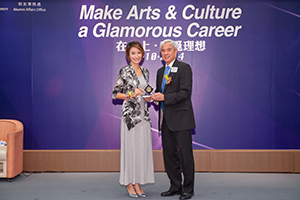 Associate Vice-President Prof. Frank Fu presents souvenir to Miss Becky Lee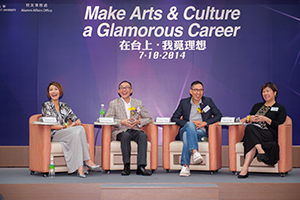 Executive Associate Dean of Graduate School Prof. Eva Man Kit-wah (right) chairs at the panel discussion