The BUddy Post has captured the highlights of the Alumni Sharing Forum – Make Arts and Culture a Glamorous Career held on 7 October 2014. At the forum, three outstanding alumni Dr. Fredric Mao Chun-fai, BBS, Dr. Alfred Cheung Kin-ting and Miss Becky Lee shared their wisdom and insights of developing their career in arts and culture.

They marched in glamorously with rounds of applause from the audience after a stunning opening video was shown. All being alumni of the Faculty of Arts, these celebrity alumni captured the attention of over 220 audience with their practical experience on stage, in arts and culture and in life.

Being passionate in theatre production since he was young, alumnus Dr. Mao realised his dream career in theatre through firm belief and hard work throughout the years. Back in the 70's when Dr. Mao was a college student, theatre production was a discipline that was almost never heard about in Hong Kong. His passion for theatrical production motivated him to cherish his dream study, and later on, pursued his career in the United States. He never regretted his choice and gained practical experience in theatrical production step by step. Today, Dr. Mao is a renowned and highly respected artist not just in theatre, but also in Cantonese Opera and Xiqu. His tip of success is " be prepared to make sacrifice if you want to make your dreams come true". Currently, he has taken up the position as the Chair of the School of Chinese Opera at the Hong Kong Academy for Performing Arts and is promoting Xiqu to the young generation through education.

As a reputable film director, alumnus Dr. Cheung shared with the audience that when he first started writing scripts and making films, he was just considering it as a way of making a living. That's why he directed a series of Her Fatal Ways which was a smashing box-office success. However, his talent was not restricted to films. He also runs restaurants from which he understands the training needs of front-line staff and applies the dramatic theories in acting to corporate trainings, which is another line of business that he is running. But among his diversified profiles, his favorite career is still making films and writing as they are where legacy begins and are something that can be passed onto generations to come.

Last but not the least, alumna Miss Becky Lee shared that her fondness of music took root when she was a child. She was thankful that the music and vocal training she received at HKBU has given her a solid foundation in vocal performance and facilitated her career development later on. She also shared her struggles between choosing a modeling and a singing career and the tough moments she experienced when she could not act to the satisfaction of director in TV drama. Yet, she overcame the difficult moments by reflecting on herself and learning from others. She also remarked that perseverance is the only way that leads to success.

The Forum was also honoured to have Executive Associate Dean of Graduate School Prof. Eva Man Kit-wah as moderator for the panel discussion whereby participants asked questions proactively. All three speakers think that there is no windfall success. It takes time, hard work, trial and error as well as life-long learning to climb up a career ladder. When one has a dream and a firm belief, only the sky is the limit.

To veiw more photos, please visit Alumni Affairs Office website.

Speakers' Profiles:
Alumnus Dr. Fredric Mao Chun-fai, BBS (English Language & Literature)
Alumnus Dr. Mao obtained his Master of Fine Arts degree in Theatre Arts from the University of Iowa after graduating from HKBU. He has received numerous awards including the "Best Director" title at the Hong Kong Drama Awards from the Hong Kong Federation of Drama Societies for five times and "Artist of the Year" from the Hong Kong Artists Guild. He was awarded the Honorary University Fellowship by the Hong Kong Baptist University in 2007 and Honorary Doctorate by the Hong Kong Academy of Performing Arts in 2014. He is the Chair of the School of Chinese Opera of The Hong Kong Academy of Performing Arts.

Alumnus Dr. Alfred Cheung Kin-ting (Chinese Language & Literature)
Alumnus Dr. Cheung started his showbiz career in 1980s and has participated in over 80 films as producer, director, scriptwriter and actor. He won the "Best Screenplay" at the Hong Kong Film Awards in 1982 and 1984 with movies The Story of Woo Viet and Let's Make Laugh respectively. Since 1990s, he has actively involved in different mass media.

Alumna Becky Lee (Music)
Alumna Lee started playing piano at the age of 6 and has received professional vocal training since 1995. She has extensive experience in stage performance and has won numerous awards. Her debut performance of "Think of Me" on "The Voice of the Stars" on TVB Jade marked a smashing success.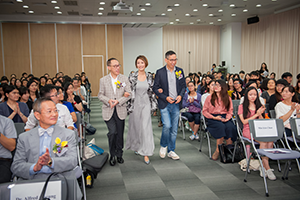 Alumni speakers Dr. Fredric Mao, BBS, Miss Becky Lee and Dr. Alfred Cheung march in the Forum venue in rounds of applause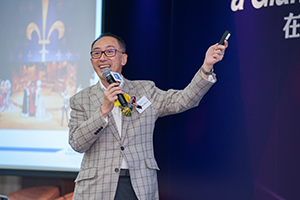 Dr. Fredric Mao, BBS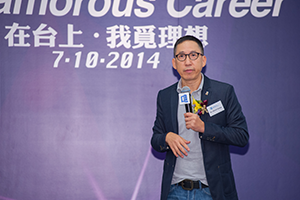 Dr. Alfred Cheung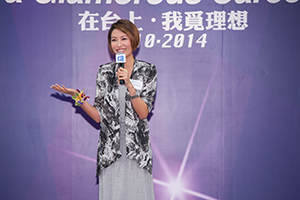 Miss Becky Lee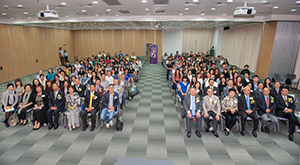 The Forum attracts over 220 audience