Hong Kong Baptist University held its Inauguration Ceremony of Endowed Chairs 2017 on 1 November to present three newly appointed Endowed Chairs. Endowed Professorship is a privileged honour bestowed upon the University's distinguished academics. Among others, supporters of Dr. Mok Man Hung Endowed Chair, alumni Delia Chan (Secretarial Management / Chinese Medicine) and Mok Sin-hing (Chemistry), attended the Ceremony.

Dr Mok Man Hung (1943 – 2015) served the University for 32 years in his various capacities as Vice-President (Administration) and Council Secretary, Dean of the Faculty of Science and Head of the Department of Chemistry. His contributions, especially his role in helping the College transform to University, and the dedicated service he rendered to HKBU, gained widespread recognition and respect throughout the University community. To acknowledge Dr Mok's immense contribution and to continue his vision of promoting the sustainable research development of the University, Baptist Chemists, the HKBU alumni association of Chemistry, established an Endowed Chair of Chemistry in the name of the late Dr. Mok Man Hung with the support from alumni of chemistry. The University also hopes that this Endowed Chair will enhance its academic standard and status by recruiting and retaining world-class scholars in Chemistry.

The appointment of this Endowed Chair would be announced at a later stage.

We sincerely invite you to participate in this meaningful project through your support to your alma mater and partner with the University to advance the frontiers of knowledge for the benefits of the wider community.

Please click here to learn more about or to support the Dr. Mok Man Hung Endowed Chair of Chemistry.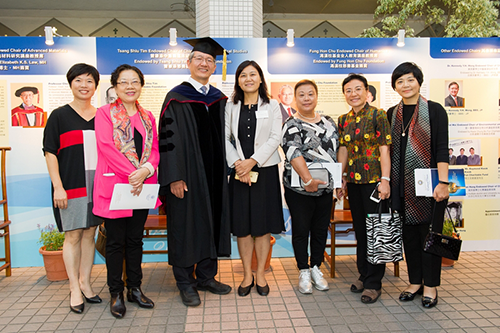 Alumna Delia Chan (third from right) takes photo with Associate Vice-President (Chinese Medicine Development) Prof. Bian Zhaoxiang (third from left) and staff from School of Chinese Medicine.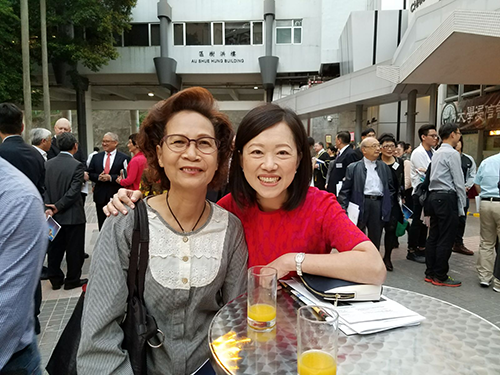 Alumna Mok Sin-hing (left), sister of the late Dr. Mok Man-hung, attends the Ceremony and poses with Director of Alumni Affairs Dr. Melanie Lee.