The Department of History and the Alumni Affairs Office jointly organised a distinguished lecture on 14 November with Prof. William C Kirby, T M Chang Professor of China Studies at Harvard University and Spangler Family Professor of Business Administration at Harvard Business School in the US and this year's recipient of HKBU's Doctor of Humanities, honoris causa, speaking on "A Chinese Century? Infrastructure, Entrepreneurship and Education in the 21st Century". The Lecture attracted a full house of 400 audience.

At the lecture, Prof. Kirby presented a series of Harvard Business School cases and analyzed China's capacity in leading the world in the new era. The lecture was concluded by a panel discussion moderated by Prof. Clayton MacKenzie, Provost of HKBU, with Prof. Kirby together with Prof. John Carroll, Associate Dean (Outreach) of Faculty of Arts, HKU, and Prof. Ting Wai, Professor of Department of Government and International Studies, HKBU as panel members.

On the same day, President Chin hosted a dinner in honour of Prof. and Mrs. Kirby at his residence, Shiu Pong Hall. The dinner was attended by the panel members of the Lecture and senior management of the University who exchanged further views and collaboration opportunities.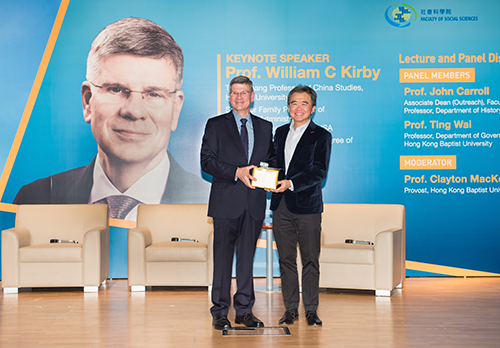 President Chin presents souvenir to Prof. Kirby.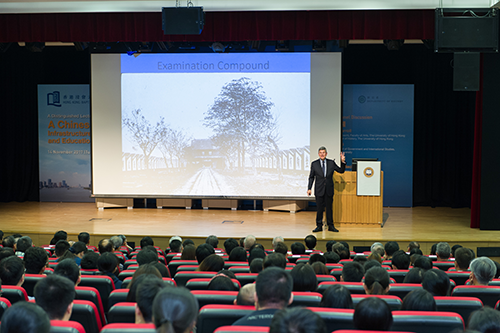 A full house of audience listen attentively to Prof. Kirby's lecture.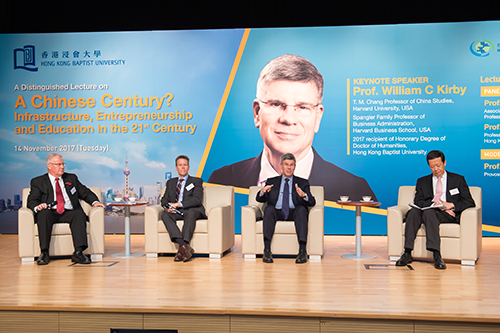 Members of the panel discussion share their views on the China's capacity to lead the world.
(From left) Prof. Clayton MacKenzie, Prof. John Carroll, Prof. William Kirby and Prof. Ting Wai.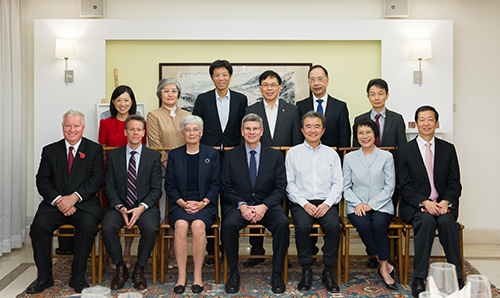 A post-lecture dinner is hosted by President Chin at his residence Shiu Pong Hall.