On 23 October, Hong Kong Baptist University welcomed Prof. Robert Sumner, Associate Director of Disney Research Zurich and Founder of the ETH Zurich Game Technology Center, who elaborated on the correlations between art and technology at the public lecture "Augmented Reality, Creativity and the Arts", one of the highlights among the series of Zurich meets Hong Kong – A Festival Of Two Cities events.

The lecture began with an introduction of augmented reality by Dr. Bryan Chung Wai Ching, Associate Professor of the Academy of Visual Arts, HKBU. He contrasted the concepts of augmented reality (AR) and virtual reality (VR) by using various examples in creative arts. The interactive media expert also made a comparison between scenes of two well-known movies Minority Report and Disclosure to depict the contrasting idea of AR and VR – one being the "integration of the reality" and another being the "separation of the reality" – arousing much interests from the audience.

Through identifying different types of AR, namely "Marker-based AR", "Markerless AR", "Spatial Environment AR", "Body-based AR" and "Location-based AR", Dr. Chung also illustrated AR applications in real life to showcase the latest trend of AR technology.

Central to the lecture was the presentation by Prof. Robert Sumner who spoke on the interplay between art and technology. To him, game is a mixture of art, creativity, science and technology, and also a fascinating area which has inspired him to join ETH Zurich years ago to discover the way games and game technology has helped educate students.

In his illustrations, Prof. Sumner saw game world as a microcosm of humanity, as it helped reflect human behaviour - how people played the game and how people interacted with each other in the gaming world has given much insights on understanding mankind. As the founder of the ETH Zurich Game Technology Center, Prof. Sumner shared his research on the location-based AR game Gnome Trader, a resource trading game that used newspaper boxes in Zurich as game play locations. His live demonstration of this AR application demonstrated how we could use technology and gaming.

The captivating lecture by Prof. Sumner was then followed by a panel discussion moderated by Dr. Albert Chau, Vice-President (Teaching and Learning), HKBU. Panel member Prof. Emilie Yeh, Lam Wong Yiu Wah Chair Professor of Visual Studies, Department of Visual Studies, Lingnan University and Professor of the Academy of Film, HKBU, appreciated that AR and VR helped amplify our visual sense in film making and extend cinema space from traditional physical locations to imaginary hyperreal settings.

Also sitting at the panel, Peter Benz, Acting Director and Associate Professor of the Academy of Visual Arts, HKBU argued that creativity was not just about initiating something new, but producing something valuable. Given this, the value and effectiveness of AR as a tool to generate creativity should be evaluated.

Prof Sumner reckoned that there was no inherent conflict between creativity and the use of technology in traditional creative activities. He saw the unique potential of augmented reality to improve human interaction with the world and was confident that game technology could benefit mankind in overcoming some physical restrictions. He concluded that the use of AR and VR technology had a huge potential to allow people to experience new things without locational and spatial barriers.

It is inspiring to know the profound possibilities of using AR technology to stimulate creativity. The public lecture has offered much insight to the artists and designers, media and arts professionals, educationists, museum specialists, HKBU alumni, students and staff, as well as senior management of the University who attended.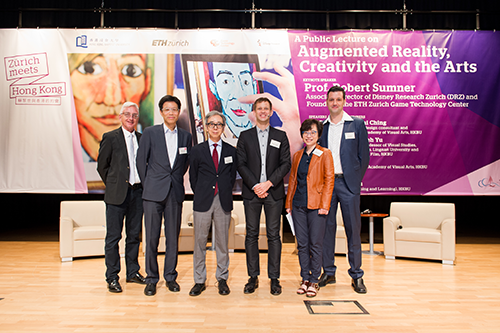 (From left) Prof. Hans Werner Hess, Dr. Albert Chau, Dr. Bryan Chung, Prof. Robert Sumner, Prof. Emilie Yeh and Mr. Peter Benz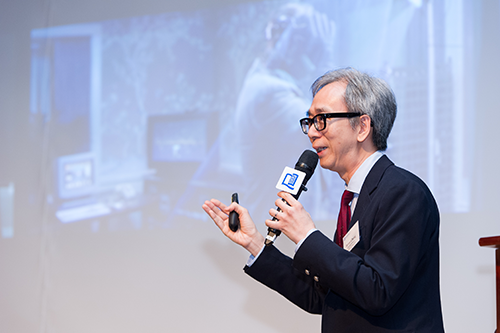 Dr. Bryan Chung contrasts the concepts of augmented reality (AR) and virtual reality (VR) by using various examples in the creative arts.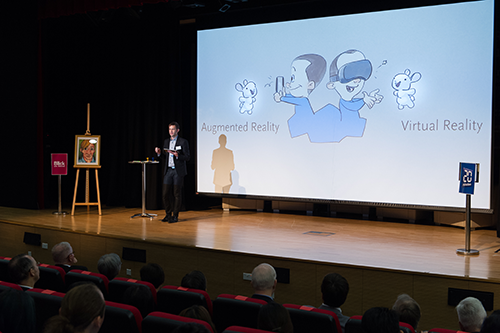 Prof. Robert Sumner demonstrates new ways for children to interact creatively with the world using AR technology.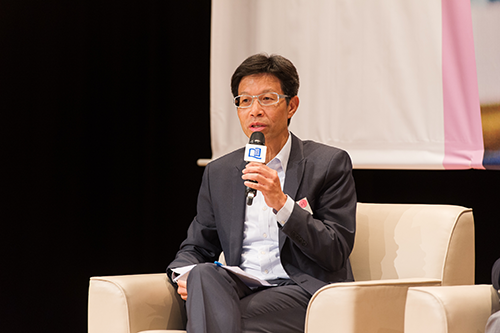 Dr. Albert Chau is the moderator of the panel discussion.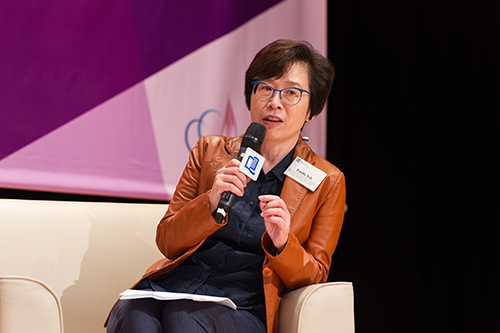 Prof. Emilie Yeh shares her views on application of AR and VR at the panel discussion.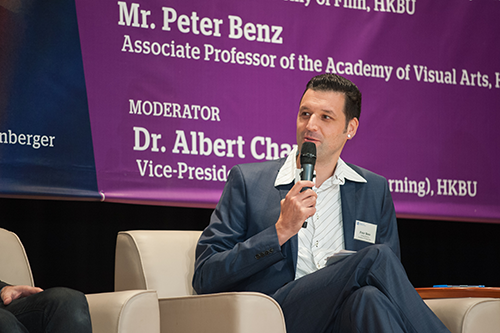 One of the panelists Peter Benz argues against the use of AR to generate creativity