Facilitated by Alumni Affairs Office, alumnus Ralph Szeto (Humanities; Communication), Director of MuseLife and 2Likes; Co-Founder of CMRS Group; Chairman of Hong Kong Association of Interactive Marketing (HKAIM); and Recipient of "The Distinguished Communication Alumni" award from the School of Communication at HKBU, served as moderator of the SEED Talk held on 26 January, entitled "How to Enhance Competitiveness of University Students in Current Global Situation?" The speaker, Mr. Joseph Ngai, Managing Partner of McKinsey Greater China, shared with students how technology changes the corporate culture and needs globally, and gave advice to students on how they could enhance their competitiveness in light of the technological development. In addition to playing the role of a moderator, alumnus Szeto, an advertising guru, also shared with students his experience and insight in the advertising field at the Q&A session. He also encouraged young people to enrich their own portfolio by grasping various opportunities to learn.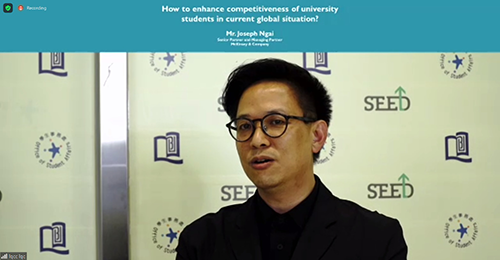 Moderator alumnus Ralph Szeto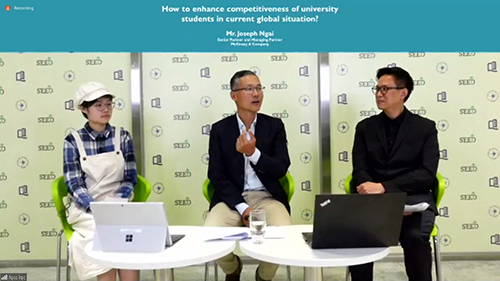 (From left) Student representative, speaker Mr. Joseph Ngai and alumnus Ralph Szeto.