In response to the initiative of HKBU Century Club to provide annual scholarships to HKBU students, alumni Kent Tsui (Communication), President of the Club; Esther Wong (Social Work; Geography), Patron and Vice-President of the Club; Dr. Helen Kwok (Communication), Secretary of the Club; and Stephen Tang (Business Management), Club member jointly donated a total of HK$30,000 to support the funding of three scholarships in the academic year 2020-21. Due to the suspension of exchange programmes during the COVID-19 pandemic, one of the scholarships, which has been designated to support students for joining an exchange programme overseas, has been carried forward to the next academic year.

On 4 February, alumni Kent Tsui and Esther Wong had a meeting with the scholarship recipients through video conference. During the meeting, they introduced to the students the vision and mission of the Club and encouraged them to make contribution to the University in the future. Students also shared with alumni Tsui and Wong on how the scholarships could support their studies.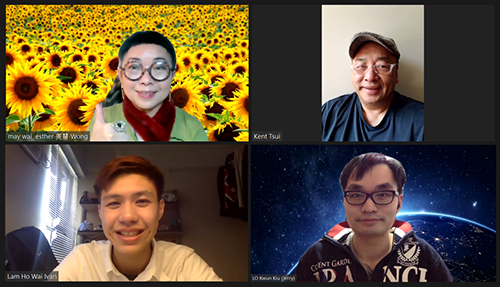 (Clockwise from left top) Alumni Esther Wong and Kent Tsui with scholarship recipients Mr. Lo Kwun-kiu and Mr. Lam Ho-wai.