Win Today's Battle Regardless of the Starting Line





An Interview with Alumnus Philip Kan



From a bank senior executive to the founder of an investment firm, alumnus Philip Kan not only excels in the financial and IT fields but has also brought about epoch-making changes in the financial services sector. He has a word of wisdom to the young people: the key to the future we hold in our hands is Hope. He also encourages young alumni not to pay too much emphasis on the starting line but always keep an open mind. "Devote yourself to your work and you will gradually be recognised."

Be Innovative and Embrace Technological Change

When working in the banking sector, alumnus Kan already showed great foresight in his work. He utilised technology to innovate and bring about changes that defied established rules and standards. To name the most outstanding achievement, it would surely be the technological transformation of banking services through the introduction of computer system at the First Pacific Bank (FPB) branches especially the Windows NT software. This move was an unprecedented breakthrough in the banking industry, enhancing the efficiency of work and providing a brand new customer experience. During his days at HSBC, he further advanced the bank's modus operandi by initiating the bank book updating machine. Alumnus Kan well acknowledges the importance of embracing new technology in the commercial world amidst fierce competition. He most recently moved with the times and joined, in the age of Big Data, the Board of Directors of iClick Interactive Asia Group Limited, an independent online marketing and enterprise data solution provider. Alumnus Kan said, "Successful ibankers have to stay one step ahead of their competitors. They should also have the foresight of making good use of technology to propel the development of their companies." As to how "insight" and "foresight" be nurtured, Alumnus Kan paid tribute to the Whole Person Education (WPE) of HKBU, regarding it as the driving force of his success.

Whole Person Education - a life-long blessing

When Alumnus Kan was taking the course "Music Appreciation" under the HKBU General Education (GE) Programme, the lecturer Professor Stanley Cheng introduced to the class the way to appreciate music in three levels, which is to listen attentively with your ears, with your heart and then with your mind. Grasping the rhythm and melody of music is the first step. Using your heart to appreciate music and relate it to personal experience leads to a higher level of exquisiteness. Only when you start to appreciate and analyse music with your heart would you be able to cherish music, the instruments at play, its historical background, the composer's background and feelings, and the embedded message. This GE course has had a profound impact on alumnus Kan throughout his career as he applies these three steps in analysing the needs of his clients, which have led him to great success.

Forging the "Alumni Ecosystem" with Thankful Heart

Alumnus Kan is forever grateful to HKBU. He proclaimed that he has gained a lot from his alma mater, therefore he has tried his best to contribute to HKBU. He realised the power of unity in this endeavor and, to that end, tried his best to forge the "Alumni Ecosystem", as a close-knit alumni support network. Alumnus Kan gave his staunch support to the BUhub, an innovative and interactive online platform that connects students, alumni, faculty and staff. Additionally, this platform serves the function of job-matching, job seeking, career advising and mentorship for students and graduates. It also fosters and incubates entrepreneurial ventures through resources support and collaboration within the HKBU community. Alumnus Kan hopes that the platform could complement face-to-face interaction and help consolidate the bonding and cohesiveness among alumni, thus further expanding the HKBU community.

"King of Public Services"

Alumnus Kan has not only achieved spectacular success in business, he has at the same time spent a lot of time on public services, which earned him the nickname "King of Public Services" as he served altogether 16 public offices in the past. He was listed in the Who's Who in this regard. Alumnus Kan's mission to serve the society stems from a thankful heart. He believes that life is actually running like a business cycle, and he quoted the Chinese saying "we should cultivate ourselves, regulate the family, then govern the state, ultimately head for achieving universal peace" to illustrate his point. To him, "leading the world to peace" means giving back to society, the nation and then all mankind at large. A fulfilled life is like "closing a business deal" which may even lead to dividend payment (both to yourself and to society). Alumnus Kan feels that he has been benefited a lot from his family, the University and the society. When the opportunity of giving back to the community arises, he is most willing to make his utmost contribution to society. He was the Past President of HKBU Alumni Association and currently serves as Vice-President of HKBU Century Club. He has also served on numerous statutory bodies, including member of the Town Planning Board and its Rural and New Town Planning Committee, member of the Disciplinary Panel of the Hong Kong Institute of Certified Public Accountants, member of the Board of Management of the Chinese Permanent Cemeteries and Trustee of The Hong Kong Jockey Club Music and Dance Fund, etc. He said confidently that time management is not a challenge to him. The key is to seamlessly blend work and life together. Alumnus Kan finds that the more public services he takes up, the effort that he spends increases to a lesser extent, because one can serve multiple roles as each of which complementing one another.

The Secret of Success

In over forty years of his career, alumnus Kan has got involved in management, banking, finance, capital market, information technology and risk management, etc. The key to excel in various sectors is perseverance and meticulousness. He has never been selective to any task assigned. When he first joined a foreign bank in Hong Kong, all the comparatively favorable tasks were assigned to expatriates. As a fresh graduate from HKBU, he was only assigned to those that no one else would like to take up. He was responsible for analysing the work flow and business process of the bank and quantify the procedures in terms of monetary value, thereby helping to streamline and re-engineer the work flow. His work was like an internal consultant of the bank. Because of the experience gained in these tasks, alumnus Kan was given opportunities to negotiate with various clients directly in his early 20s, including CEOs of large public entities, for the purpose of streamlining work process or reducing cost. The experience has indeed widened his horizon and helped him to be a well-rounded executive. Alumnus Kan reminded us that willing to go the extra mile and giving meticulous attention to detail are essential steps to success. He and his team would like to develop a red-colour bank passbook that is both waterproof and heat resistant to allow workers to put it inside the trouser pocket for updating their bank accounts during lunch hour. You can hardly imagine that in order to test the efficacy of the heat- and moisture-resistant features of the bank passbook, he and his team would even put the "red book" into the microwave oven from different angles, and tested out its durability for quality assurance. Success indeed never comes from luck. Nowadays both the economy and the job market are on the downturn, and many find themselves in unbearably severe conditions. He encourages young people not to mind the starting point. "You must have hope. When you have hope you will grasp your future!"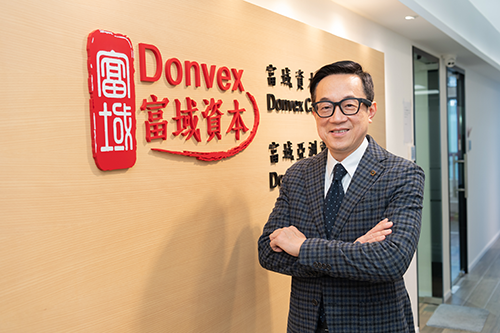 Alumnus Philip Kan set up with friends the Donvex Asia Capital Limited in 2009.

Alumnus Kan appointed member of the Board of Directors of iClick Interactive Asia Group Limited.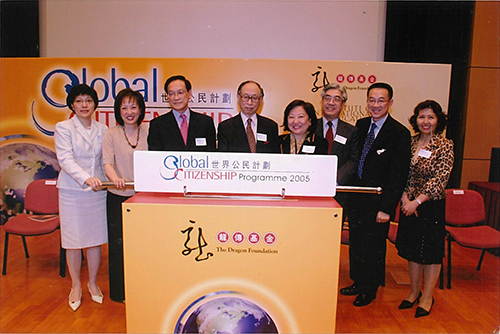 Alumnus Kan (second from right) served as a member of the Board of Directors of The Dragon Foundation in 2005-2006, an organization that is committed to nurturing young people worldwide as leaders of tomorrow.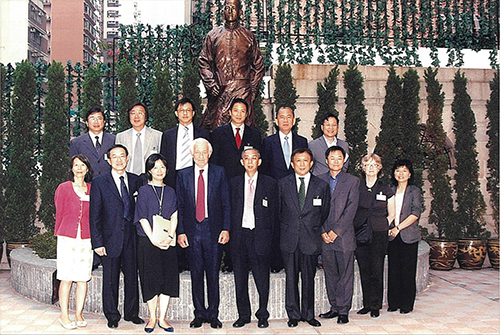 As a member of Board of Trustees of the Lord Wilson Heritage Trust, alumnus Kan (front row; second from left) poses for a photo with Lord Wilson of Tillyorn (front row; fourth from left).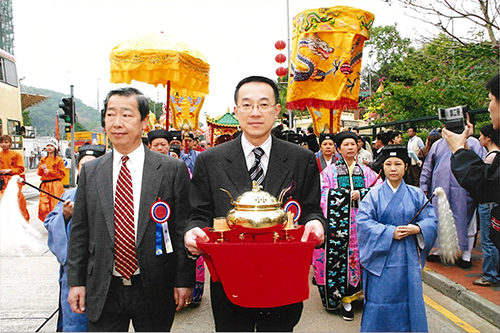 A photo taken at the Temple Renovation Ceremony of Hau Wong Temple located at the Kowloon City when alumnus Kan (right) was a member of the Chinese Temples Committee.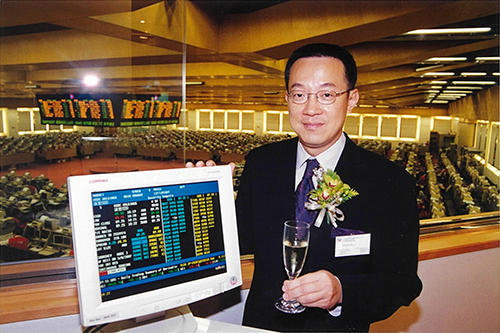 Alumnus Kan has a successful track record of arranging numerous companies listed in Hong Kong.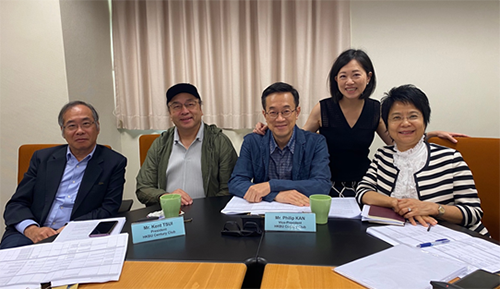 HKBU Century Club Vice-President alumnus Philip Kan (third from left) chaired the judging panel meeting of the Club's Sponsorship Scheme 2020.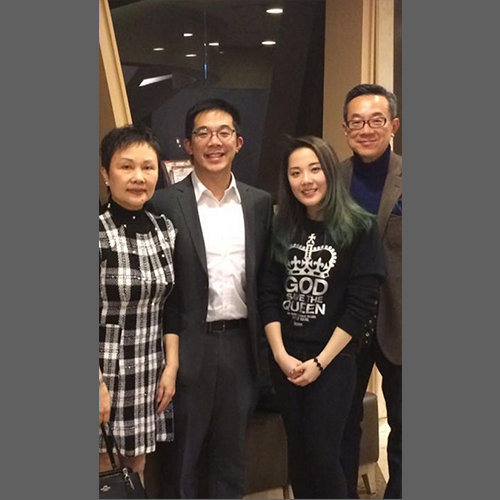 A happy family of alumnus Kan.