HKBU held The Second Distinguished Alumni Award Presentation Ceremony at the University Founders' Day Reception on 27 March 2015 to give recognition to four distinguished alumni for their outstanding professional or scholastic achievements and remarkable contributions made to the University and the society.

When delivering his welcoming remarks, Mr. Cheng Yan-kee, Chairman of the Council and the Court, led the audience to give a big round of applause to the Award recipients, Dr. Chiu Chun-bong (alumnus of Business Management), Dr. Justin Chiu Kwok-hung (alumnus of Sociology), Dr. Matthew Lui Yue-chun (alumnus of Religion and Philosophy) and Prof. Mark Kai-keung (alumnus of Mathematics and Science) who truly exemplify Whole Person Education for the alma mater, and make achievements and success that reflect HKBU's educational philosophy.

A tailor-made video highlighting the Award background, success and sharing of the Award recipients was showcased to kick-start the presentation ceremony, after which Mr. Cheng Yan-kee, Chairman of the Council and the Court, and Prof. Albert S.C. Chan, President and Vice-Chancellor, jointly presented the award certificates and shiny A-shaped trophies to the recipients one by one.

Prof. Albert Chan also delivered his Vote of Thanks after the ceremony and expressed his gratitude to members of the Selection Committee and nominators for their keen support and participation in this meaningful project.

Please click here to view the snapshots of the award presentation.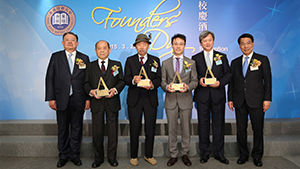 The Award recipients (2nd - 5th from left) Dr. Chiu Chun-bong, Prof. Mark Kai-keung, Dr. Matthew Lui Yue-chun and Dr. Justin Chiu Kwok-hung pose for a group photo with Chairman of the Council and the Court Mr. Cheng Yan-kee (left) and President and Vice-Chancellor Prof. Albert S.C. Chan (right) at the Award Presentation Ceremony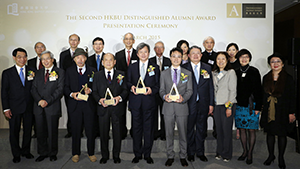 A group photo by the Award recipients, honourable guests and University's management.
(Back row from left) Associate Vice-President Prof. Ricky Wong, Associate Vice-President Prof. Huang Yu, Vice-President (Research & Development) Prof. Rick Wong, Vice-President (Academic) Prof. Franklin Luk, Selection Committee members Dr. Cecil Chan and Mrs. Christine Ip, Associate Vice-President Prof. Frank Fu and Director of Alumni Affairs Dr. Melanie Lee
(Front row from left) President and Vice-Chancellor Prof. Albert S.C. Chan, Guest of Honour Steward of Hong Kong Jockey Club Dr. Eric Li, Award recipients Prof. Mark Kai-keung, Dr. Chiu Chun-bong, Dr. Justin Chiu and Dr. Matthew Lui, Chairman of the Council and the Court Mr. Cheng Yan-kee, Mrs. Omelia Li, Deputy Chairman of the Council and the Court Mrs. Pamela Chan and Treasurer of the Council and the Court Mrs. Doreen Chan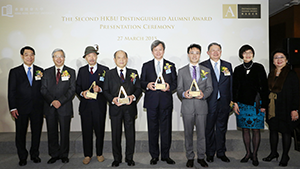 The Award recipients (3rd - 6th from left) Prof. Mark Kai-keung, Dr. Chiu Chun-bong, Dr. Justin Chiu Kwok-hung and Dr. Matthew Lui Yue-chun take a group photo with Guest of Honour Steward of Hong Kong Jockey Club Dr. Eric Li Ka-cheung (2nd from left), Chairman of the Council and the Court Mr. Cheng Yan-kee (3rd from right), Deputy Chairman of the Council and the Court Mrs. Pamela Chan (2nd from right), Treasurer of the Council and the Court Mrs. Doreen Chan (right) and President and Vice-Chancellor Prof. Albert S.C. Chan (left)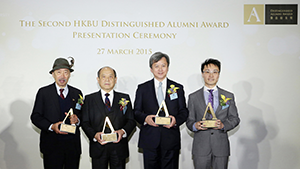 The four Award recipients (from left) Prof. Mark Kai-keung, Dr. Chiu Chun-bong, Dr. Justin Chiu Kwok-hung and Dr. Matthew Lui Yue-chun take a group photo with the shiny A-shaped trophies