Many people think that the work of a civil servant is relatively monotonous and lack of challenges. But with increasing expectation from the general public, is it still true?

Alumni Affairs Office held the Alumni Sharing Forum " My Days as a Civil Servant" on 9 February 2015 with 3 alumni namely Yolanda Tong Lee Yan-yan (Sociology/Physical Education), Jenny Wong Siu-ling (Business Management) and Rebecca Chan Hoi-yan (Communication) sharing the joy and challenges in serving the public.

Graduated from the Department of Sociology and attained a master's degree in Social Sciences majoring in Sport and Leisure Management, Alumna Yolanda Tong has served in the government for 32 years and is currently Chief Leisure Manager of Home Affairs Bureau. She shared that there were different development stages in her career. She started off as a junior in 1982 and spent quite some time in understanding the operation of the government before identifying the areas for her own development. Back then, it was her wish to promote ping pong to children but the height of the ping pong table had been an obstacle. She therefore took the initiative of bringing in height-adjustable ping pong tables and succeeded in promoting the sports to different age groups.

She was then responsible for promoting sports in 18 districts of Hong Kong and launched the "Quali-Walk Scheme" after connecting with different sports associations. Nowadays, the scheme is still running and well-received by the public, which gives her a lot of satisfaction. She also mentioned that the hygiene condition of the swimming pools had called for grave concern a couple of years ago. Against that background, she developed the pledge to keep the swimming pools clean, designed course materials for primary and secondary students and produced promotional video featuring the local cartoon figure McDull to raise public's awareness of swimming pool hygiene. Looking at these examples, who would say that creativity is not required for civil service job?

Yolanda then moved on to help coordinating the Beijing Olympics and the Paralympics events held in Hong Kong as well as the East Asian Games 2009, which required meticulous planning to ensure that all the matches could be held on time and without hiccups. With careful planning, all the matches went smoothly, which brought her a lot of pleasure.

Nowadays, Yolanda still enjoys her role in formulating sports policies and organising large-scale sports and recreational events. She advised students to spend time in understanding the culture of the organisation they work in and to find out in what areas they can do well. Most important of all, they should have passion and contributions in their work.

Alumna Jenny Wong graduated from Business Administration and is currently Head of Marketing Division of Intellectual Property Department (IPD). Prior to joining the government, she gained substantial marketing experience in publishing, exhibitions and Hong Kong Chamber of Commerce. She joined IPD in 2002 and has been responsible for producing promotional videos, organising seminars, launching service schemes, assisting companies to manage intellectual property rights and attending APEC and professional meetings. The types of work just listed are the best proof that a civil servant needs to be equipped with multiple skill sets. To promote the protection of intellectual property rights, she had organized a concert for 6700 audience. "It is pretty challenging when you needed to ensure 80-90% attendance," said Jenny. She also had the experience of rolling out projects under tight resources. For example, she organised a parade with dancers in one month's time and did the shooting of celebrities including Jackie Chan and Arnold Schwarzenegger for the promotional video in Hollywood. The video was ultimately aired in 50 countries/regions for free, thus saving government's resources while getting positive promotional impacts. In fact, the No Fakes Pledge was very successful in terms of the number of shops engaged, which rose from a few in 2002 to over 6,000 nowadays. Jenny shared that a civil servant needs to have 3 "Highs" i.e. high level of creativity, highly motivated and high value of existence.

Graduated from the Department of Journalism and holding a Master of Social Sciences Degree in Media Management, Alumna Rebecca Chan was a news anchor and editor prior to her current position of Political Assistant to the Secretary for Food and Health. She shared that she thought she would work in the media industry for the rest of her life, if not for Dr. Ko Wing-man's invitation to her to join the government. From then on, her role changed from scrutinizing the government to "being scrutinized".

She recalled that when she was in the media industry, she, as a reporter, had much discretion in writing in the angles she wanted. Therefore, it took her quite some time to adapt to the government system including acronyms of official titles like PA which stands for Political Assistant and DF stands for Director of Food. Apart from complying with the codes of conducts of civil servants, she also needs to strictly observe the guidelines set out for accountable officials. In fact, being a Political Assistant is not easy. On top of giving advice to Secretary and Under Secretary of the Bureau, she also needs to take care of lobbying at the Legislative Council. For example, she once convinced 69 Members of the Legislative Council for voting for funding the Sustainable Fisheries Development Fund and finally succeeded. When there was an impending danger of outbreak of avian flu, she went alone to the Government House at mid night to negotiate with the farmers and inspected the operation of the temporary live poultry checkpoint at Ta Kwu Ling with Secretary for Food and Health Dr. Ko Wing-man at 3 a.m. Rebecca shared that a Political Assistant needs to be tough and diplomatic and encouraged students to do their best in whatever roles they take.

The three speakers answered questions from the floor at the panel discussion chaired by part-time lecturer of Department of Sociology Dr. Shiu Yat-ming. They encouraged students to be patient and humble, to get to know the working culture of the government and to develop good communication skills and common sense. This way, they can earn trust and recognition along their career path.

Speakers' Profiles:
Alumna Yolanda Tong (Sociology/Physical Education)
Alumna Tong has served in the government for 32 years and is currently Chief Leisure Manager of Home Affairs Bureau.

Alumna Jenny Wong (Business Administration)
Alumna Wong is currently Head of Marketing Division of Intellectual Property Department (IPD). She has substantial experience in marketing and exhibitions.

Alumna Rebecca Chan (Communication)
Alumna Chan is currently Political Assistant to the Secretary for Food and Health. She was a news anchor and editor prior to joining the Government.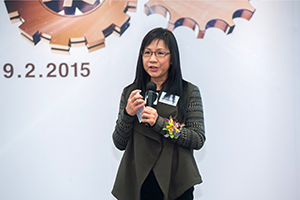 Alumna Yolanda Tong (Sociology/Physical Education)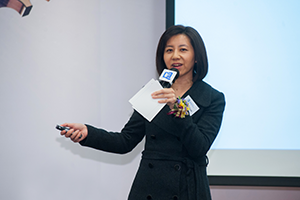 Alumna Jenny Wong (Business Administration)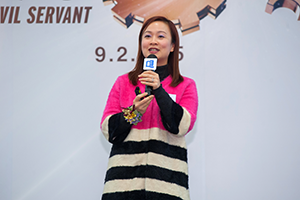 Alumna Rebecca Chan (Communication)