For the purpose of contributing to the betterment and sustainable development of the University, HKBU Century Club (the Club) continued to organise the Century Club Sponsorship Scheme (the Scheme) in 2020 to provide financial support for both the academic and student development projects of the University.

Chaired by alumnus Philip Kan, Vice-President of the Club, the judging panel reviewed the applications and decided to award a grant of HK$300,000 to support the following seventeen projects of the University:


Academy of Visual Arts – Shigaraki Ceramic Cultural Park Artist-in-Residence and Mentorship Programme
Department of Chemistry, Faculty of Science – Interactive Platforms for Nobel Laureates
Department of Chemistry, Faculty of Science – Static magnetic stimulation of human oligodendrocyte for improved functionality post-spinal cord injury
Department of Chemistry, Faculty of Science – Two birds with one stone: a smart toolkit for simultaneously imaging and suppression of living cancer cells
Department of Geography, Faculty of Social Sciences – The Launch Ceremony of the Asian Low Carbon Cities-Universities Network (ALUN) cum Asian-Pacific Symposium of Low-carbon Communities and ALUN Green Student Ambassador Programme (2020-2022)
Department of Management, School of Business – Value-Based Leadership for Community Course
Department of Religion and Philosophy, Faculty of Arts – Epidemics, Public Health and Human Wellbeing: Why Philosophy and Religion Matter?
School of Chinese Medicine – 6th Forum (Hong Kong) on the Development of Chinese Medicine
Department of English Language and Literature & Department of Humanities and Creative Writing, Faculty of Arts – The HKBU Century Club Citywide English Poetry Competition & Anthology: A Third-Year Extension
Office of Student Affairs – Change-Makers Programme 2020-21
Office of Student Affairs – Multilateral Exchange on Servant Leadership - Cambodia Community Outreach Programme
Office of Student Affairs – eSports Talents Development Programme (ETDP)
Chaplain's Office – Character Development Workshop 2020-2021
Chaplain's Office – Christian Leaders Training Camp 2020-2021
Chaplain's Office – Exchange Students Caring Project 2020-2021
Chaplain's Office – Welcoming Project for Mainland Undergraduates 2020-2021
Chaplain's Office – Wellness Oasis@BU

Over the years, the Scheme received good response from various academic departments and offices. The Club hopes that these projects, with the support of the sponsorships, would be able to achieve their desired outcomes, which aim at promoting academic excellence and enhancing student development, thus enabling the University to make contributions to the community and extend its goodwill far and wide. For more information about the Scheme, please click here.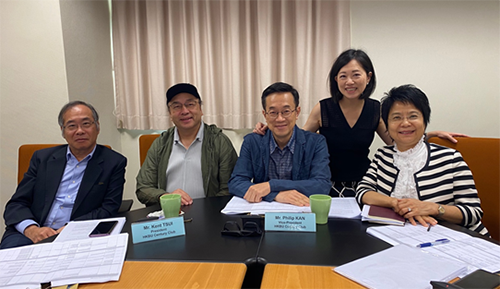 (From left) Patron and Treasurer alumnus Alfred Tang, President alumnus Kent Tsui, Vice-President alumnus Philip Kan, Director of Alumni Affairs Dr. Melanie Lee, and Patron and Vice-President alumna Agnes Wong.