At the SEED Talk entitled "The Same Journey" on 21 August, two alumni, Prof. Sunny Wong, Adjunct Professor of the School of Business at HKBU, and Elise Tse, Senior Audit Associate of PricewaterhouseCoopers, shared their words of wisdom on life and what they have learnt along their career journeys so far.

Sunny said that his key to success is to pursue his goals with determination and maximum effort. He also highly values servant leadership. Thus, he treats himself as an integral part of the team he supervised, rather than just the leader, and he strongly believes that the team's achievements are more crucial than individual ones. He always reminds himself to stay humble, and considers lifelong learning and striving for improvement as the philosophies of his life. He said that serving as the Chairman of the Alumni Committee of the HKBU Foundation is to him also a learning process.

Elise encouraged students to make good use of their time at university, including seizing internship and exchange opportunities to gain both work experience and international exposure. These opportunities can help them understand their capabilities and aspirations, and accordingly set their own goals. She said that young people at the early stage of their careers should not worry too much about what they have invested and what they will gain afterwards, as the experiences and hardships they encounter along the way will definitely help their personal growth and professional advancement in the long run. She also said that as life is short, young people should try to pursue the goals they have set regardless of hurdles along the way, and bring their full talent and strength into play to achieve their goals.

Both alumni believe that opportunities are not bound to appear. That said, students should always get themselves prepared for opportunities and make extra efforts to equip themselves with the skills that will enable them to make advancement or even breakthroughs in their career field. During the Talk, they also answered questions from Professor Roland Chin, President of HKBU, and other online participants. Please click the hyperlinks below to view the Talk:

Website of Alumni Affairs Office
Youtube
Youku

Foreseeing the challenges the graduating cohort will encounter during the current economic downturn, HKBU launched Project SEED to help students get better prepared for employment and unleash their career potential by engaging the support of BU community leaders. The online SEED Talk was one of the Project SEED initiatives. By engaging community leaders and inspirational professionals, all of whom with rich knowledge from diverse backgrounds and disciplines, the Talk series aim to instil in both the students and young alumni of the University a positive attitude towards life, improve their competency and readiness in job-hunting, and provide them with a broad scope of outlook as they chart their path for a fulfilling and rewarding life.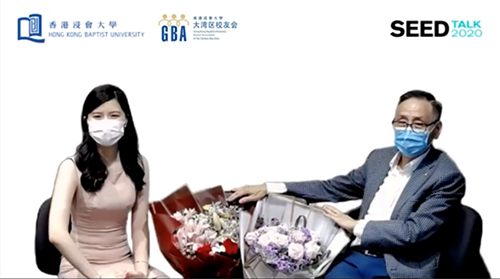 Speakers Alumni Elise Tse (left) and Prof. Sunny Wong