Getting out of the "Comfort Zone" to Brave a Brand New World





An Interview with Ms. Christine Chow, Vice-President (Administration) and Secretary of HKBU



Ms. Christine Chow Oi-wan, Vice-President (Administration) and Secretary (VPAS) of HKBU, assumed office on 1 July 2020. In her new role, Ms. Chow is responsible for providing administrative leadership in the University, supporting its target-oriented governance work, implementing a sound risk management system, working with colleagues on digital transformation of the University, and providing secretarial support for the smooth operation of both the Council and the Court. In addition, she oversees five administrative units, namely the Estates Office, Finance Office, General Administration Office, Office of Information Technology, and Personnel Office to ensure the provision of professional support services to the academic as well as other units of the University.

IT-assisted Teaching and Learning

The COVID-19 pandemic has affected educational systems worldwide. Ms. Chow said that the biggest impact the pandemic has on the University administration is that most office work has to be dealt with at home. She is of the view that even without the pandemic, tertiary education institutions have started to use technology for learning, teaching, and communications. The pandemic has just accelerated the pace of the change. Quoting as an example, her kids are both studying abroad and they only get together a couple months a year, watching a musical together is therefore difficult due to scheduling of the show and availabilities of the family. During the pandemic, the family managed to watch a musical online and they could even chat freely during the show. They could sit comfortably at home enjoying their beloved show together, even though they were oceans apart and with 12 hours' time difference.

Ms. Chow has been actively working with relevant units of the University to enhance the IT infrastructure and systems in order to improve both the student's and employee's experience. All the classrooms for teaching are equipped to allow hybrid mode of teaching when the 2020/21 new semester begins. She said she would continue to work hard with the administrative units, to build better campus facilities and bring onboard advanced IT infrastructure to enhance student experience on campus and to better support teaching and learning. At the same time, Ms. Chow wants to fasten the pace of achieving a paperless campus, and will push for further digital transformation within the University, so as to incorporate, as a long-term goal, sustainability in every aspect of campus life and operation.

Dare to Challenge Oneself

Having worked in the business sector for a number of years, Ms. Chow has attained extensive management experience. She has headed different units of the telecommunications companies in Hong Kong, encompassing the fields of operations, human resources, customer services, accounting and finance, internal audit, etc. Trained as an accountant, Ms. Chow said she was naturally sensitive to numbers and so understandably, in her early career, she preferred to work in portfolios that require a lot of numeric analysis such as finance and operations . Luckily, her supervisors encouraged her to get out of her comfort zone and try new frontiers such as dealing with employees and customers. More important of all, they were always willing to give her support during her new endeavours. The experience has indeed widened her horizon and helped her to become a more well-rounded executive. For the kindness and wise counsel of her supervisors, she has always been grateful.

Identifying with BU's Education Ethos

Ms. Chow is thankful to the President of the University, Professor Roland Chin, for inviting her to join the BU family. She said that she would venture to bring innovative ideas and positive changes into university administration. She has keenly identified with the education ethos and management philosophy of the University's senior management, which actually convinced her to take up the appointment at BU in the first place. She also feels delighted and honoured to have a chance to work together with such outstanding and lively management teams towards building a new phase for the University.

In particular, Ms. Chow concurs with the trend of internationalization of higher education, which leads to, among others, improved academic quality, globally oriented faculty and students, and the enhancement of curriculum. In this context, Ms. Chow believes that university students should explore the world and get themselves exposed to the multi-cultural environment wherever possible. Being blessed with the privilege of studying abroad, Ms. Chow is convinced that learning in the classroom and acquiring overseas exchange experience are complementary to each other, and the combined experience will help students open up new horizons and enhance their international outlook.

Encouraging Alumni to Share Experience

Ms. Chow encourages alumni to share their experience and success stories with BU students. That said, she advises students not to take the experiences they heard as cardinal rules, but rather they should take reference to them in cultivating their own attitude towards life and work. In conclusion, Ms. Chow said that her years of experience in the business sector has taught her that being too comfortable with the present might hinder oneself from exploring new and challenging opportunities. She strongly suggests that young alumni should get out of their "comfort zone" to brave a brand new world. They should deal with both people and work with an open mind, and be adventurous in charting their career path.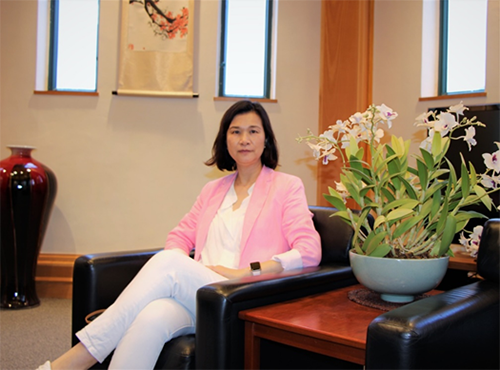 Ms. Christine Chow, Vice-President (Administration) and Secretary, believes that university students should get themselves exposed to different cultures.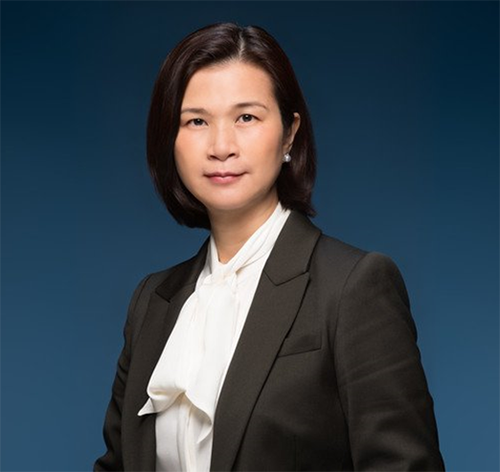 Ms. Chow suggests that young alumni should actively get out of their "comfort zone".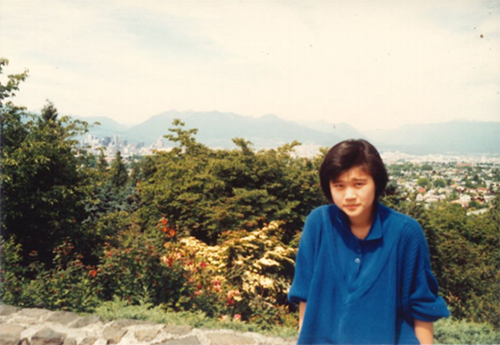 Ms. Chow took a photo in the United States in her youth.