Developing Network for Enhancing Personal Assets
Alumnus Bernard Wu, Deputy Chairman of Poseidon Hill Capital Ltd

As the impact of globalisation on society gets more prominent, competition within society has become increasingly fierce. To stay competitive in this era, good communication skills and excellent network are two important personal assets for success in society. Alumnus Bernard Wu (Accounting; Business Administration), who has ventured into the accounting and investment fields – and attained great achievements, opined that the key to further career advancement lies in constantly equipping and upgrading oneself, widening one's career network, and getting prepared when opportunities come.

Developing Personal Network since the College Years at HKBU

Bernard started having the idea of joining the accounting field during secondary school years. He said, "since the summer holiday of Form 1, I took up a part-time job for three years at Lu Feng Restaurant on Victoria Peak, which not only provided me with pocket money but also enabled me to get an early exposure to the society outside of school and to gain an understanding of the importance of inter-personal relationship in the work force". This part-time work experience also reinforced Bernard's belief that, to establish a firm footing in the work force of Hong Kong – a predominately business-oriented city, one could start off joining the finance or accounting field.

During the few years Bernard was pursuing a diploma in accounting at HKBU, he found himself lucky to have the opportunity to exchange views and establish a firm relationship with fellow classmates, some of whom already had working experience in the accounting field. This enabled him to learn more about the ongoing scene of the accounting field and how one could knock on the door of an accounting firm for a position. He said that in his college years, a common room was set up by the accounting department of BU for students of various years to gather together for studies, interflow of ideas, and discussion of issues of mutual interest. The venue is also used by the department's graduates, who often returned to share their insights and work experiences with students as well as how one could get prepared for job applications for the big four accounting firms and how to prepare for the required examinations. The sharing was indeed very useful for all accounting students.

Bernard pointed out that during the 80s and 90s, while the number of HKBU accounting graduates was fewer than those of the other tertiary education institutions, which facilitated closer attachment among them. Bernard remarked that HKBU accounting graduates have now taken up managerial positions at the big four accounting firms, e.g. alumni Philip Tsai and Patrick Tsang, the former Chairman and the latter Chief Operating Officer, of Deloitte China, are all from the accounting department of BU. It is indeed an achievement that all HKBU accounting alumni should be proud of as they have all individually established a strong foothold, and their skills and efforts being recognised, in the very competitive accounting field that has no shortage of first-rate people.

The Unexpected Mentor and Career Turning Point

After graduation, Bernard joined Deloitte, one of the big four international accounting firms. A few years later, Bernard found that he felt equal interest in auditing and investment banking. This gave him the idea of moving to another accounting firm or even taking up a management position in an investment banking firm. He said that since childhood, he had managed to speak fluent Putonghua. So, whenever Deloitte management staff held meetings with clients on the Chinese mainland, he was often invited to join the Deloitte team and serve as a simultaneous interpreter at those meetings. The work had also provided Bernard ample chances to meet with professionals in the accounting and banking fields of Hong Kong and the Chinese mainland. Bernard recalled that at one dinner invitation extended by a BU alumnus, he met the Chairman of the Agricultural Bank Corporation (ABC) International Holdings Ltd. Because of his proficiency in Putonghua and outstanding work experience in the accounting field, he got a chance to get appointed at ABC International Holdings Ltd to pursue his dreamed career – investment banking. As Bernard recalled this unforeseen turning point of his life, he had to admit that "Life is indeed full of unexpected twists and turns". He was also thankful to all the friends he made and all the knowledge he managed to acquire through his personal network, which had rendered great help to his career development.

Ploughing Back to the HKBU Community

Grateful for the connection he made with HKBU and what the University has provided him during his undergraduate years, Bernard started ploughing back to his alma mater as early as the 90s. This included setting up scholarships, and helping organise various activities and sharing sessions for students, the latter for passing on his knowledge and experience in the accounting and investment fields. Regarding the most unforgettable university-wide project Bernard has ever helped HKBU organise, he said it would be the project "Discipline x Healthy Lifestyle: Design and Delivery of Learning Activities for Secondary School Students", which aimed at promoting a healthy lifestyle to the HKBU community and society at large. With focus on reaching out to local secondary school students, the project began to take shape in October 2018, and the inauguration ceremony of the event was held in March 2019, with just around six months in between to prepare. As Chair of the Organising Committee of the Kick-off Ceremony, Bernard helped recruit, together with his team, some 200 students coming from seven HKBU departments to run events and various related educational activities for students from 16 local secondary schools. To him, the whole project is very meaningful and unforgettable. Looking ahead, Bernard has plans to give more time to plough back to society, and also to pass valuable experience onto fellow colleagues and students in the accounting and investment fields through promoting interflow between professionals and universities. Bernard firmly believes that the latter would provide HKBU students and younger alumni opportunities to build up their personal assets for career development.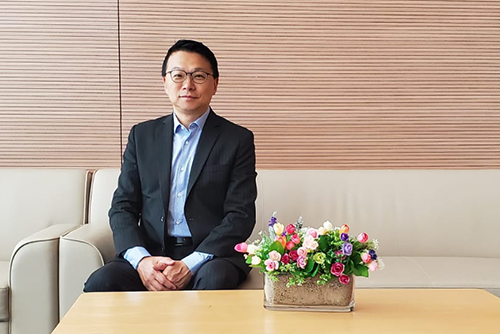 Alumnus Bernard Wu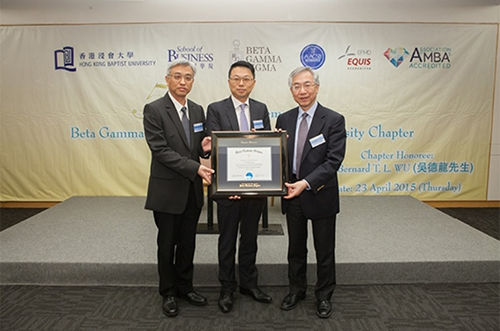 Alumnus Bernard (centre) receives the Beta Gamma Sigma Honoree Award in 2015.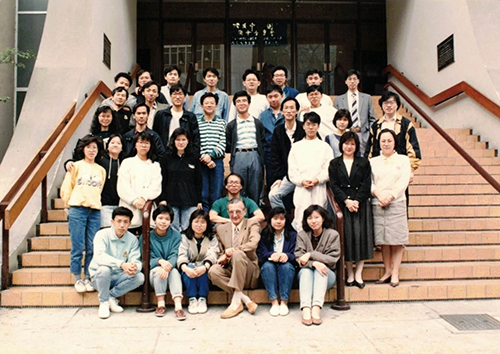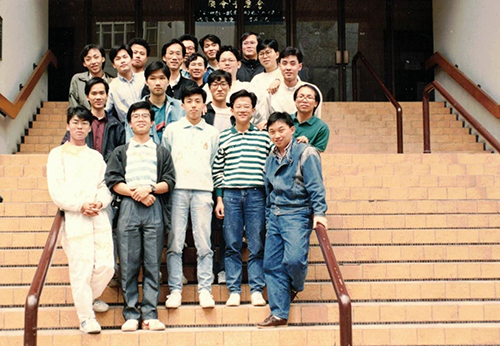 Alumnus Bernard, his classmates and teacher pose for photos at the Academic Community Hall.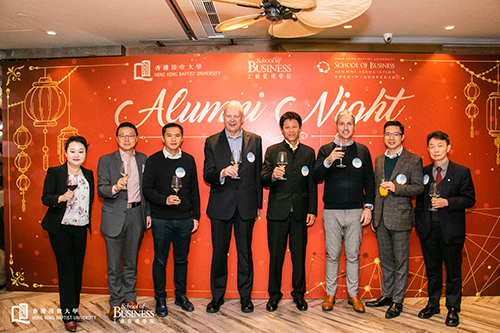 Alumnus Bernard (second from left) attends the Alumni Night, which jointly organised by HKBU School of Business and the School of Business Alumni Association.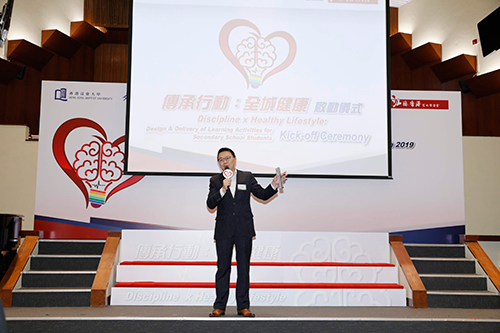 Alumnus Bernard delivers a speech at the kick-off ceremony of "Discipline x Healthy Lifestyle: Design & Delivery of Learning Activities for Secondary School Students".