Very often, when we look at an art piece, we may come up with a question: What is art actually? "Art is a way of thinking, facilitating us to see the world from another angle," a definition given by alumnus Silas Fong (Visual Arts) who, through his art work, has been delivering this message to the public. The unique style of Silas' work has not only brought him opportunities to hold exhibitions in Hong Kong and overseas, but also awards. For his work ""Stolen times for sale", he won both the Young Artist Award at the Art Biennial Awards in 2009 and the 14th Independent Short Film and Video Award in 2008. "The compliments owe to the inspiring teaching of the professors at HKBU, which has far-reaching impact on my work," said Silas.

The Road to Art

Silas recalled that during the early days at HKBU, he was already very much inspired by Assistant Professor Choi Yan-chi and Associate Professor Dr. Leung Mee-ping. "Ms. Choi has told us many things about avant-garde art which has broadened my horizons; while Dr. Leung has taught me much about concepts on contemporary art, provoking my thoughts on what art was." Silas then realised that art was actually a way of thinking and observation, and reflected on how artists have used art to deliver their messages to the world.

Inspirations Gained from Living Abroad

Silas reckoned that for a better understanding of the meaning of art, he had to learn its history and know its background; and taking humanities classes could be a way. Yet, this was not enough, he thought, as increasing his exposure was equally important to develop his creativity. During the time at HKBU, he had a chance to go to the Netherlands as exchange student. After graduation, he also spent a year in Germany to further his study. "Living in Europe has brought me much inspiration. Some of the themes of my work, like 'time', 'space', 'money' and 'alternative way of living' were actually reflections of my days in Europe," said Silas. He treasured much the experience he gained during that time.

"Europeans value humanity and art. People learnt about philosophy, history and humanities since young and hence it is no surprise that Europeans know how to appreciate art more, when compared to Hong Kong people," commented by Silas, "not to mention that European countries have put more resources on development of art culture. For example, the art institutes in Germany have expert in each specific art field, advising students and transferring knowledge on specific skills."

Exhibition Reflects Uniqueness of Work

After returned to Hong Kong, Silas has fully devoted himself to art work. In 2013, he held his first exhibition with a theme "An Interview with Stranger" and owed to good response, the same exhibition was re-run in May this year. The success was a showcase of his creative thoughts. Silas explained the concept behind, "I observed that people nowadays might start a conversation even they do not know each other. Communication is no longer limited to people you know, or space and time, and this is obviously seen in social media platforms. This exhibition is to bring audience a new concept on communication." Silas continued, "First, I invited participants to raise questions in writing. I then went to a stranger and videotaped his/her response to those questions. Next I would show this video to the question originator and ask him/her to give feedback which would be displayed in the same video. The final outcome of the video showed a well-communicated conversation between two strangers, though the sequence of this communication was not in the original order of time."

Prepare for Opportunities to Come

Always do your best as you never know when opportunity will come. This is exactly what Silas has recently experienced. Early this year, he received a letter from a Korean professor, inviting him to be visiting professor of their Academy. Silas was very surprised that this Professor knew him. He then found out that his work exhibited in Liverpool Biennial 2010 has impressed this Professor a lot, who therefore wrote to invite Silas. "I have never thought that an exhibition held seven years ago could bring me new opportunities," said Silas, who has delightedly accepted the offer. (Remark: Silas is already in Korea now.)

As a concluding note, Silas said it was not easy to pursue a career in art in Hong Kong; yet, it would be important for us to always equip ourselves and get prepared for opportunities and challenges. "I hope graduates of HKBU Academy of Visual Arts could joint efforts to help cultivate the art culture in Hong Kong," Silas grinned.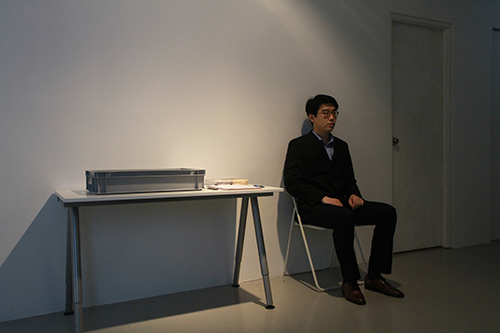 Silas makes himself as part of the installation exhibits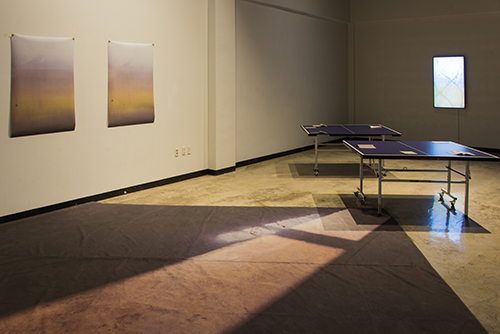 Installation exhibit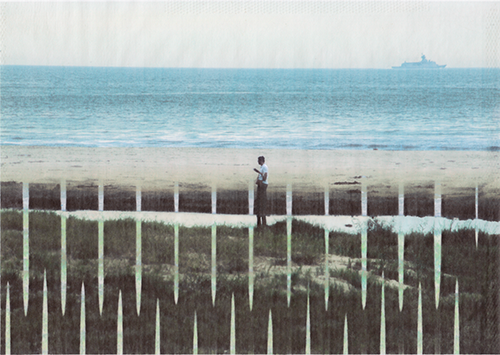 One of Silas' exhibits