HKBUAA held its Monthly Happy Hour Anniversary Celebration on 30 August at the Hong Kong Law Society to celebrate the 60th Anniversary of the University, the 55th Anniversary of HKBUAA as well as the 1st Anniversary of its Monthly Happy Hour Gathering. Over 70 alumni from various generations and disciplines attended. At the occasion, alumni raised more than HK$60,000 donation to celebrate the 60th Anniversary of the alma mater.

HKBUAA was honoured to have the presence of President Prof. Roland Chin, Vice-President (Teaching & Learning) Dr. Albert Chau, Vice-President (Administration) and Secretary Mr. Andy Lee, Dean of School of Continuing Education Prof. Raymond So, Director of Student Affairs Prof. Gordon Tang, Director of Communication and Public Relations Ms. Rowena Li, Director of University Advancement Ms. Lily Chan and Director of Alumni Affairs Dr. Melanie Lee at the gathering.

In his remarks, President Chin stressed that alumni is an important asset of the university and define the university. He shared examples of how alumni networks of Princeton University and Stanford University provide substantive resources to support students and young graduates in their career development. He hoped that HKBUAA could also render ardent support, such as providing mentorship and internship opportunities, to nurture future alumni and current students. He added that he expected HKBU students to acquire three important abilities during their stay at HKBU. The first is to learn beyond the knowledge that is "Googleable" so as to join the ranks of thinkers, innovators and world-changers. Secondly, they should be well-equipped and be prepared to be employable 10 years from now, meaning they should develop lifelong learning and adaptability. Last but not least, they should be globally-able and competent in the face of job mobility.

Everyone had an enjoyable evening and treasured the opportunity to mingle and chat with President Chin and other University senior management.

The next Happy Hour gathering will be held in late September. Please stay tuned for more details. For enquiry, please email to buaa.happyhour@gmail.com.

Please click here to view more photos.

Please click here if you want to join HKBUAA as a member.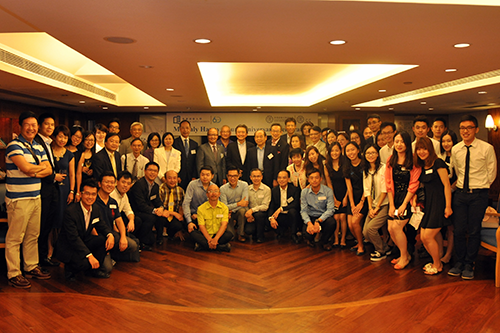 Over 70 participants, including HKBU senior management team members, alumni and guests attend the gathering.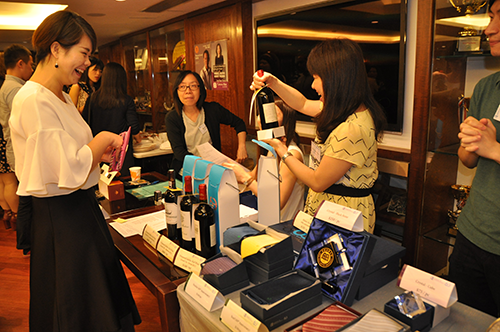 HKBU souvenirs are well-received by alumni.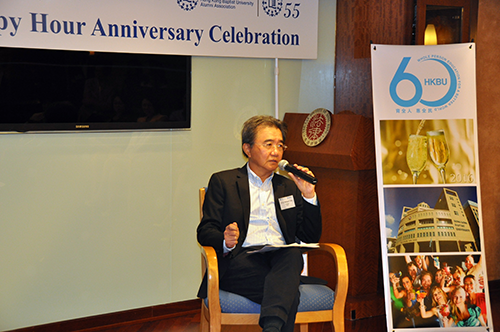 President Chin delivers remarks and emphasizes that alumni define a university.