On 6 September 2016, the University conferred Honorary University Fellowships on alumnus Cheng Kok-kong, Ms. Belinda Hung Kwai-yi, Mr. Alfred Lee Tak-kong, Mr. Tommy Li Ying-sang, Mrs. Susan So Chan Wai-hang and alumnus Dr. Jacinto Tong Man-leung, in recognition of their outstanding contributions to society and in appreciation of their highly valued support to the University at the 61th Convocation and Honorary University Fellowship Conferment Ceremony.

The HKBU Council hosted a dinner to honour the six Honorary University Fellows in the same evening. In his welcoming remarks, Chairman of the Council and the Court Mr. Cheng Yan-kee sent his heartfelt congratulations to the newly conferred Honorary University Fellows and shared with guests their achievements and contributions, as well as their close ties with the University over the years.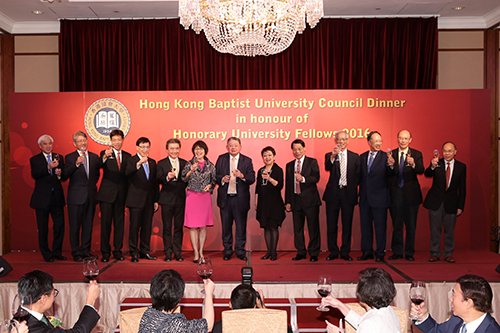 HKBU Council and Court Chairman Mr. Cheng Yan-kee (middle), Deputy Chairman Mrs. Pamela Chan (6th from left), Treasurer Mrs. Doreen Chan (6th from right), President Prof. Roland Chin (5th from left), President Emeritus Prof. Albert Chan (5th from right) and other University Officers lead the guests at the toasting ceremony to congratulate the newly conferred Honorary University Fellows.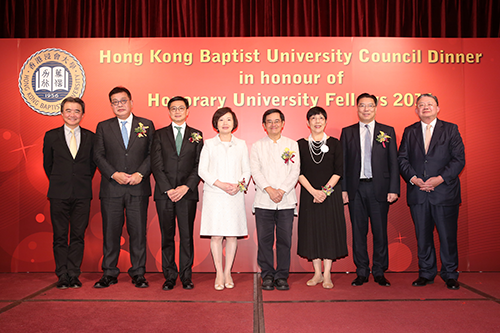 Chairman Cheng (right) and President Chin (left) pose for a group photo with the Honorary University Fellows (from 2nd left) Dr. Jacinto Tong, Mr. Alfred Lee, Mrs Susan So, Mr. Cheng Kok-kong, Ms Belinda Hung and Mr. Tommy Li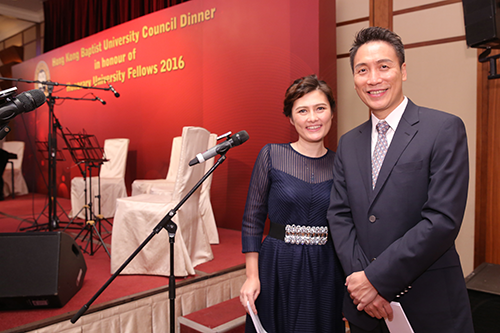 Ms. Margaret Harrison of Communication and Public Relations Office partners with alumnus Leung Ka-kuen (Chinese Language and Literature) as the masters of ceremonies at the dinner.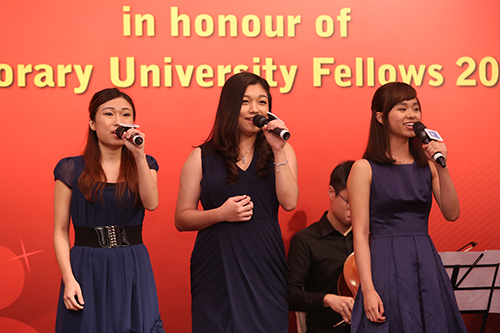 Three talented HKBU students (from left) Loreley Chan (Music), Sammi Fung (Early Childhood Education) and Claudia Lai (Music) perform three famous songs, selected by alumnus Albert Au and accompanied by piano and string quartet, to pay tribute to the Honorary University Fellows.