On a sunny afternoon in July, a man dressed in black giving an impression of a man of letters toured around the Communication and Visual Arts Building at Hong Kong Baptist University. "It was such a long time since I left the School of Communication", said he. Who is he? He is alumnus Alan Yuen Kam-lun, a director and scriptwriter who directed the film Firestorm. He will share with us his passion for filmmaking.

Reporter: What were you like when you were studying in HKBU?
Alan: Helping out senior students was the traditional practice of the School of Communication. During my studies at HKBU, I assisted in different projects of our seniors. Back then, it was not uncommon for me to provide assistance for 3 to 4 projects simultaneously. Doing projects with the senior students was actually a very interesting experience. We were always equipped with sleeping bags and ready to stay overnight in Room 301.

Reporter: Why do you enjoy working in the film industry?
Alan: At secondary school, I was a member of the Drama Society and Vice-President of the Photography Society. It seemed natural for me to study Communication. After I graduated, I had been working as an Assistant Photographer for a short time before I moved on to Deputy Director and Producer. I had also worked as a Manager in Cinefex founded by director Tsui Hark whereby I learnt about special effects of filmmaking. Not long after I became a director shooting for advertisements, I had an opportunity to write and shoot an episode on Cable TV called Touches of Love, which Sylvia Chang liked a lot. She invited me to make it as a film but as I did not want to repeat myself, I turned this down. She then invited me to write scripts and subsequently co-directed Princess-D with her.

Reporter: Are you keen on writing and directing crime and gangster films?
Alan: This is in fact a beautiful misunderstanding. Admittedly, I have written and directed a lot of action films. From the angle of writing, however, action is just the packaging. It is the content of the story that counts. Yet, considering the film as a commercial product, you need to fulfill what is expected of the genre from your audience.

Reporter: What messages do you want to convey through Firestorm?
Alan: The film intends to question whether there is a clear-cut definition of the good and the evil. A wrong decision could drag a so-called good person into an abyss, whilst a bad person who does something good could end up differently. So, it is rather difficult to determine whether one is good or bad. When I started writing Firestorm, the story was about decision making in two romantic relationships. However, the producer decided to reduce the love element and added loads of actions to the story to enhance the film's attractiveness in the commercial market. Consequently, the box office of the film has reached RMB315 million in the Chinese mainland and HK$25 million in Hong Kong. To the film company, it is a smashing success. To me, it is a project that gave me a new platform to manage a large-scale production.

Reporter: How is the life of a scriptwriter and a director?
Alan: At the start of my career, I had no control of my time because I never knew when I could be off from work. I could not meet up with friends and had nearly no life. When I became a director, I had more control of my time but at the same time, the pressure mounted. A director has to make every single decision for each department and be very detail-minded. The quality of every film he/she directs has a determining impact on his/her development in the industry. As a matter of fact, I spend more time on script writing than directing. I like writing scripts in details, putting every shot, every lighting and sound effect in it. Therefore, as a director who also writes, I have directed the film many times in my mind before the actual filmmaking. In reality, the outcome may look rather different due to other external factors.

When I am working as a scriptwriter, I am just an ordinary person. I need to be observant in order to write touching stories. When I am a director, I am extremely busy and almost forget about time. A director should be responsible for every dollar spent in a film which is costing millions of investors' money every day. Greater responsibility comes with greater power. It is a director's responsibility to face the pressure that the film brings along.

Reporter: How do you get inspiration for writing scripts and where do you like to write?
Alan: Inspiration is hard to come by. So whenever possible, I will pay attention to news, read novels as well as watch movies, theatre productions and dance performances. I will also listen to music, pay attention to details in daily lives and jot them down. I love writing at home. When I feel like seeing the people that I am writing are doing the actions I bestow them, I know that I am heading to the right direction and cannot stop writing.

Reporter: What is the theme of your next film?
Alan: At the moment, I am writing another film that I will direct myself. But the next one on show is Catching the Monsters which I wrote and produced. It is now in the post-production stage and is directed by Raman Hui, the director of Shrek the Third. It is a film that combines animation with human, a type of film that is rare among Chinese language films. The majority of people are afraid of monsters. But to me, monster is just another living creature. It is fear and ignorance that makes them devilish. I think that it is getting more difficult for human beings to co-exist with other living creatures. I want to give a wake-up call to our next generation to respect nature and life and make it their mission.

Reporter: Can you share with us your favourite film and director?
Alan: A filmmaking person can have many favourite films. I respect those directors who consistently produce good works such as the famous Japanese director Kurosawa Akira and Mexican director Alejandro González Iñárritu who directed Amores Perros, 21 Grams, Babel and Biutiful. In 21 Grams, the loss of 21 grams, the weight of soul, was spreading throughout 124-minute film.

Interviewee's Profile:
Alumnus Alan Yuen Kam-lun graduated from the School of Communication at Hong Kong Baptist University and is currently a scriptwriter and a film director. He has also been an Executive Producer. His recent film Firestorm is a box-office success in the local and Chinese mainland market.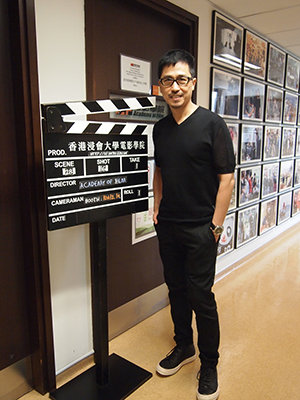 Alan tours around the Academy of Film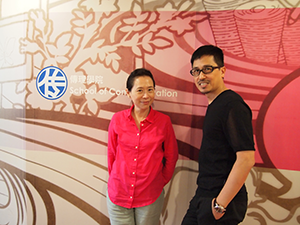 Alan visits the School of Communication and meets with Director of Academy of Film Prof. Emilie Yeh (left)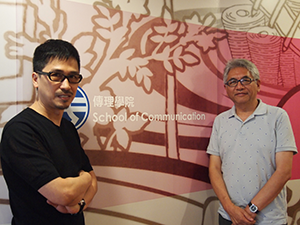 Alan is greeted by Associate Director and Principal Lecturer of Academy of Film Mr. Man Shu-sum (right)