The Fine Art Photographer of the New Generation
Alumna Topaz Leung

When you glance through local advertisements on visa cards or ice cream, or photographs of high-end fashion brands, or film stills, you will find that quite a number of these creative works belong to Ms. Topaz Leung (Communication): the alumna who in recent years has received numerous honours and awards. A graduate of the Department of Communication Studies, majoring in Digital Graphic Communication, alumna Topaz Leung was the recipient and of the "Young Design Talent Award" presented by the Hong Kong Design Centre in 2011. The following year, she was selected as one of the six finalists to compete for the "Surface Asia Magazine Avant Guardian Award". In 2013, she was named one of the "New Generation Asian Photographers" by a Japanese magazine, +81. Topaz indicates that she loves photography because through the lens, she could observe the world around her, alongside the ambience and the light of the scenes. Then through these images she could construct a visual image of what she wants to display, and subsequently presents her true inner feelings through these images.

As faith would have it, the foundation was laid

Topaz has always been fond of images. It was during her undergraduate years that she got her initial contact with photography. During her first year in university, she bought a Lomography camera which she used to randomly make shots of fellow classmates and happenings around her. Later, she joined the Lomography Four Grid Photo Competition and her work was chosen for exhibition, which drew the attention of the owner of Lomography. She eventually joined Lomography as an intern. While there, she got a chance to work with various types of cameras and films, thus laying the foundation of her skills in photography. During her days at Baptist University, Topaz spent most of her free up time hiding in the dark room to develop photographs. Because of her interest in photography, she wanted very much to enrol in the course "Advanced Photography" offered by the Department of Cinema and Television. So she brashly approached the Dean in her second year of studies for special approval in enrolling in that photography course. It turned out that the course was a great help on her road to becoming a professional photographer. She said, "at the beginning, I would like to take journalism as my major at BU. However, recognising that I only had a slim chance of success in the face of high admission threshold, I finally gave up the idea. Looking back now, I am glad to have made the right decision then."

Photography: speaking both for self and the city

These days, Topaz focuses mainly on commercial photography and, when she is not occupied, she will spend time in staging art exhibitions. She candidly said, "when participating in art exhibitions, one can apply creative ideas to bring out his/her own inner thoughts. The room for creativity and expression is boundless. To give an example, she recently took part in an exhibition, in which Hong Kong was portrayed as a city engulfed in smoke. The exhibition also made use of a spectrum of laser beam light to interpret, albeit subtly, the recent happenings of Hong Kong in front of the audience. To her, staging art exhibitions could be a respite from commercial photographic work. Topaz thinks that commercial photography has a comparatively strong influence on, and the ability to get in touch with, a much wider audience. As the effect of images could reflect the patina and temper of a city, and affect people's impression of that place. This gives her the passion in, and motivation for, commercial photography. It is her wish that her works will truly present the city as it is perceived.

Gratitude for her mentor: the force behind the career

Topaz worked as a graphic designer for the Cream magazine before she switched to be a professional photographer. She was very grateful to the editor of the magazine, who not only brought her into the profession but also gave her a chance to lay hands on a range of work involving photo-taking, copywriting and art design, etc. This kind of multi-facet work experience and training is most helpful, equipping her with the necessary requisites for a professional photographer. She said, "joining the magazine company is a godsend. I was then still an undergraduate. As if by fate, the editor of the magazine gave me a call, asking whether I would be interested in the post of graphic designer of his magazine. This call has become a turning point in my life."

Wing Shya, a renowned photographer in Hong Kong, has a profound influence on Topaz's works, and is also a great source of inspiration for her artistic endeavour. While preparing her graduation assignment, she paid a visit to Wing Shya for advice. At the time, she was working on stills and devising promotional strategies for a short video. Wing Shya at the end chose some of her photographs and have them published in a Japanese magazine. This produced an intense effect on her career. Topaz said that Wing Shya's works produce an immense visual impact on her. In her view, he has an unorthodox style with an unwavering sense of art direction, and the images he creates exude a "snap" feeling. She states categorically of her sincere appreciation of Wing Shya, and of his works and the direction in which his visual art has exhibited. She looks upon him as an exemplary figure and hopes to follow his footprints in photography, and to become a photographer of his calibre.

On the future of the photography and advertising industry

This year, the TM Studio Topaz has set up steps into its tenth year of operation. She considers herself fortunate to be able to follow her dream and turns her passion into profession. "The photography industry is like the fashion industry, with the work life of professionals in both fields being short-lived. The career of a professional in the field usually reaches his/her peak at the age between 30 and 40. Therefore, one should have the courage to charge ahead when you are young, so that you won't have any regret later on" she opined.

On the future development of the photography and advertising industry in Hong Kong, Topaz is of the view that the 80s and 90s witnessed the most glorious days of the industry in Hong Kong. In those days, the reward for a professional photographer in taking commercial photos of a flat could be rewarded with a flat! Now the industry obviously has shrunk in terms of intensity and scale. Quite a number of advertising firms have moved to the Mainland. Budgets for advertising in Hong Kong have notoriously gone lower and lower. What's more, the industry itself is confining: the advertisements are less creative now, resulting in having similar pieces of work produced; and clients are becoming relatively conservative. In the face of transformational changes in the industry, Topaz has some advice for young graduates entering the profession: Be open to various types of information, build up your own professional style. Express your feelings in your work with sincerity, instead of riding along the tides. What's more, photography is all about teamwork; while at the same time one has to deal with all sorts of demands from clients, thus the need for flexibility.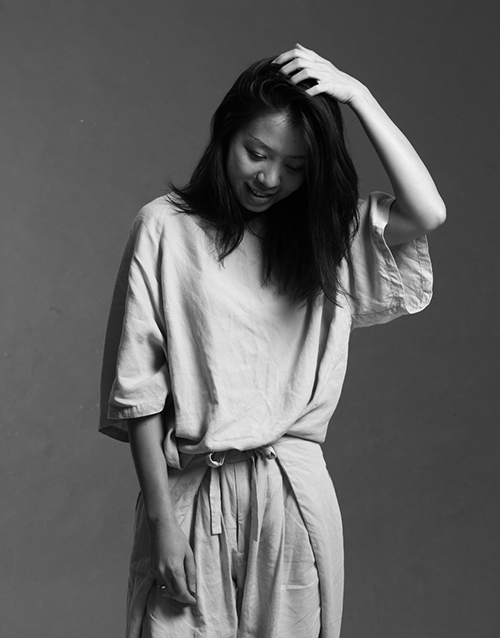 Alumna Topaz Leung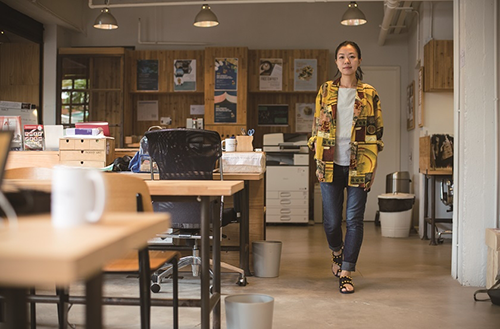 Alumna Topaz at her Studio in Sai Kung.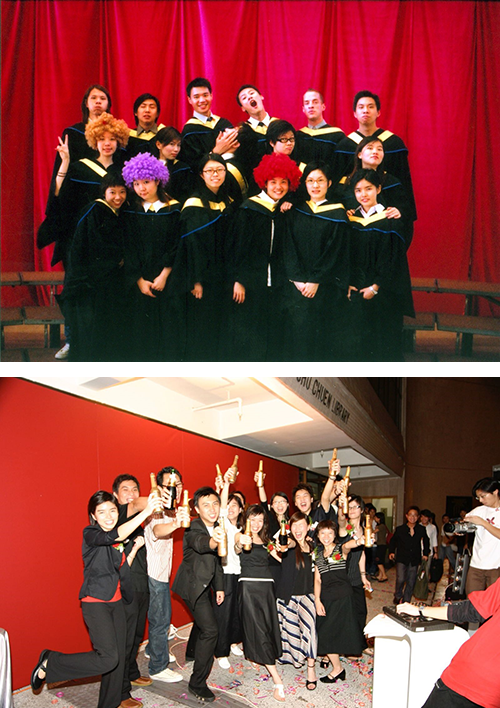 Alumna Topaz pose for graduation photos with classmates.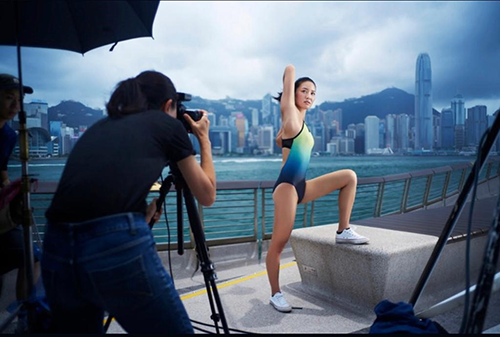 Alumna Topaz was shooting for photograph of an event of harbor race.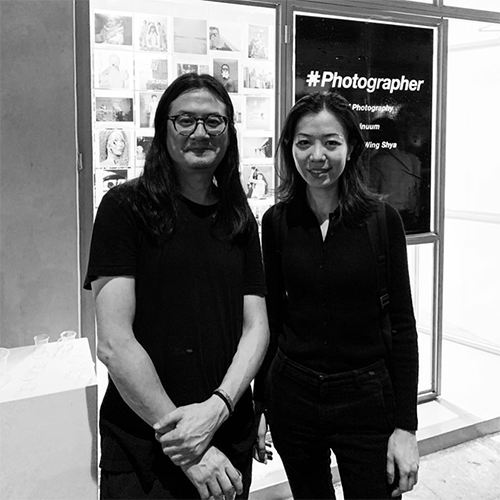 Alumna Topaz and photographer Wing Shya.