"Don't wait for chances, create your own opportunities." The first piece of advice alumnus Chan Wing-yip Gip (Music), a passionate percussionist, would like to give to those who would like to be a musician.

Where It All Began

At the age of 24, alumnus Chan is undoubtedly a rising star – won the first prize in the Italy Percussion Competition organized by the Italy Percussive Art Society (IPAS), received the Talent Development Scholarship awarded by the Self-financing Post-secondary Scholarship Scheme and the Modern Academy Scholarship awarded by Hong Kong New Music Ensemble, as well as being featured on various overseas publications, such as Rhythm Scene in the United States and Italy's DrumSet MAG, for his exceptional achievements. The establishment of Gip Percussion and Gip Percussion Ensemble in 2016 and 2017 respectively are his biggest breakthrough. While the former is a registered company which handles musical instrument and equipment rental, retail, music performance and education, the latter is a non-profit music organisation with an aim to nurture young and talented percussionists in Hong Kong as well as promote percussion music in Asian countries.

Never Too Late

Embarking on his journey of a percussionist at the age of 14 , alumnus Chan admits, "I started relatively late when compared to the majority who usually kicked off from primary 1." However, a visit to the National Music Competitions for Young Artists (NAMCYA) in the Philippines this August gave him with a refreshing perspective. "The participants might have found their passion in music from the age of 4-5 or even in their 30s, but that won't be a matter. What they have in mind is simple and straightforward – a love for music."

Instead of getting himself into a deep slough of self-pity, alumnus Chan tried everything he could to keep up with the pace. "I only started learning to play timpani after entering HKBU. For the next two years, I relentlessly practised to master the skills," says alumnus Chan. His hard work paid off. By the time he joined the Italy Percussion Competition when he was in Year 3, he could already play at an international level.

Reality Check

Musicians very often tirelessly seek perfection. Alumnus Chan bluntly bursts the bubble, "you need to embrace imperfection and find a way to live with it. To achieve your goal, you have to do what you do until you can do what you want to do. Take myself as an example, I never wanted to handle tedious administrative work or had to spend almost all my savings to buy a piece of musical instrument in case I may have a chance to perform. But these are the essential steps I had to take that brings me where I am today. Music is my life but I also have to come to terms with the reality."

As for his second piece of wisdom, he shared a famous saying from Sun Tzu's The Art of War "Victorious warriors win first and then go to war, while defeated warriors go to war first and then seek to win." Alumnus Chan reminds us that we have to "build our own value and create opportunities for ourselves. If you want to be recognised, you must keep on trying and competing, so people can get to know you and eventually be interested in you."

Lastly, "make the best use of every ounce of your youth, chase your dreams before they are gone," alumnus Chan asserts. "Just do it as soon as you can, especially when you have fewer worries and burdens. Identify your own capabilities and advantages, and not to be afraid of failure. If you never try, you will never know how far you can go."

The Special Ones

Having achieved so much at this age, alumnus Chan refuses to take all the credits for his success. "There are three types of people I would like to express my sincere gratitude to. Let's start off with my elder brother. He might not have directly helped me in any tangible way but he constantly inspires me by showing me what growing-up is. I learnt the importance of financial management when I saw him taking up part-time jobs and helping out with our father's business by developing a new business model."

Father and his teacher play a dominant role in alumnus Chan's growth in ways of musical proficiency and personal development. "My father and Dr. Yip Wai-hong, BBS, MH have a great impact on me. Thanks to my dad, I have learnt the idea of "work hard, play hard" long before I was supposed to. Dr. Yip, on the other hand, encourages me to think one step further – chase your dreams as long as you know your options. During his time as the Head of Music Department at the then Baptist College, he made Economics a compulsory subject for all Music students. It is essential for musician to know the theory of demand and supply." In the same vein, alumnus Chan sources musical instruments and equipment from overseas and sells to local musicians at a relatively low price. This way, alumnus Chan can afford the expenses of running his own percussion ensemble without having to collect additional fees from its members.

In his darkest times, alumnus Chan counted on mentors Ms. Woo Shuk-fai Sophia and Mr. Choy Lap-tak who became consultants of his percussion ensemble. "I went through a really dark phase during my studies. They selflessly shared with me their personal experiences and showed me how to take the initiative further and maintain a good relationship with professional network. For that, I am forever grateful."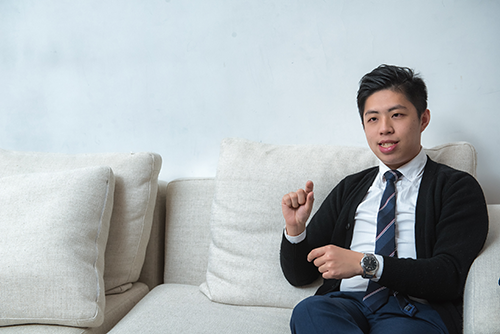 Talented percussionist and alumnus Chan Wing-yip Gip (Music)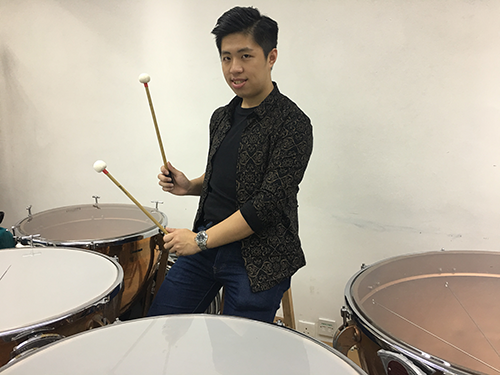 Alumnus Chan showcases his performing skills in his studio.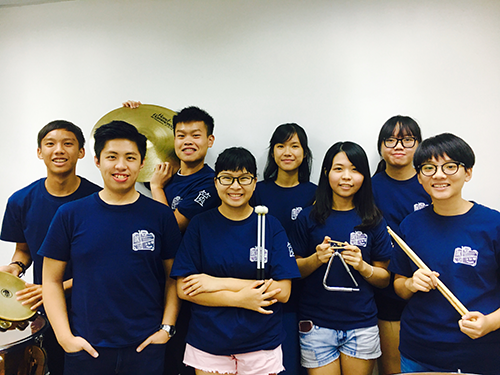 Alumnus Chan (second from left) poses for a group photo with the members of Gip Percussion Ensemble.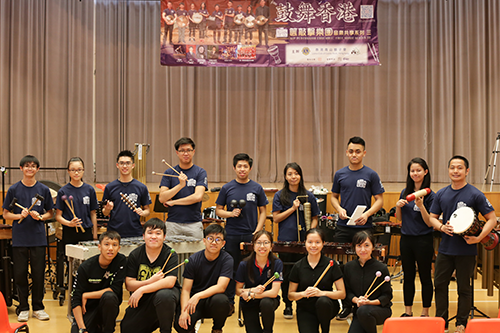 Alumnus Chan (back row; middle) performs with Gip Percussion Ensemble for Free Music Series organised by Lions Club of Castle Peak, Hong Kong.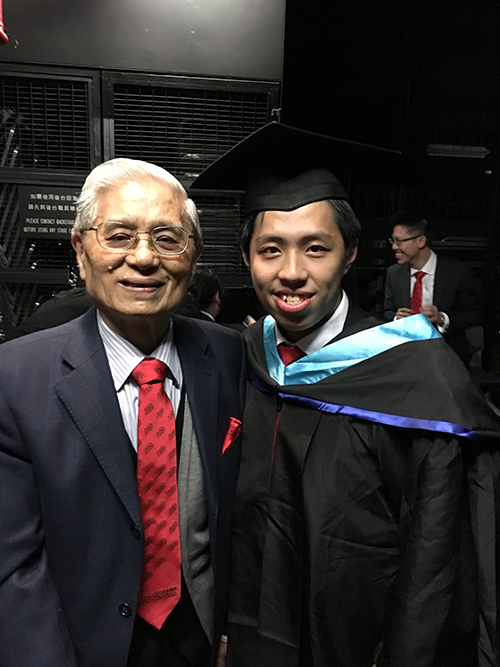 Alumnus Chan poses for a photo with one of his mentors Dr. Yip Wai-hong, BBS, MH (left) on his graduation day.