14 October marked a memorable day to hundreds of alumni who gathered on HKBU campus to have a happy reunion at 2017 Homecoming Day organised by the Alumni Affairs Office.

This year, the Homecoming Day offered an array of fun-filled activities. The whole event was kicked off by Campus Tour in which alumni and their friends toured around Dr. Stephen Hui Research Centre for Physical Recreation and Wellness and had a chance to learn and try the state-of-the-art machines for fitness and wellness there. The tour also included visiting the HKBU History Gallery where on one hand, alumni could have a better understanding of the transformative changes the University has undergone through seeing the precious photos and artifacts about the growth of HKBU, from the birth of Baptist College, to the earning of University status until now, and on the other reminisced the good old days of the past six decades of the alma mater.

At the Alumni Investiture Ceremony, over 200 alumni graduated in 1962, 1967, 1972, 1977, 1982, 1987 and 1992 were presented name-engraved medals by President Chin to recognise their contributions to the alma mater and society over the years. A highlight of the ceremony was the attendance of over ten 1962 graduates showing their devotion to HKBU.

The Tea Reception and the Reunion Poon Choi Dinner offered a good opportunity for alumni, teachers and staff to reunite and catch up with each other. The Reunion Poon Dinner, in particular, was a happy gathering of a mix of nearly 500 alumni across 6 different generations from 1960s to 2010s, and from over 25 academic departments. Worth to mention was that the Dinner was joined by international students and representatives of 18 alumni associations from various geographical locations, as well as current and retired academic members, making it one of the biggest reunions ever.

Last but not the least, despite the adverse weather condition on the day, which Typhoon No. 3 was hoisted during the Dinner, the strong wind has not blown out the passion of the alumni dedicated to the alma mater.

Watch out for the next issue of BUddy Post to recapitulate memorable moments of the different activities on Homecoming Day!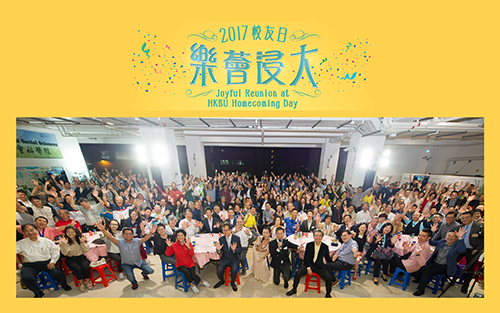 Nearly 500 alumni, guests and staff happily reunite at Poon Choi Dinner.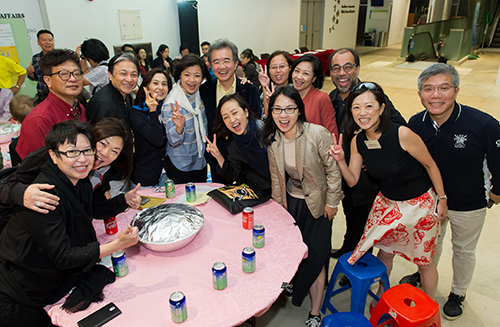 President Chin, Director of Alumni Affairs Dr Melanie Lee (second from right) and alumni happily get together at the Reunion Poon Choi Dinner.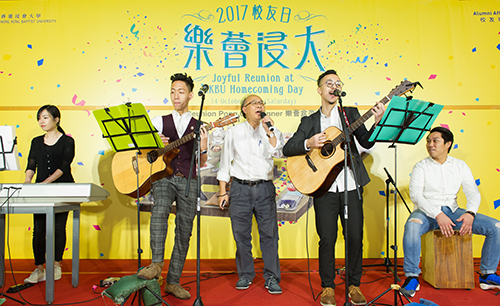 As part of the performance at the Poon Choi Dinner, Alumni Jonathan Leung (second from left) and Joseph Liu (second from right) invite Associate Vice President (Teaching and Learning) and Academic Registrar Prof. Ricky Wong (middle) to sing with them.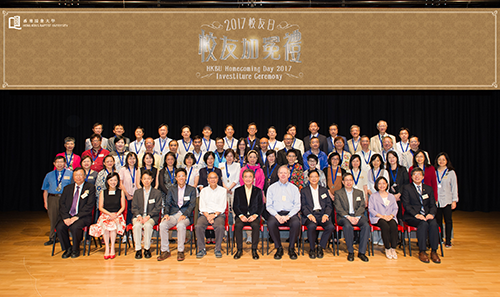 The Alumni Investiture Ceremony is a unique tradition of the University.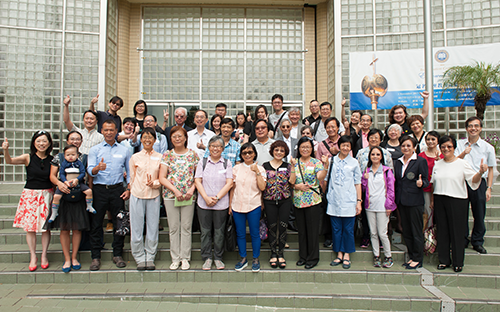 Alumni and their family members pose a group photo before starting off to tour around Dr. Stephen Hui Research Centre for Physical Recreation and Wellness and HKBU History Gallery.