Many people see music as an entertainment, an art, or even a representation of a certain lifestyle; yet to alumna Becky Lee (Music), music is a platform that helps fill her life. Though an artist engaged in show business, she never puts aside her role as a music teacher, coaching people to fulfill their dreams in singing. "As I teach, I am moved by the different stories of my students and I have also learnt a lot from them. To give and learn, this is what music means to me, and what I have realised after all these years, " Becky said.

The Pursuit of Perfection Brings Opportunities

Her love for music took root since childhood. While many people were keen to go abroad to study, the locally groomed music practitioner had a different view: "I felt blessed to be able to receive music training in Hong Kong. Initially my mom did not want me to study music and so, I have had a cold war with her for quite some time. Luckily I finally got a nod from her and I could study in HKBU from where I have built solid foundation in vocal performance." Becky emphasised that the support from family was very important as she could then stay focused to pursue her career in music.

While the persistence in pursuing her dreams was key, having passion and confidence was also critical to achieve success. "Even though competition is keen in the music industry, as long as you have confidence, you can get a foothold in the market," Becky remarked confidently, as she exemplified this. No matter her job was to providing voice-overs for advertisement, singing movie sound track, performing the role as MC or TV drama actress, she always sought for perfection and her enthusiasm was seen. This positive attitude brought her opportunities. Recently she got a leading role in a movie and also produced her song album.

Music is Mind Soother

No matter how busy she was, Becky kept on teaching. She reckoned that through teaching, she gained insights of life. She shared an incident: "There was a time when I was teaching, my student suddenly burst into tears. I then found that she had encountered problems in her marriage. I did not know what I could help but simply suggested her to listen to some music that could give her positive energy. After some time, she told me that her relationship with her husband had improved and this made me realise the power of music, and the real meaning of music."

In another example, Becky really appreciated her student's commitment to learning. He was an 80-year-old man who had to come to class with a walking stick and was accompanied by a nurse. Becky added, "Even though his legs were weak, he always insisted to stand up to practise breathing, same as others. He even questioned me why he should not!" His perseverance and passion has deeply impressed Becky, and set a very good example to both Becky and others.

Giving to the Community

Becky believed that through music she could "give" more to others. Last summer, she followed a non-profit organization to visit children in some remote areas in Mainland China and also sang the theme song for that programme. She also took part in the filming of a movie, acting as the mother of an autistic child, which was a big challenge to her. Becky said, "The movie was filmed based on a real story as if it was a reproduction of what has happened 20 years ago. The Director was serious about every single detail and I even had a direct conversation with the "real" mother to understand and her feelings and experience before filming." What made Becky feel accomplished was, the real "mother" was touched by her interpretation of the role, as the "mother" could visualize her previous encounters through Becky's acting.

Spreading Positive Energy via Music

Looking back, Becky recalled that she has learnt a lot. "My experience in the past 12 months has inspired me much. Previously I put my interest as my career and I ended up being very result focused. I was lost and not aware of the significance in enjoying the process. When I was young, I thought winning prizes, fame and applause was what music brought to me. Now, I realised that helping others grow was more important and this was indeed what I should do with music." In the next project, Becky would produce an album with an aim to spread positive energy through her voice.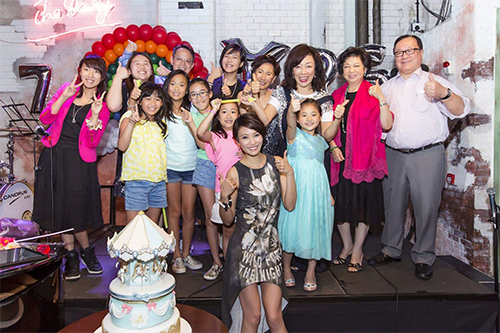 Becky's students range from teenagers to elderly.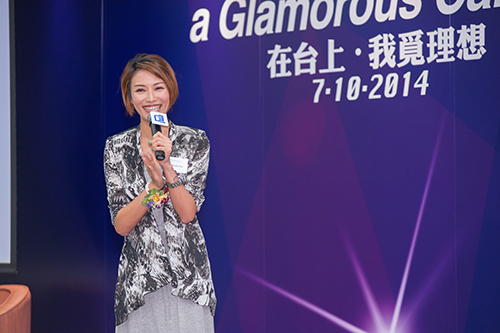 Becky, one of the speakers at the Alumni Sharing Forum "Make Arts and Culture a Glamorous Career" organised by Alumni Affairs Office, shares her practical experience on stage.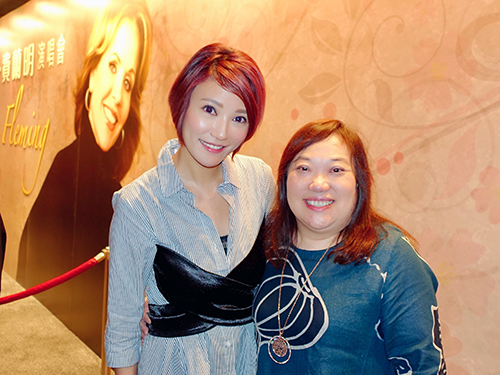 Becky maintains good contact with HKBU teachers and one of them is Ms. Chan Siu-kwan (right).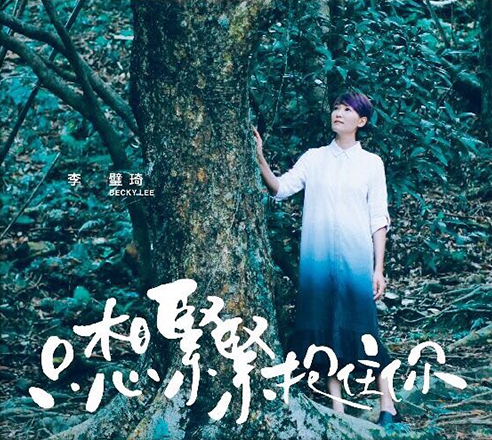 The latest song released by Becky