Alumna Esther Wong (Social Work; Geography) is a staunch supporter of her alma mater. She cares much about the development of HKBU students and has set up a number of scholarships over the years. To benefit more students from the Department of Social Work, she has made another donation of HK$20,000 to the Madam Esther M.W. Wong Scholarship recently. Department Head Prof. Petrus Ng and Director of Alumni Affairs Dr. Melanie Lee expressed their gratitude to alumna Wong in person for her unfailing support to the University and the Department.

Alumna Wong is currently Patron and Director of HKBU Century Club. Being the Chairman of the Organising Committee of the Club's Fundraising Banquet in celebration of the 60th anniversary of HKBU and 40th anniversary of the Club, she has spared no effort in calling for alumni support through being a role model and a leader herself.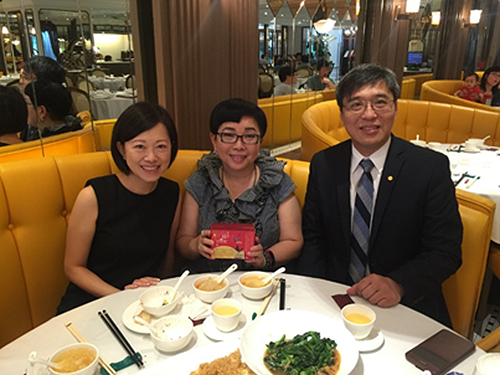 Prof. Petrus Ng (right) and Dr. Melanie Lee (left) are grateful to alumna Wong (middle) for her unfailing support.