Alumnus Tsien (Business Management) was conferred Honorary Professorship by the School of Business on 6 October.

President Chin noted that in order to scale new heights, it is essential for HKBU to maintain a good "ecosystem" for the purpose of recruiting the best students and the support of well-connected industry veterans such as alumnus Tsien could surely help structure the ecosystem.

Before alumnus Tsien delivered his speech, Dean of School of Business Prof. Ed Snape introduced the former and thanked him for his deep and enduring commitment to the School, saying that he had fully exemplified whole-person education. Prof. Snape also commended alumnus Tsien for his global vision, setting an outstanding model for our graduates.

Graduated from the School of Business of HKBU in 1973, alumnus Tsien's connections to HKBU and his contributions to the School of Business are sustained and broad. Apart from being an HKBU Court member from 2005 to 2011, he was granted Honorary University Fellow in 2010, and served as the Chairman of the School of Business Advisory Committee from 2003 to 2013. In support of the growth of the local tertiary education, alumnus Tsien is frequently engaged in delivering lectures at the graduate schools of business in Hong Kong.

After the conferment, Tsien shared with the attendants how he gauged Hong Kong's competitiveness. Having a profound knowledge in the logistics industry, he cited the case of the local container ports to illustrate key factors conducive to Hong Kong's infrastructural development. As one of Hong Kong's economic pillars, container trade is facing the same problems now the city is facing: land shortage and rising labour costs.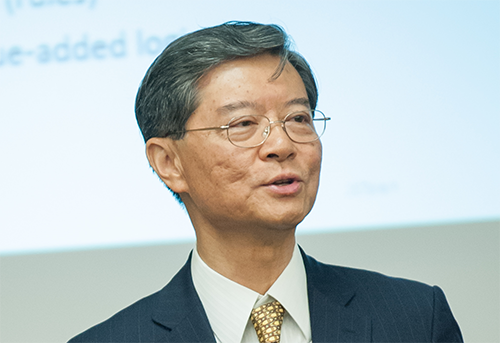 Alumnus Tsien's deep and enduring support to the University is highly appreciated.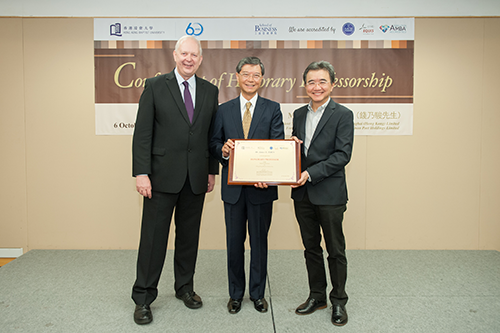 Alumnus Tsien (middle) is conferred Honorary Professorship by President Chin (right).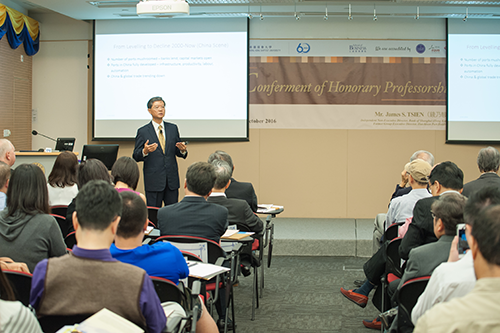 Alumnus Tsien delivers a speech after conferment.