Hundreds of alumni of different faculties and schools, staff and friends gathered on campus of HKBU to join in the Homecoming Day 2016 on 2 October. Organized by the Alumni Affairs Office, the annual Homecoming event was themed after "Happy Diamond Jubilee" in celebration of 60th anniversary of HKBU. Participants had a great time rekindling friendship at various Homecoming events including Diamond Jubilee Campus Tour, Diamond Jubilee Tea Reception, and Alumni Investiture Ceremony.

Officiating at the kick-off ceremony of Diamond Jubilee Campus Tour were Vice President (Research and Development) Prof. Rick Wong, Vice President (Teaching and Learning) Dr. Albert Chau, Associate Vice President Prof. Frank Fu, Dean of School of Continuing Education Prof. Raymond So, Head of the Department of Journalism of the School of Communication Dr. Alice Lee, and Director of Alumni Affairs Dr. Melanie Lee. Participants had a good introduction of the latest campus facilities including HKBU School of Chinese Medicine Lui Seng Chun in Mongkok. Afterwards, they also joined other alumni at the Diamond Jubilee Tea Reception and took snapshots in front of a time tunnel backdrop that featured different campus scenes in the past six decades.

At the Alumni Investiture Ceremony, a unique HKBU tradition that recognises alumni's contribution to society over the years, alumni who graduated in 1961, 1966, 1971, 1976, 1981, 1986 and 1991 received name-engraved medals from President Prof. Roland Chin. During the Ceremony, alumnus Sam Leung from Department of Physical Education, who is currently the Committee Member of Hong Kong Rope Skipping Federation, China, led a team of six members to give an exciting rope skipping performance to pay tribute to the alumni.

Please click onto the links below to view more photos: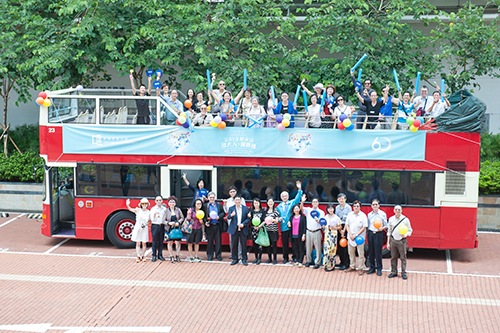 Officiating guests and alumni take photo in front of the bus after the kick-off ceremony of the Diamond Jubilee Campus Tour.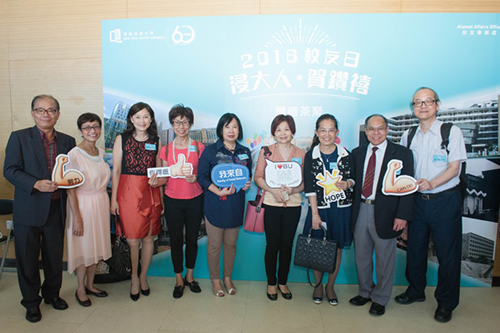 Around 200 alumni reunite at the Diamond Jubilee Tea Reception.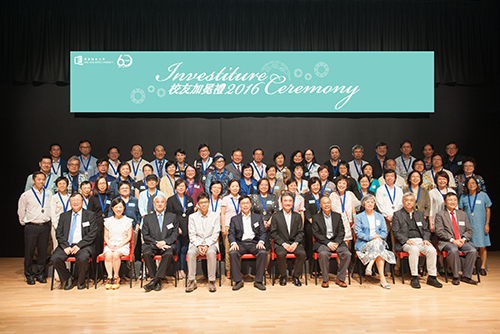 President Chin (fifth from the right, first row) presents name-engraved medals to all invested alumni and poses for photo together with other senior management members of the University.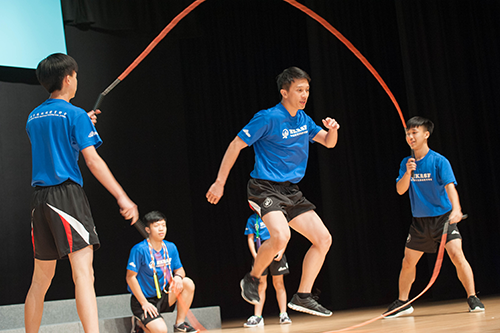 Exciting rope skipping performance by alumnus Sam Leung (centre) and his team.