Founded by a group of Communication alumni, the Lion Rock Scholarship aims to encourage students of the School of Communication to promote local spirit and core values of Hong Kong. By putting professional communication knowledge into practice, students are encouraged to uphold the truth and reveal different social issues to the public through innovative communication means.

Communication students who are interested in applying for the Scholarship, either as an individual or a team, are required to work on the selected topic of the year. They shall submit their works under the categories of "News", "Advertising" or "Film". Students may also submit multiple applications with different pieces of work. The winner of each category will receive a scholarship of HK$20,000.

For the year 2015-2016, applicants shall examine the core values of Hong Kong people after the Umbrella Movement. The topic was selected via an online voting poll hosted on the Facebook Page of the School of Communication.

The judging panel of the Scholarship includes 9 respectful communication practitioners - Mr. Yeung Kin-hing, Chris (News), Mr. Kevin Lau Chun-to (News), Mr. Alan Au Ka-lun, (News), Mr. Vincent Tsui (Advertising), Mr. Spencer Wong (Advertising), Mr. KK Tsang (Advertising), Ms. Mabel Cheung Yuen-ting (Film), Mr. Adam Wong Sau-ping, Adam (Film) and Mr. Lawrence Cheng Tan-shui (Film).

In addition to the generous matching donation of HK$100,000 from the School of Communication, the Scholarship has successfully raised HK$235,770, enables its operation for a minimum of 5 years. The Scholarship welcomes both one-off and long-term donation.

For more information on the donation method, please visit www.facebook.com/lionrockscholarship or email your enquiries to lionrockscholarship@gmail.com.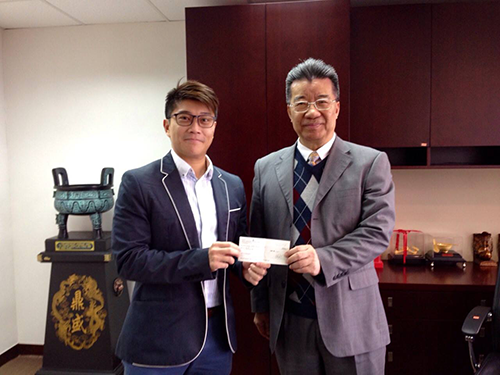 Mr. Lew Mon-hung donates HK$10,000 to the Lion Rock Scholarship (LRS) Facebook Page. An Executive Committee member of the LRS receives the cheque at his office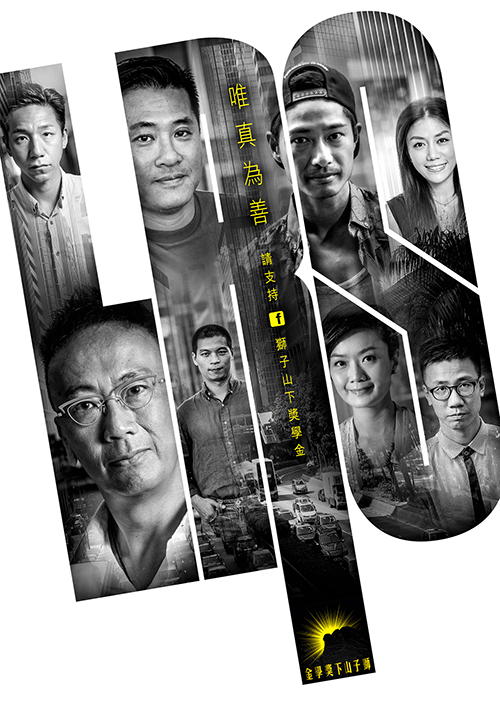 The promotion video of the Lion Rock Scholarship is supported and starred by local celebrities, artists and Communication alumni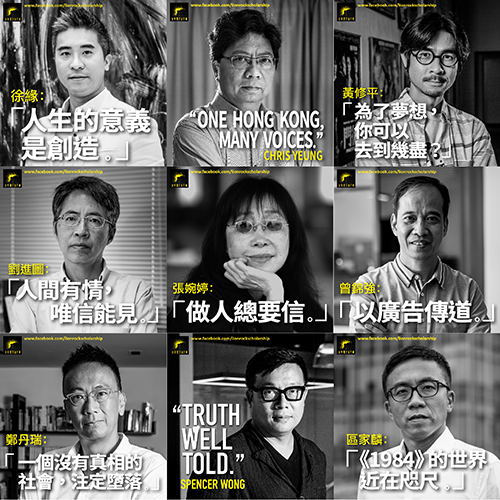 All nine professional judges not only physically support the Lion Rock Scholarship, but also use their words to encourage Communication students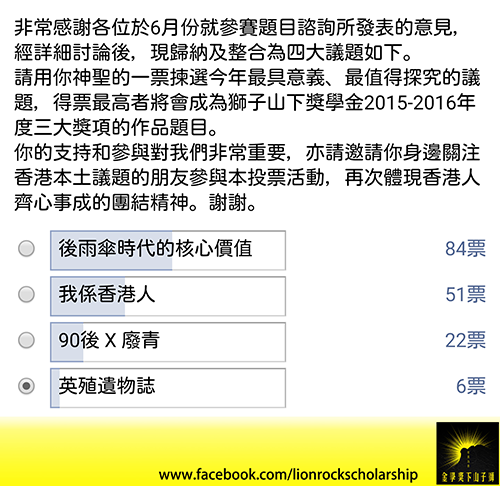 The polling for the 2015-2016 Annual Topic is held online. The topic of "The Core Values of the Post-Umbrella Era" wins the highest votes (51%), and becomes the annual topic for this year