With the full support and generous sponsorship from HKBU Century Club (the Club) as well as School of Business and School of Communication, the LongXi NOVA Hong Kong Area Competition was held in the Communication and Visual Arts Building at Hong Kong Baptist University on 22-25 August 2014. The Club finds it meaningful to support this project as it is in line with HKBU's Vision 2020 which focuses on students' creativity and community engagement.

Launched in 2007, the annual competition LongXi NOVA aims to provide a platform for "new blood" of the advertising industry to showcase their creativity. This year, a team of students from the School of Communication also participated in the competition whereby they gained invaluable experiences.

The three winning teams will represent Hong Kong to participate in the LongXi NOVA Grand Final Competition in the Jilin Animation Institute, Changchun on 12-15 December 2014.

LongXi NOVA is one of the awards organized by LongXi. Stepping into its 18th year, LongXi has made great strides in raising the standard of Chinese language advertising in the Greater China region since 1997. For more information about LongXi, please visit its official site at http://www.longxiawards.org.cn/en/.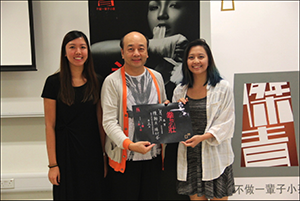 Vice-President of HKBU Century Club alumnus Kent Tsui Kwok-yue (centre) presents the award to the 2nd runner-up at the ceremony