Sports are crucial for one to achieve physical fitness and healthy lifestyle. The increasing popularity of sports activities also brings promising prospects for the physical fitness industry. The Alumni Sharing Forum organised by the Alumni Affairs Office on 1 November featured three outstanding alumni from Physical Education, namely Alumnus Chan King-yin, Alumna Dr. Wong Ka-yee, Allison and Alumna Tang Ka-pui, Carmen, to share with students and alumni on how they had made good use of their professional knowledge and skills to serve the community, as well as to live by a positive attitude and mindset for themselves through sports.

At the Forum, alumnus Chan emphasised that he was very passionate about sports and sports science. He strived to provide a fair and open platform for talented athletes to fully unleash their potentials. He was determined to enroll in the HKBU Physical Education and Recreation Management Programme even after he had become a father of two as he aimed to start his second career after completing his life as an athlete. In regards to life principles, he always goes after his interest, regardless of study or work and stay on the track where he believes is "correct" for him. For future development, he would like to enhance the performance of athletes in competitions through scientific research, out of his keen passion in sports science.

Allison acquired the skills of independent thinking, critical analysis and problem solving during her studies at HKBU. She added that a lenient attitude should be adopted when treating others while a more stringent standard should be applied when assessing oneself. When challenged by different opinions, one should always stay calm, try to put themselves in others' shoes and be empathetic. By doing these, we can make the world a more harmonious place with more positive energy. She would like to deepen her knowledge in Business Management so as to better equip herself for challenges ahead. For students who are interested in joining her field, she recommended them to start with volunteering, regardless of the nature of activities or the duties being assigned. Every opportunity is equally valuable and the experiences always count.

The most remarkable experience for Carmen after graduation was joining the Hong Kong Schools Sports Federation, where she introduced inter-school sports events for students in primary and secondary schools. On top of that, she also initiated student sports volunteering programme at her spare time, in which non-athletes can also take part in various sports events. When being asked how to handle requests from demanding "helicopter parents", Carmen believed that genuine communication was of utmost importance. For most of the time, the issues could be resolved when parents or teachers gained mutual understanding after discussion. Some even offered to help in the event management process. She took full devotion, not afraid of being taking advantage of and being observant as her mottos.

Associate Vice-President Prof. Frank Fu, also took the opportunity to share his life experiences with the audience. He believed that prospect for Physical Education graduates was promising since the university programme was designed to provide students with diversified training in administrative support, human resources management and event management. Having said that, he reiterated that students should also grasp and treasure every internship and volunteering opportunity in order to prepare themselves for the real world. Last but not least, Prof. Fu shared his mottos with the audience:

1. Don't be afraid of taking on challenges.
2. Don't say "NO" and give up so easily. Be persistent.
3. Don't ever stop learning.
4. Don't ever stop dreaming.
5. Don't ever put yourself down.

Speakers' Biographies

Alumnus Chan King-yin, MH (Physical Education & Recreation Management) Windsurfing Coach, Hong Kong Sports Institute

As a top-notch windsurfer, alumnus Chan claimed gold medals at the Asian Games in the mistral light class in 2006 and 2010. He was honoured with the Hong Kong Outstanding Athlete Award in 2006. After quitting from windsurfing competitions in 2011, he took the Elite Coaching Apprenticeship Programme run by Hong Kong Sports Institute and Committee of the Hong Kong Athletes Career and Education Programme run by The Sports Federation & Olympic Committee of Hong Kong. He then attained a Bachelor degree programme in Physical Education and Recreation Management at HKBU.

Alumna Dr. Wong Ka-yee, Allison (Physical Education & Recreation Management) National Director, Special Olympics Hong Kong (SOHK) and Executive Director, Hong Kong Sports Association for Persons with Intellectual Disability

Alumna Wong received her Bachelor's degree and Doctoral degree at Hong Kong Baptist University in 1999 and 2006 respectively, specialized in motor skills and development of children in her research. She was once the Lecturer and Chief Coordinator of HKBU Associate Degree in Sport and Recreation Studies and the Director of CIE Wellness Promotion Center of HKBU. Alumna Wong has been serving as the National Director of SOHK and the Executive Director of HKSAPID since 2013, in which she works closely with athletes, coaches and volunteers etc. to further promote the message of harmony and integration to the community.

Alumna Tang Ka-pui, Carmen (Physical Education & Recreation Management) Deputy Secretary General, The Hong Kong Schools Sports Federation

Alumna Tang graduated from HKBU with a Bachelor in Physical Education and Recreation Management in 2005 and attained a Master's degree in Sports Medicine and Health Science at CUHK in 2009. Upon graduation, she embarked her career in the sports industry. She is keen on promoting sports culture among students and has achieved to make school sports competition live broadcast available on television channel. Also, she initiated the sports volunteer scheme which nurtures non-athletes to participate in sports in different ways in schools.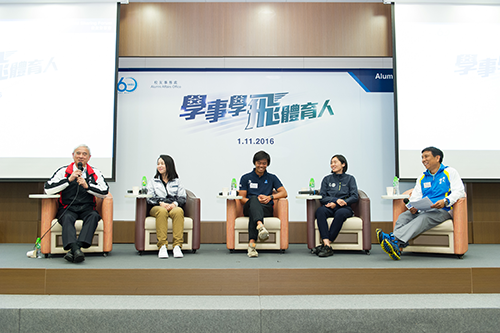 (From left) Prof. Frank Fu, Alumna Tang Ka-pui, Alumnus Chan King-yin, Alumna Dr. Wong Ka-yee and Dr. Lobo Louie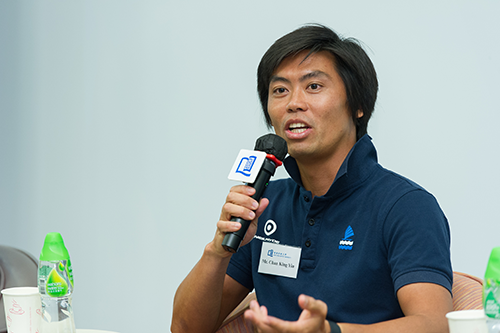 Alumna Chan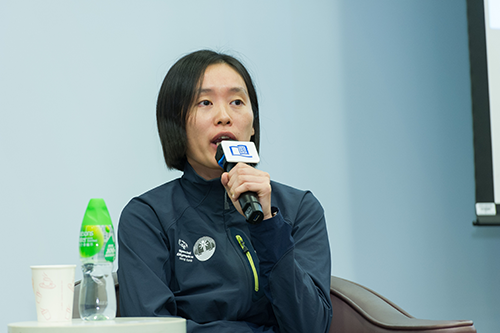 Alumna Dr. Wong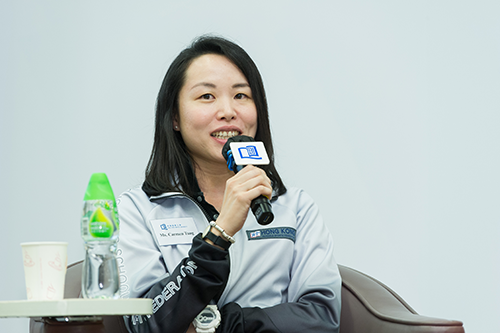 Alumna Tang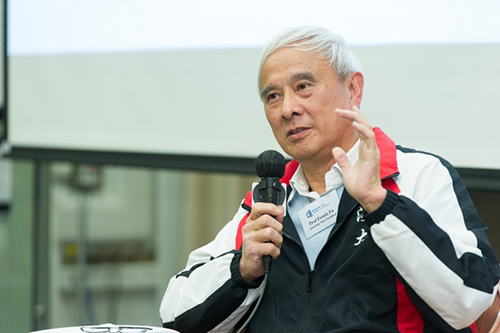 Prof. Fu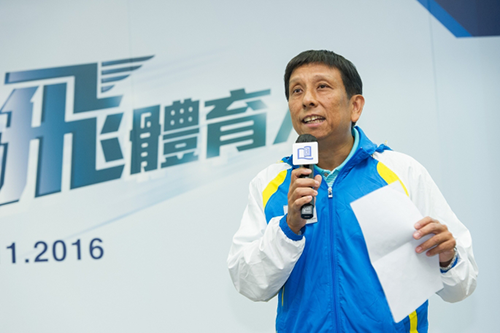 Dr. Louie