The Buddy Post has interviewed alumnus Dr. Louis Ho, currently the Research Assistant Professor at the Department of Humanities and Creative Writing. He will share with us his passion in humanities and his mission of teaching at Hong Kong Baptist University(HKBU).

Reporter: What attracts you to study Humanities and Creative Writing?

Dr. Ho: I chose to take Humanities Programme in 2003 at HKBU with the fact that it has a very unique course code "2046" (title of film director Wong Kar-Wai's unfinished movie at the time). While my other classmates were all taking business related programmes, I thought it would be rather special to study human, arts and culture, visual arts and drama etc. I got admitted to the programme and I decided to give it a try.

Reporter: What is your mission for education?

Dr. Ho: My mission for education is aligned with the mission of the Humanities Programme. Apart from training my students to think big, I would like to teach them the ability to ask interesting questions, to appreciate humanity and life as well as letting them know that there is always an alternative way of living. I want to let them know that there are people in the world of whom they share similar values and could walk through life with. I see myself as a mentor to my students, rather than a teacher.

Reporter: What are your research interests?

Dr. Ho: My research interests include cultural policy studies, creative and cultural industries, museum and museology, and popular culture. Recently, I am doing research on street performance in Mong Kok, Tsim Sha Tsui and Causeway Bay areas. I am more interested to explore the area on policy relating to cultural life of youth as it is important to address their needs.

Reporter: As museology is one of your major teaching areas, can you share with us your most favourite museum and why? What museums do you recommend starters to visit?

Dr. Ho: I think that museum goers should visit all kinds of museums and art spaces whenever they have a chance and make it a habit. When I was in Year 3, I was so delighted that I could participate in the Exchange Programme and studied at the University of Amsterdam in the Netherlands where I was fortunate enough to have visited an environment surrounded by museums. In particular, I found the Van Gogh Museum in Amsterdam the most interesting and I could feel the impact of artistic masterpiece right in front of my eyes. Apart from visiting museum, it was also an eye-opening experience to stay at the Student Container Hostels in Amsterdam. Living in a converted shipping container was a new concept to me and I would definitely consider this as an amazingly creative piece of art form.

Reporter: Is aesthetics sense inborn? Can it be nurtured?

Dr. Ho: I believe that everyone has the ability to appreciate art and beauty by instinct. Yet, due to environmental factors such as the hustle and bustle of cosmopolitan life and a fast-paced living style, the aesthetics sense may somehow be hindered. The element of beauty is everywhere and it really depends if one is given an opportunity to appreciate beauty.

Reporter: What are the prospects of graduates from Humanities and Creative Writing?

Dr. Ho: Based on the skills attained by our students during their course of studies, graduates of Humanities Programme can engage themselves in a broad spectrum of works including cultural management, advertising and marketing, design, airline, new media and media such as magazines and newspapers. Some of them even start up their own businesses as entrepreneurs.

Reporter: How do you interact with your students and what is your advice to them?

Dr. Ho: It is essential to establish a good relationship with my students in class. In order to achieve this goal, it is important to create an open environment which facilitates and encourages proactive interactions with my students. I love to inspire students to learn independently by pro-actively asking questions. There are no stupid questions in the world and there are no absolute right or wrong answers either. The theories taught will help them ask more 'relevant' questions. By asking relevant questions, students' ability to think critically and to make independent judgment will be enhanced. This is my advice to them.

From day one, teachers from the Humanities Programme have been so close to students and attentive to their needs. The atmosphere is very cosy and teachers always welcome students to talk with them during break time. This is the style and model which I pursue for my teaching.

Interviewee's Biography:
Dr. Louis Ho Kin-chung received his Ph.D. and BA (Hons) in Humanities and Creative Writing from HKBU. He is currently the Research Assistant Professor of Humanities and Creative Writing at HKBU.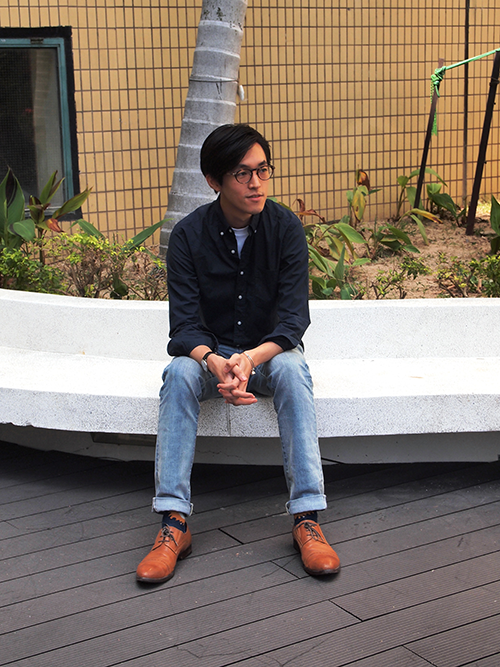 Alumnus Dr. Louis Ho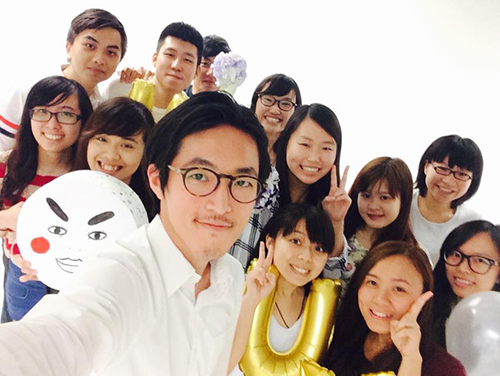 Alumnus Dr. Ho and his Humanities students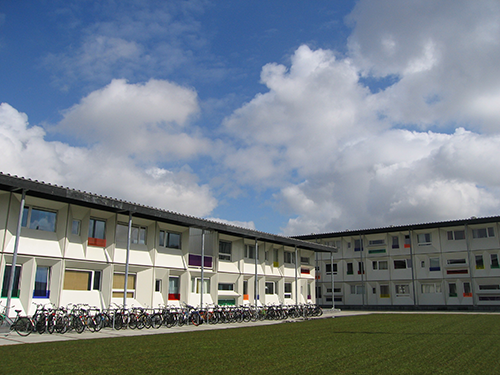 An amazing eye-opening experience to stay at the Student Container Hostels during Dr. Ho's Exchange Programme in the University of Amsterdam