Breaking with Tradition
Director of Drainage Services Department





An Interview with Alumna Alice Pang



Nowadays, women have outstanding achievements in various industries, demonstrating that their ability are on par with men.  Traditionally, men dominate the engineering sector.  Alumna Alice Pang (Civil Engineering), however, broke with tradition when she took up the appointment of the Director of Drainage Services as the first female engineer to lead the government works departments.

A Daring Decision that Changes Life

To be an engineer had never been alumna Pang's childhood dream job.  When she first attended Baptist College in 1980, she had to take the Basic Studies courses before selecting the major subject.  Alumna Pang recalled, "Initially I wanted to study either communication or social work.  However, I learnt that the civil engineering programme would be abolished the next year which aroused my interest in the subject. After consideration, I decided to choose civil engineering as I believed that an engineer could make multifaceted contributions to society."  To alumna Pang, it was a courageous decision then as she had not studied additional mathematics in secondary school, and civil engineering was well known as a difficult subject in the College.  Therefore, she had to double her efforts in studies in order to catch up with the class.  Although studying Civil Engineering was tough, she had developed a close relationship with classmates. Alice recalled that there was a Room 104 on campus that was designated as a "common room" for civil engineering students, which brought a sense of belonging to students.  Alumna Pang has always taken pride in studying civil engineering.  It is out of her expectation that her daring decision taken years ago would have forever changed her career in life.

Building a Career is like Completing a Jigsaw Puzzle

When alumna Pang graduated from the College, the job market of engineering was gloomy.  Fortunately, she managed to join the government as a graduate engineer. Since then, alumna Pang has always been dedicated to working in various departments of the government for 30 years, during which she not only earned recognition from her supervisors but also consecutive promotions.  In 2020, she became the first female Director of Drainage Services, making history in the civil service.  When asked about how she outshone others, she said humbly, "In fact, I am no different from others, except that when I love my job, I would devote myself to work wholeheartedly, giving my best effort to achieve the highest standard possible.  To me, career development is like completing a jigsaw puzzle.  We should not be satisfied with past achievements but instead should always try to make breakthroughs to broaden our horizons."

Teamwork First, Regardless of Gender

The engineering sector is always male dominated. On the subject of leading a team of predominately male colleagues at work, alumna Pang said, "With regard to work, I have never focused on the differences between male and female colleagues.  I consider myself as the Director of the Drainage Services and that's it, indeed all engineering projects demand teamwork and thus mutual respect is essential among colleagues."  Alumna Pang is now leading a team of over a thousand people, and she shared her views about personnel management, "Collaboration among team members is of utmost importance.  I always discuss with my team the projects at hand and listen to their ideas, especially those from the younger generation, whose ideas are always innovative.  I believe that everyone possesses his/her own strengths, their collective efforts continuously contribute to the team's enhancement."

Deriving Fun from Work

Before joining the Drainage Services Department, alumna Pang had worked in the Civil Engineering and Development Department and the Development Bureau.  She had participated in various types of projects including reclamation, and the revitalisation of rivers and historic buildings, etc.  When touching upon the subject of leisure activities, she said, "I like to wander around previous work sites, such as West Kowloon Waterfront, Lui Seng Chun, and Kai Tak Development etc., to enjoy these facilities as an end user.  This would help me experience the facilities from a new perspective and bring inspiration to my future projects."  During the interview, we could feel her love for, and open-minded attitude at work. In fact she inherited the attributes from her father, who was an open-minded father emphasising the importance of communication.  "My father seldom objected to what I wanted to do.  When he wanted to instill in me some philosophy in life, he usually did so indirectly.  I remember when I was still young, my father took me out to watch the movie Gandhi at Palace Theatre just the night before an examination. Afterwards, we went to have Nanjing beef noodle. It was a memorable moment of my life."

Exiting the Valley to Reach the Peak

Greatly influenced by her father, Alumna Pang always embraces a positive attitude towards life.  She would like to encourage all alumni who are striving in their career, "Throw yourself into work that you love.  In the end, when you find satisfaction at your work that can exert positive impacts on society, you will not only discover the joy but also get motivated."  She also encourages alumni to read extensively so as to keep up with times and broaden one's horizon.  She recommends the book Peaks and Valleys written by Spencer Johnson, who is also the author of the book Who Moved my Cheese.  For every peak, there is a valley. This is the essence of life. To truly push ourselves to great heights, we must have confidence, and to achieve that, we must admit that it is never easy and we should embrace the inevitable challenges. Nonetheless, we should never lose sight of the good things we have and look forward to another peak in the future.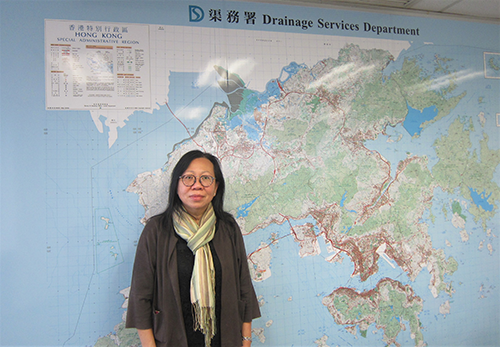 Alumna Alice Pang was appointed the Director of Drainage Services last year, making her the first female engineer leading a government works department in the history of civil services.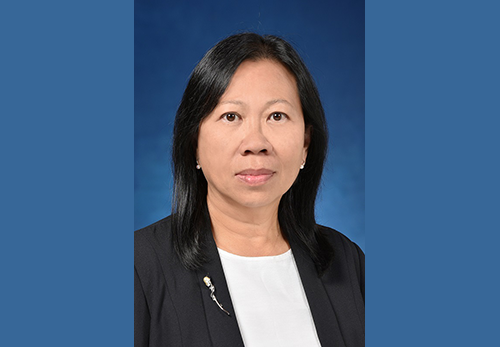 Career Milestone of Alumna Alice Pang
• Appointed Graduate Engineer in September 1987
• Promoted to Chief Engineer in September 2011
• Promoted to Government Engineer in July 2015
• Promoted to Principal Government Engineer in June 2017
• Appointed Director of Drainage Services in November 2020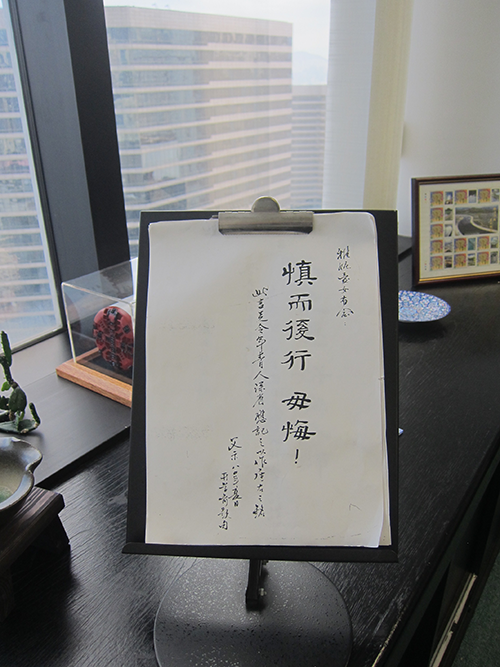 Alumna Pang's father has exerted long-lasting influence on her. He likes Chinese calligraphy and when she got admitted to Baptist College, he presented her a Chinese Calligraphy writing which she still keeps in her office today as her motto.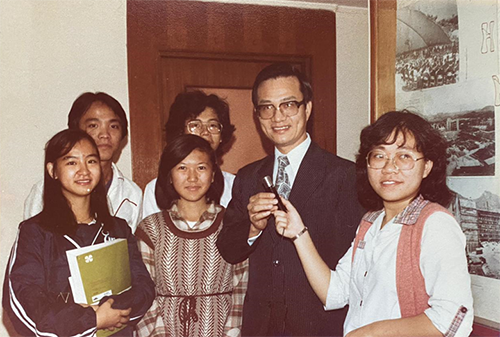 Alumna Pang (first from right) first takes Basic Studies Programme at Baptist College, which also requires her to work together with her fellow classmates in various study projects. In one of these projects, she needs to conduct an interview with the then President Dr. Daniel Tse (second from right).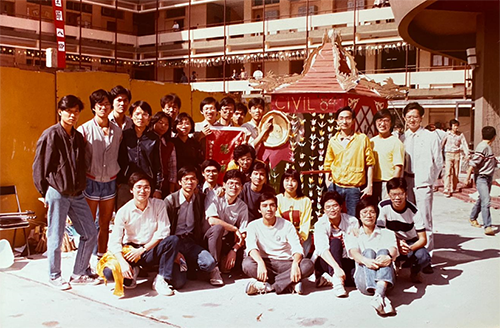 Alumna Pang points out that all students of the Civil Engineering Department at that time had a strong sense of belonging to the department, and they were very close to one another.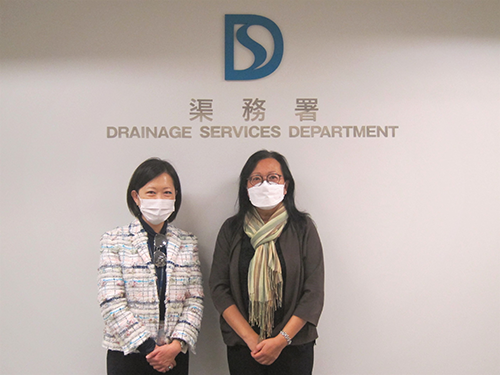 (From left) Director of Alumni Affairs Dr. Melanie Lee and alumna Alice Pang