President Prof. Roland Chin, together with some University's representatives, visited Shenzhen and had a lunch gathering with Mainland alumni on 13 April. The gathering was initiated by Alumni Committee of HKBU Foundation and jointly organised by MBA Shenzhen Alumni Association and UIC Alumni Association Shenzhen. Over 100 alumni residing in Shenzhen or nearby areas attended the gathering, in which they enjoyed interacting with President Chin and members of the University and the Alumni Committee.

At the gathering, President Chin shared with participants the recent alumni achievements and the University's latest developments, including the construction plan of the new Hostel and Academic Building Complex.

Chairman of Alumni Committee alumnus Sunny Wong (Business Management) introduced the Committee's mission of cultivating a giving culture in the alumni community. He showed the participants the promotional video of the Alumni $100 Monthly Donation Campaign and encouraged them to support the alma mater through making a monthly donation.

Echoing with the University's initiatives in stepping up the connection and engagement with the alumni in the Mainland, alumnus Ye Long (Business Administration) from MBA Shenzhen Alumni Association and alumnus Felix Xie (UIC-Finance; Business Administration), President of UIC Alumni Association shared their recent activities and motivated their peers to participate and get connected with HKBU.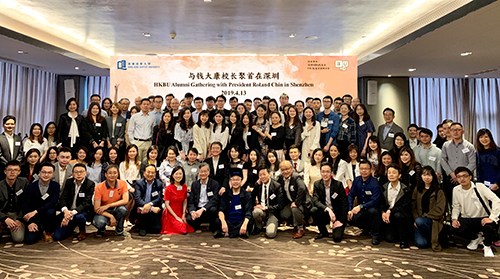 All the guests have a wonderful time at the gathering.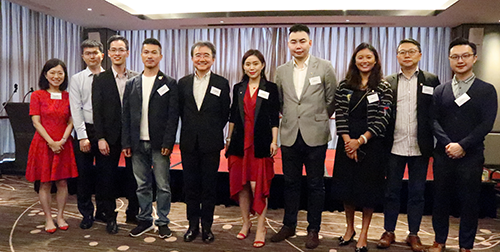 President Roland Chin (fifth from left) and Director of Alumni Affairs Dr. Melanie Lee (first from left) pose for a group photo with Members of the Organising Committee.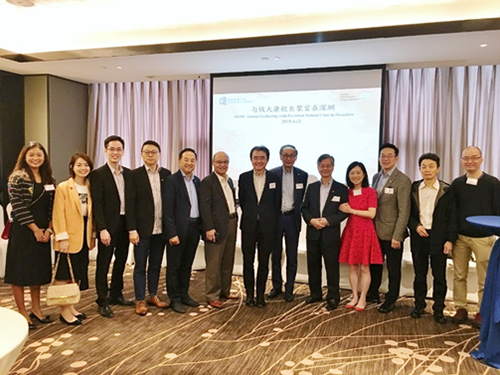 Chairman of Alumni Committee alumnus Sunny Wong (sixth from right) and members including alumni Bernard Wu (fourth from left), Alex Leung (fifth from left), Tyrone Siu (sixth from left), Wong Nga-chung (fifth from right) and Philip Kan (third from right) join President Chin (middle) and Associate Vice-President (Engagement) Mr. CK Yeung (second from right) to visit the alumni in Shenzhen.