HKBU Alumni Association of Department of Mathematics co-organised with the Department of Mathematics to present a film screening of The Man Who Knew Infinity on 25 March at the Festival Grand Cinema in Festival Walk, Kowloon Tong. Over 80 alumni and friends came to this entertaining yet educational activity. Joining them at this event were Prof. Ng Kwok-po, Head and Chair Professor of the Department; alumnus Leung Ka-wing (Physics), Chairman of the Steering Committee on Alumni Relations of Faculty of Science and his spouse; and Dr. Tong Chong-sze, Secretary General for Hong Kong Examinations & Assessment Authority and former Academic Registrar and Associate Dean of Science of HKBU.

The Man Who Knew Infinity depicted a real story of gifted Indian mathematician Srinivasa Ramanujan. Living a poor life in Madras, India, yet with his stellar intelligence in mathematics and boundless confidence, Ramanujan was admitted to the Cambridge University during World War I and became a pioneer in mathematical theories.

The alumni complimented that The Man Who Knew Infinity was a movie that featured the creative process of discovery in Mathematics. Mathematical research should always be driven by curiosity, and during the process, one should be able to find the beautiful and amazing connections between abstract concepts and objective facts.

After the film screening, the alumni continued their gathering for a lunch, sharing their recent happenings.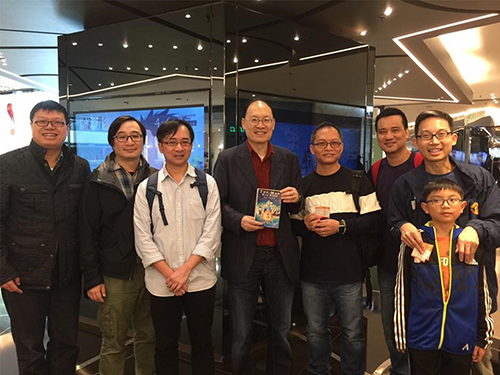 Over 80 alumni and friends came for the movie The Man Who Knew Infinity.