To pay tribute to their teacher and respected mentor, Dr. Yan Sze-kwan, former Head of the Department of Civil Engineering, HKBU Alumni Association - Civil Engineering Graduates Association initiated a fundraising campaign in March and established the "Former Civil Engineering Department Head Dr. Yan Sze-kwan Memorial Scholarship" in honour of the late Dr. Yan.

With the endorsement and support of Mrs. Anna Yan, spouse of the late Dr. Yan, this initiative and endowment tribute received tremendous support from alumni and teachers of the Department as well as Dr. Yan's family and friends. By end of March, nearly 80 donors have contributed over HK$500,000 to the Scholarship.

Starting from the academic year 2017-18, the Scholarship will be awarded to distinguished Science students who have attained outstanding academic performance and actively participated in extra-curricular activities and community services. This scholarship is set up not only to sustain Dr. Yan's spirit in nurturing young generation in scientific exploration, but also to retain his footprints on Campus.

Prof. Chris Wong, Acting Dean of Science, expressed his heartfelt gratitude to Mrs. Yan and the alumni's generous support to the Faculty. "This Scholarship is tremendously meaningful to the Faculty. It not only represents a tribute to the honourable Dr. Yan Sze-kwan, but also demonstrates the excellent tradition of alumni showing respect for their teacher," he said.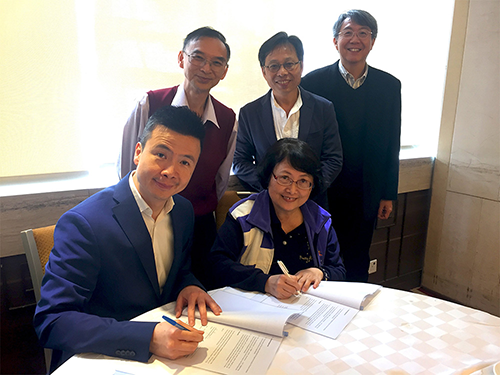 (Front row from left) Prof. Chris Wong and Mrs. Anna Yan sign the agreement for the establishment of the Scholarship.
(Back row from left) Mr. Tsui Kam-yiu and Dr. Hung Wing-tat, President and Secretary for the Civil Engineering Graduates Association, together with Dr. Daniel Kwong, Associate Dean of Science, witness the memorable moment.