HKBU School of Business Alumni Association (SBAA), School of Business and Bloomberg L.P. jointly organised a Financial Analyst Training in April, which was well-attended by over 50 alumni and students.

In its fourth year, the Training comprised two sessions - sharing session and Bloomberg training. The sharing session was held on 11 April with five alumni from the financial industry, namely alumni Ivy Ku (Business Administration), Edwin Tam (Business Management), Henry Wan (Business Administration), Sally Yan (Business Administration) and Zara Zhao (Business Administration), as speakers to highlight the different aspects of the industry. They also shared information about the career path, daily jobs and tips of landing a career in this sector, giving the participants much inspiration.

In addition, a Bloomberg workshop was held on 21 April to give hands-on training on the applications of Bloomberg terminal, enabling participants to experience the real situation as an analyst.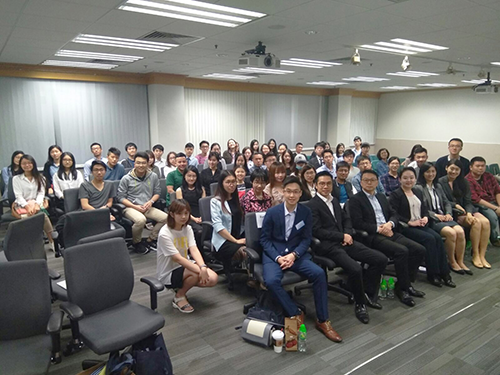 Over 50 alumni and students attend the Financial Analyst Training.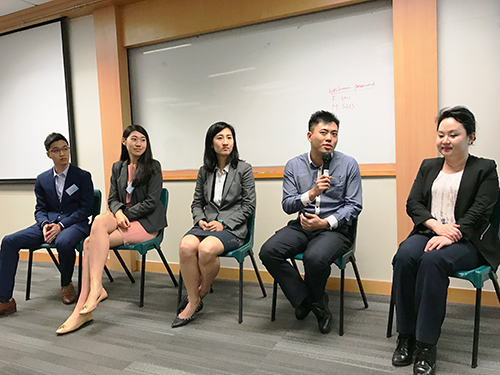 Speakers share their tips for being a Financial Analyst.
(From left) Alumni Henry Wan, Zara Zhao, Sally Yan, Edwin Tam and Ivy Ku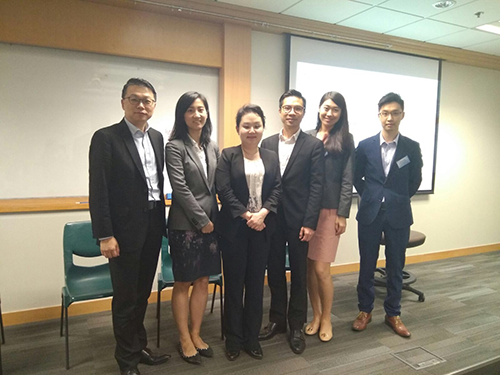 (From left) Chairman of SBAA alumnus Bernard Wu, alumna Sally Yan, Vice-President of SBAA alumna Ivy Ku, President of SBAA alumnus Franklin Fong, Executive Committee Member of SBAA alumni Zara Zhao and Henry Wan