Heart To Heart; Life Lights Up Life





An Interview with HKBU Foundation Alumni Committee Chairman Professor Sunny Wong and Deputy Chairman Mr. Philip Tsai



Alumnus Professor Sunny Wong (Business Management) and Philip Tsai (Accounting) are both awarded the 4th HKBU Distinguished Alumni Award for their outstanding achievements. They have also dedicated to contributing to their alma mater, including taking up respectively the role of Chairman and Deputy Chairman of the HKBU Foundation Alumni Committee. Incidentally, they uphold the same life philosophy: Be modest at work, emphasizing team work, listening attentively to others and be a role model to colleagues, in order to be an influential leader.

Striving Ahead and Never Give Up

Both alumni simultaneously stated that their college life at HKBU had instilled in them the attitude of striving ahead and never give up. Alumnus Professor Sunny Wong was inspired by his teacher Professor Chan. Meanwhile, alumnus Philip Tsai recalled, how a college mate insisted in assisting the college volleyball team practice by picking up the balls scattered around the court and then continued practising on his own, his perseverance finally made him admitted to the volleyball team in his final year. This proves that if one is determined and not to give up, his hard work will pay off one day.

Be People Oriented; Lead from the Heart

Both distinguished alumni thrive in the business sector. Professor Wong has over 30 years of experience in the fast-moving consumer goods industry in China, all with great success. When he was Chairman of Carlsberg Greater China, he was instrumental in making Carlsberg the second largest in the international premium segment in China's beer market. Alumnus Tsai was Chairman of Deloitte China and now a Partner Emeritus. He has accumulated over 40 years of experience in audit planning and management services for local and multi-national corporations. Both gentlemen modestly attributed their success in career to three key factors: firstly set a clear goal, then be committed to work towards the goal and strive to produce quality work, and lastly identify your uniqueness and differentiating quality that sets your apart, this will subsequently lead the way to success.

Despite having been the leader of multinational corporations, both alumni still maintain a polite and approachable manner. Coincidentally they have both adopted the "Servant Leadership" management style at work. They believe that inspirational leaders possess the traits of embracing empathy, listening with patience, emphasizing teamwork and practicing what you preach. To Professor Wong, the heart of leadership is serving others first, before himself. "A leader needs to be a supporter to the team and always serve the team with full heart." Professor Wong shared that one of the greatest challenges he had to tackle while serving as Chairman of Carlsberg Greater China was to settle disputes among different departments in Hong Kong. Hence, every time he returned to Hong Kong from a business trip, he would squeeze time for a meal with one of the department heads to understand the situation of the respective department and the needs of colleagues. A year later, to Professor Wong's delight, the department heads in Hong Kong joined hands and presented him with a plaque on which the axiom "Life Lights up Life" was shown. The gift was to express their gratitude to Professor Wong for helping them rebuild their team spirit. In the same vein, alumnus Tsai had always, throughout his professional endeavors, put the clients first, and treated capable employees as a valuable asset. As Chairman of Deloitte China, he would first consult his colleagues about a client he was going to meet, so as to gain a better understanding of the client's needs, and then come up with a satisfactory solution jointly with his colleagues. He fostered team spirit in such a way. We are deeply impressed by the charismatic leadership of these two alumni and the positive influence they had exerted on their teams.

Impact of Alumni

Both alumni Wong and Tsai are full of gratitude for their alma mater. They deeply believe the saying: "Alumni define the university". The achievements of alumni manifest the mission of the University and exemplify what HKBU's education is all about. Alumni's accomplishments bring pride to the HKBU community. The advancement of the University requires the support, among others, of its alumni. Founded in 1956, HKBU has nurtured over 126,000 graduates, a number of them have made notable achievements. The two alumni anticipate that through the concerted efforts of the HKBU Foundation Alumni Committee and the Alumni Affairs Office, more alumni could be connected for making contribution to their alma mater, propelling the development of the University.

Be a Good Listener and Be Tolerant

For young people who just recently stepped into society, alumni Wong and Tsai advised them to keep in mind two golden rules: be tolerant and listen to others attentively. Only then would one be able to build up positive interaction with others, thereby leading one to success. Alumnus Tsai said that when he was a child, his mother who was a primary school teacher, reminded him to listen attentively to others, in order to observe and learn from their strengths. Since then, he would regard people whom he encounters as his teachers. He also shared that he learnt how to be a gentleman from his partner mentor at work. To alumnus Wong, his father and his past supervisor exerted the greatest influence on him. All of them let him understand the importance of treating people with patience and tolerance, which has benefited him for life. He said, "My father has taught me since I was small to be kind and generous to others. Always propagate other's good deeds; and be patient with, and tolerant of, their inadequacy. When I was with Sanyo Electric (HK) Limited, I learnt from my Japanese supervisor to appreciate each other's difference. When someone does not meet our standard, we should encourage him/her to do better with a smile."

Alumnus Wong wishes to inspire students and young alumni through sharing his experiences. He believes that one's life lights up others'. Alumnus Tsai, who is fond of reading, encourages young people to read more instead of indulging in social media, for gaining knowledge. He recommends two books: Good to Great and Great by Choice, both by Jim Collins, a renowned American author and researcher in business management. To the two distinguished alumni, society after all is a gigantic collection of individuals. To achieve win-win collaboration with one another, we need to be open-minded, be willing to listen to others, and be tolerant.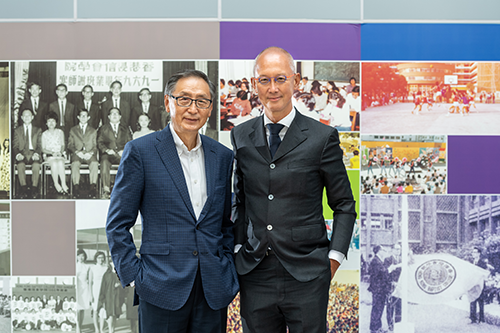 Alumni Professor Sunny Wong and Philip Tsai have always shown great care for HKBU and, to that end, have taken up the role of Chairman and Deputy Chairman of the HKBU Foundation Alumni Committee respectively.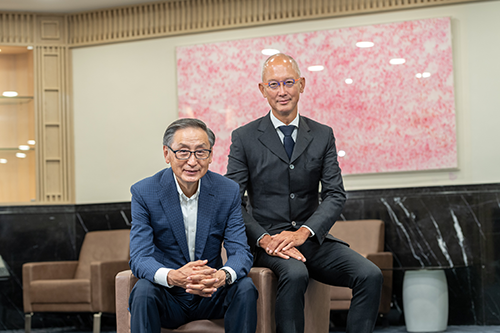 Alumni Professor Wong and Philip Tsai, both recipients of the HKBU Distinguished Alumni Award, were leaders of multinational corporations. Incidentally, they uphold the same life philosophy.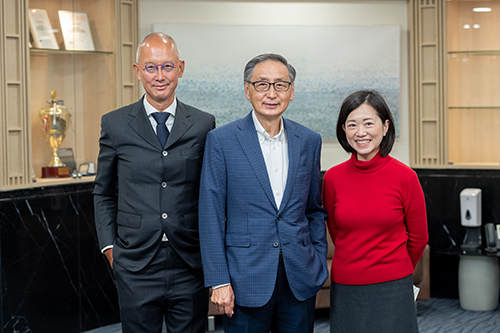 Members of the HKBU Foundation Alumni Committee work hand in hand with the Alumni Affairs Office (AAO) to draw alumni back to support the University's development.
(From left) Alumni Philip Tsai, Professor Wong and AAO Director Dr. Melanie Lee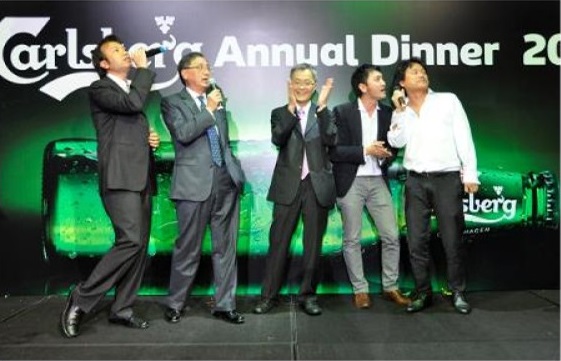 When Professor Wong (second from left) was Chairman of Carlsberg Greater China, he has built good rapport with the team.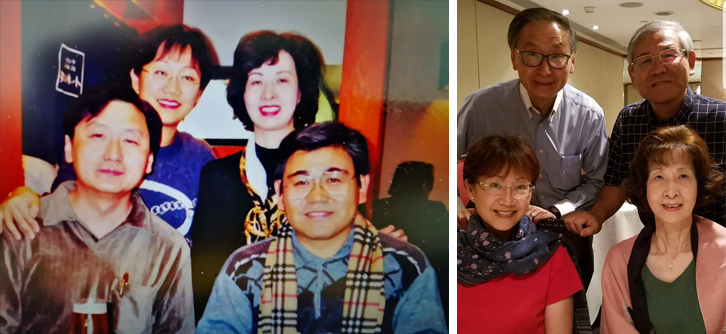 Left photo: Professor Wong (first from left) regards George S.Chidachi (first from right), his Japanese supervisor met in 1987 at Sanyo Electric (HK) Limited, as one of the persons who has exerted the most influence on him. Right photo: Professor Wong (back row; first from left) has kept in contact with his Japanese supervisor (back row; first from right), and they gather every two years for over thirty years until now.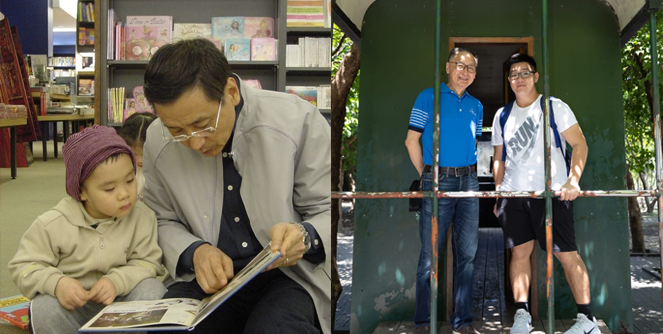 To Professor Wong, a servant leader must be linked to society at all times. With this in mind, he met a boy in Taipei who suffered from brain cancer at the age of 2, Professor Wong keeps on visiting the boy in Taipei every year, and encourages him to stay positive under difficult situation, gratefully the boy was later admitted into the university.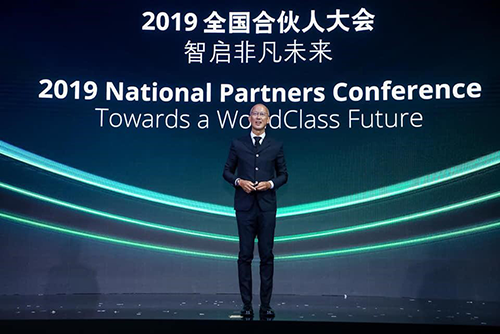 Alumnus Tsai has possessed extensive experience in audit planning and management services.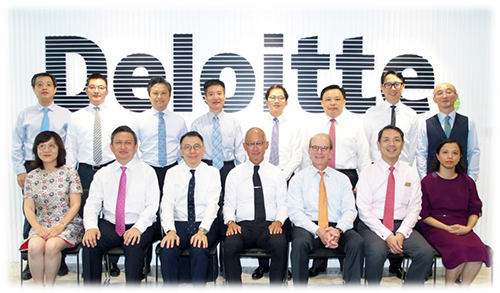 Before retirement, alumnus Tsai was Chairman of Deloitte China. He always treated capable employees as a valuable asset, and emphasized teamwork.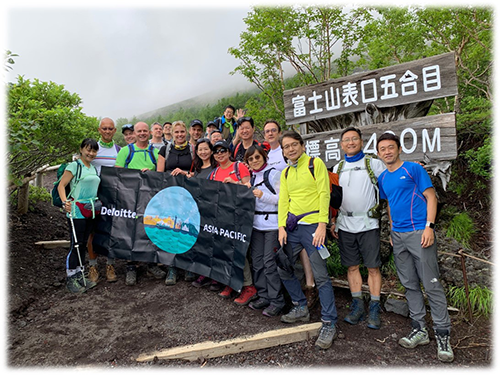 A congenial leader, alumnus Tsai joined his colleagues on an overseas team-building trip.