In view of the continual spread of the Novel Coronavirus (COVID-19) around the world, HKBU has, with the collective efforts of various departments, stepped up preventive and control measures against the outbreak, so as to safeguard the health and safety of our community. In this issue, we are grateful to have invited Mr. Allan Wong, Director of Information Technology, to share with us the various preventive and control measures, in terms of information technology, that are adopted by the University.

1. Integration of Health Declaration System with Smartcard Readers System

HKBU is the first university in Hong Kong that has introduced a daily health declaration policy and implemented a real-time system to control access to campus on the basis of self-declared data collected.

By late January 2020, as soon as the University had announced preventive and control measures, such as flexible work arrangement and suspension of classes, against threats from COVID-19, a Health Declaration System (HDS) had been developed in a timely manner to collect data on health and travel history from all staff and students who wish to gain access to the campus.

The HDS also integrates seamlessly with the Smartcard Readers System at the controlled entry points of the campus to ensure that only those without symptoms of sickness and recent travel record to high risk areas will be allowed access to the campus. Behind the scene, information gathered will also be processed and presented in an online dashboard to provide the University with an overview of the health and travel statistics of campus returnees as well as insights into the deployment of resources for necessary follow-up actions. Relevant offices can also plan for the necessary follow-up actions in relation to staff/students who have returned/will return to the campus based upon the health information and travel history provided.

To facilitate the submission of the health declaration data by staff/students, the e-form can be submitted online both from computers and via the HKBU Mobile App; and the whole declaration process will take only a few seconds.

2. Information Technology Plays an Important Role in the Risk Management Endeavours led by the President in the Fight Against COVID-19

HKBU senior management as well as the University's taskforces and working group on risk management have been able to make informed and prompt decisions in response to the recent coronavirus outbreak through the timely information provided by the data analytics and management dashboard supported by the Office of Information Technology (ITO).

3. Enabling Business Continuity and Sustainable User Support at This Challenging Time

As most face-to-face meetings would have to be replaced with virtual ones and physical classes have been suspended on campus, responsive actions have to be taken to cope with the situation. For example, the evaluation of suitable technologies, acquisition of licenses for "Zoom", expansion of hardware capacity to enable virtual meetings, as well as making available e-learning portals for all teaching and learning activities could be considered. The application of all these measures would help maintain the normal operation of the University.

To ensure that colleagues can get connected with co-workers and can be reached even when working off-campus, the capacity of some systems such as Moodle, VPN, UChat etc., has been substantially increased. Likewise, ITO user support services have been strengthened, through the realignment of manpower and the introduction of Virtual Helpdesk, to ensure that all services remain uninterrupted during periods of flexible work arrangements. Specifically, the Virtual Helpdesk provides visual-aided real-time support services to users with regard to, where applicable, the ITO hotline, emailing and IT Services Management System.

To maintain effective communication with various stakeholders of the University both internally and externally, prompt delivery of emails and announcements from the University have been put in place, even during non-office hours.

Like many in the society, we are dealing with tremendous human health challenges. Allan would like to take this opportunity to wish all alumni good health.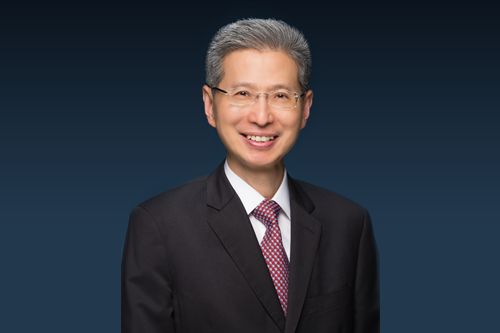 Mr. Allan Wong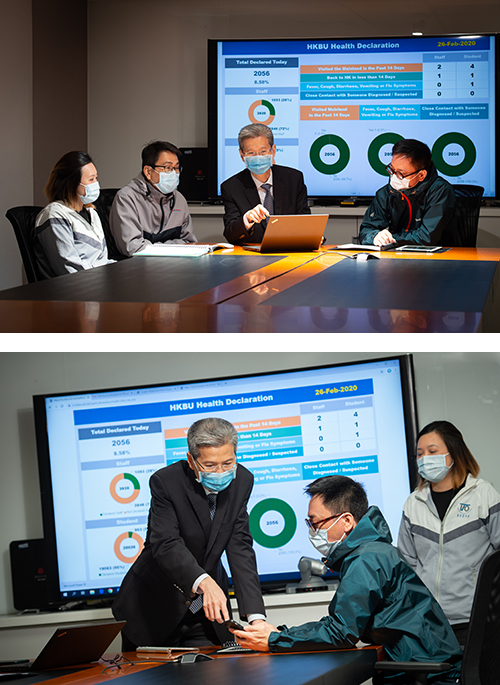 Allan evaluates the Health Declaration System with ITO colleagues regularly.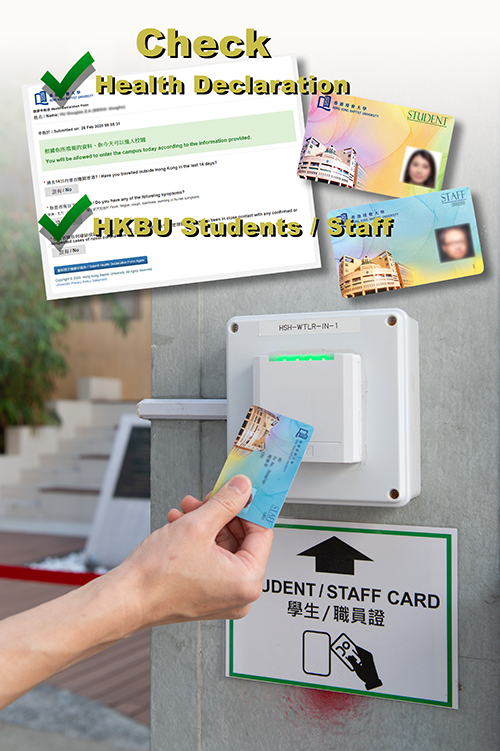 Health declaration record and HKBU staff/student identity must be checked at the designated campus entrance checkpoints.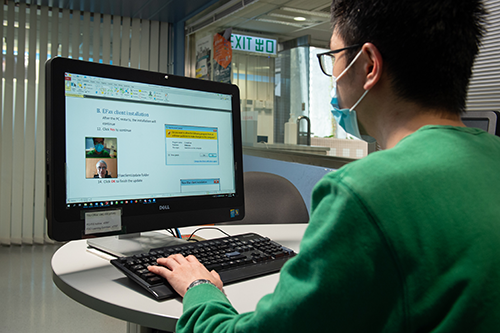 The Virtual Helpdesk provides visual-aided real-time support to users.