The Mask Donation Campaign jointly initiated by colleagues of the Centre for Innovative Service-Learning, General Education Office and Alumni Affairs Office had been successfully completed. The campaign was divided into two phases. From 5 to 17 February, over 14,000 masks were collected and distributed to the needy communities, including the Hong Kong Blind Union, Kung Yung Koon-Shabnam, Christian Family Service Centre and Amigo.

We would like to express our gratitude to the following alumni who have donated surgical masks to support the second phase of this meaningful initiative:

Mr. Wong Nga Chung, NC (Business Management)
Mr. Yuen Chi Leung, Nick (Economics)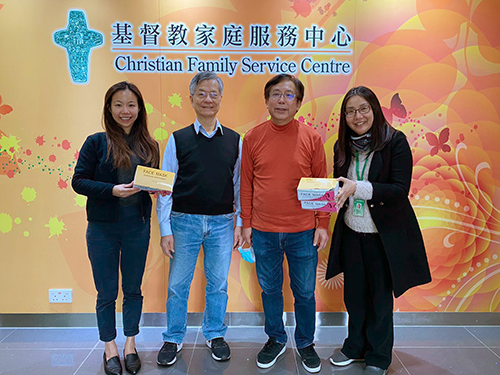 Alumni NC Wong (second from left) and Nick Yuen (third from left) presented the donated masks to the representatives of Christian Family Service Centre.