When Flowers Are in Full Bloom, Butterflies Will Come Uninvited
An Interview with
Alumna Karen Chan, JP

"When flowers are in full bloom, butterflies will come uninvited; If you are amazing, heaven will take care of everything! (花若盛開,蝴蝶自來 ,人若精彩,天自安排)" The aforesaid is the motto of alumna Ms. Karen Chan Ka-yin.  Alumna Chan believes that if you give your best in every task, keep on nurturing intrinsic moral values and pursuing knowledge, and constantly upgrading yourself, eventually your ability and talent will be known and appreciated, and opportunities for career advancement will follow naturally.  This conviction of hers has resulted in her pursuing life-long learning relentlessly since graduation, and at the same time blending creativity in her work.  When she returned to Hong Kong from her studies abroad, she first worked for a few companies, before helping her family run the German Pool Group Company Limited.   In the course, she helped the company build up various brand name products designed by her goodself.  Her career so far has been wonderfully amazing!

Instilling Confidence Through Action

Alumna Chan likes to try new endeavours.  Since she was a little girl, she has always taken the initiative to widen her horizons.  She had studied abroad and worked in companies of different sizes, and in the process, had acquired considerable experience and inspiration.  During her overseas studies, she had been an intern for a whole year, during which her main duties included brewing coffee, making photocopies and filing documents, etc.  These apparently simple or mundane tasks, to her, still provided very good opportunities for learning, like no question is a dumb question, or the need to acquire the broad picture through little details, or your efforts wouldn't go unnoticed if you try hard.  When asked whether she had ever thought of giving up in those days, she said in retrospection, "I don't have "give up" in my dictionary.  I will always hold on to what I believe, and do my best to accomplish what I have started."

In 2006, alumna Chan joined German Pool Group Company Limited, a company founded by her father, Dr. Edward Chan Kwok-man.  She was initially responsible for brand management and marketing strategy of the company.  At the beginning, the veterans of the company were skeptical of her abilities.  However, alumna Chan learned quickly on the job and burrowed deep into various departments to get a full picture of their operation.  She subsequently earned the trust of her colleagues through her performance.  Her initial projects in the company included building up a new brand name for and raising the image of the company, expanding its product lines, and enhancing the sales strategies of the company.  To that end, she had helped the company acquire the Q-Mark Service Award for Quality certification.  Besides, she also attended, on behalf of the company, various exhibitions to seek collaboration with stakeholders in promoting German Pool products to a wide clientele and the general public.  Alumna Chan said in reminiscence, "It has now been 14 years since I joined German Pool. The journey has been colourful, one even occasionally filled with unpleasantness.  Not every business plan ended up with success but most of them resulted in rare and valuable experiences."

Integrating Work into Daily Life

Alumna Chan is at present the Vice President of German Pool Group Company Limited.  In recent years, she has devoted time to public and social services, including serving as Member of the Communications Authority, Deputy Chairman of the Federation of the Hong Kong Industries (FHKI), Chairman of the Southern District Association, the Hong Kong Girl Guides Association, etc.  She has not forgotten her alma mater, and has accepted the appointment as Member of the Young Entrepreneur Committee of Hong Kong Baptist University Foundation.  Regarding how she allocates her time amidst her packed daily schedule, she said she tried to integrate her work into daily life, especially regarding how this approach could improve the company's products.  A good example is soon after giving birth, she started looking into postpartum recovery meals and their recipes, focusing on how German Pool cookware could kick in as well.  When her son grew a bit older, she ran parent-child cooking classes and attended together with her son, to cement bonding with the little boy.  She also brought together friends from the business circle and those of her son to participate in the cooking classes.  "Do what you love and try integrating it with your family, work and friends.  In this way, I can juggle my time among product development, entertainment and work, and my daily schedule can then synchronise with the work schedule."
In recent years, alumna Chan began to develop her own interests, and put her creative ideas into product development.  In collaboration with local designers and Swarovski Crystal of Austria, she launched a line of high class product items for professional women: The Sparkling Collection by german pool.  She thought of the idea of mounting crystals on the German Pool kitchen cabinet to give it a sparkling taste, turn it into a symbol of elegance, and thus improve its brand image.  Later she expanded this new concept onto gifts, jewelry, scarves and even qipao.  Working together with the local dressmakers, she put her own concept of "flowers" onto the design of qipao.  To do this, she even enrolled in a short course on the design of qipao to obtain hands-on experience.  In the opinion of alumna Chan, one has to closely follow the market trend when running a business, and makes adaptations accordingly.  The worst is to adhere to the established rules.  When she first joined German Pool, she was of the view that the company should not just stick to developing home appliance products, but should move up to the next, higher level, even though this idea also denoted strenuous efforts ahead.  She was grateful that her father then gave her the chance to try out her innovative idea so that she could change boldly ahead. During the interview when alumna Chan touched upon her own design ideas, she became so jubilant.  She frankly admitted that a sense of mission was the driving force that made her push this Hong Kong made trendy product onto the international arena, so that German Pool products nowadays are placed on the same platform with other world renowned popular brand names.

Thankful for the Past, Hopeful for the Future

Alumna Chan has garnered numerous honours in the past, such as the Young Industrialist Award by FHKI, the Young Women Innovator Award by APEC (Asia-Pacific Economic Cooperation), the Ten Outstanding Young Persons Award and the Outstanding Women Professionals and Entrepreneurs Award in Hong Kong.  Behind these spectacular achievements, there are always salient supporters and mentors.  Besides expressing gratitude to her father and husband, alumna Chan also mentioned two important persons who have immense influence on her career.  The first one is her mentor, the late Mr. Stanley Lau Chin-ho, then FHKI Honorary President.  Mr. Lau nominated her for the Young Industrialist Award and also recommended her for an honorary post at the FHKI, which helped her expand her social network.  She later took up the vice-chairmanship of the Hong Kong Industrialists Council.  The other person is Mr. Eric Sun, Vice-Chairman of the Hong Kong Exporters' Association.  Years ago, he and alumna Chan were both members of the Young Executive Council of the FHKI.  He was the one who steered her into various fields of public service.

As for words of wisdom for the young generation, alumna Chan is of the view that one has to grasp every opportunity to show his/her own worth, and should never be complacent about the job in hand, regardless of its scope.  Further, one should commit to life-long learning and try to adapt to changes.  The experiences so gained will be valuable in any future decision-making process when one reaches the management level.  "When choosing your job, do not pay too much attention to the size of the company.  You should instead consider whether the company could provide you with an ideal platform to unleash your talents.  It is also important that you could learn from a good boss.  In addition, you don't need anyone to grade you in every task you tackle, because you don't work just to please others, including the boss.  Instead, you should identify your strengths in the process.  Let your conscience guide your work.  Give your best.  In the end, both opportunities and people who appreciate you will come knocking at your door.  My life experience let me understand fully that heaven will open doors for all deserving people.  At the beginning, some of these doors might not lead to what you want, but one of them would eventually lead you to the right path, giving rise to a new horizon in life that is beyond your expectations."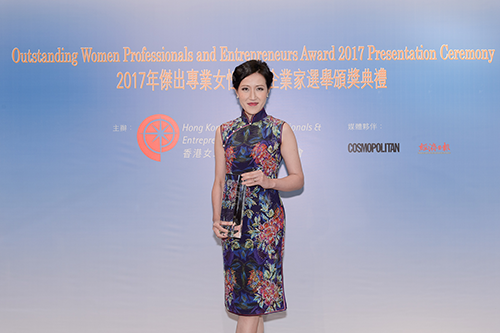 Alumna Chan wearing the qipao she designed under the new modern glamorous fashion label "The Sparkle Collection by german pool" she founded to receive the Outstanding Women Professionals and Entrepreneurs Award in 2017.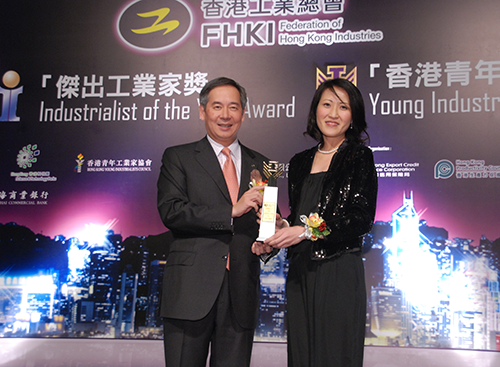 Alumna Chan received Young Industrialist Award of the Federation of Hong Kong Industries in 2009.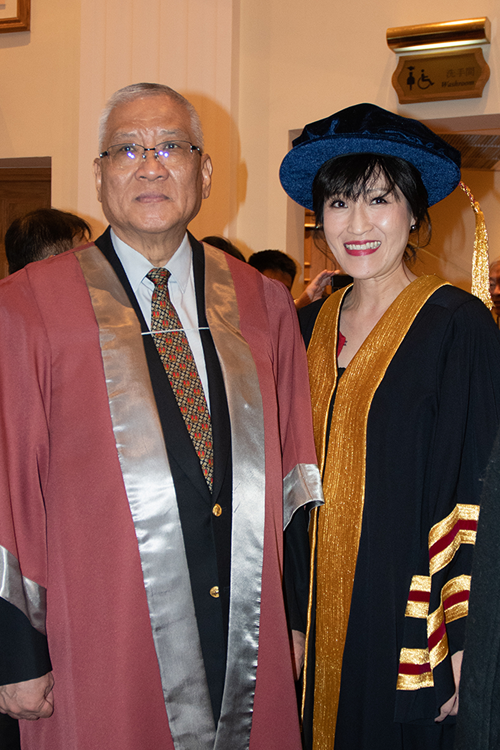 Alumna Chan and her father Dr. Edward Chan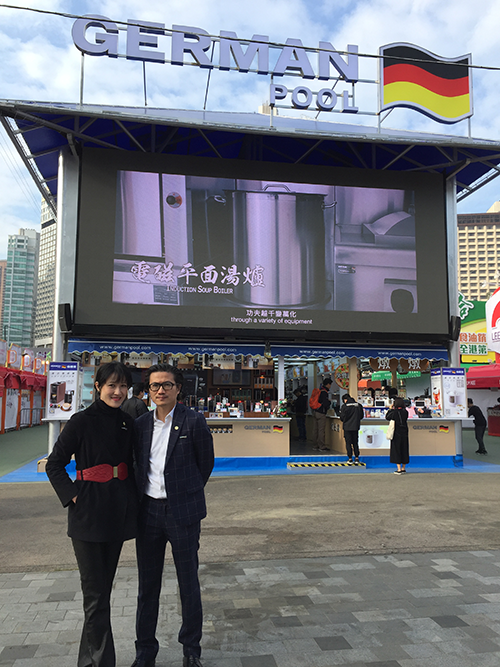 Alumna Chan and her husband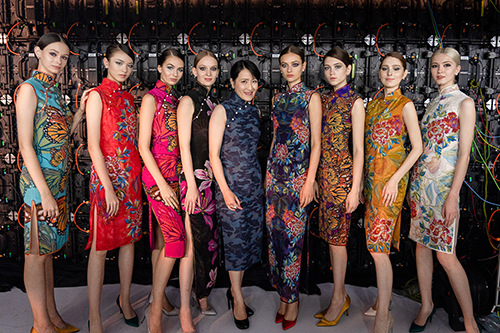 Alumna Chan posing for a photo with the models wearing qipaos designed by her at Asia's premier fashion event CENTRESTAGE 2019.