The Fifth Distinguished Alumni Award (DAA) Presentation Ceremony was held at the University's 62nd Founders' Day Reception on 9 March to recognise four distinguished alumni for their professional or scholastic achievements and immense contributions to the University and the community. The four distinguished alumni are Mr. Ronnie Cheng (Education Studies), Dr. Eddie Chui (Chemistry/Chinese Medicine), Ms. Kitty Lun (Communication) and Mr. Patrick Siu (Geography/Communication).

In his welcome remarks, Chairman of the Council and the Court and Chairman of the DAA Selection Committee Mr. Cheng Yan-kee expressed that the recipients had shown the value of well-rounded education and how a caring, creative and global culture had prepared them for the ever-changing globalised world. He also commended the four alumni as wonderful role models for HKBU students.

The Presentation Ceremony was kick-started by a stunning video highlighting the success and insightful sharing of this year's DAA recipients, followed by trophy presentation to each awardee by Chairman Cheng and President Prof. Roland Chin.

The Distinguished Alumni Award is a major annual event of HKBU. Its success owes to the support from the nominees, nominators and supporters, as well as the continuous participation of alumni and staff. The University is thankful to the members of the Selection Committee for their valuable comments and efforts made during the selection process.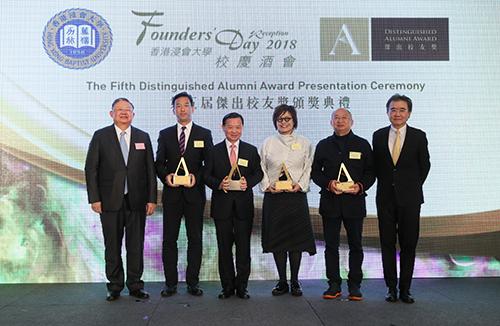 (From left) Chairman Cheng Yan-kee, Award recipients alumni Ronnie Cheng, Dr. Eddie Chui, Kitty Lun and Patrick Siu, and President Chin.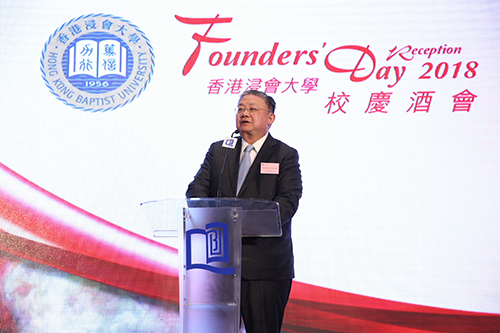 Chairman Cheng recognises the four distinguished alumni in his welcoming remarks.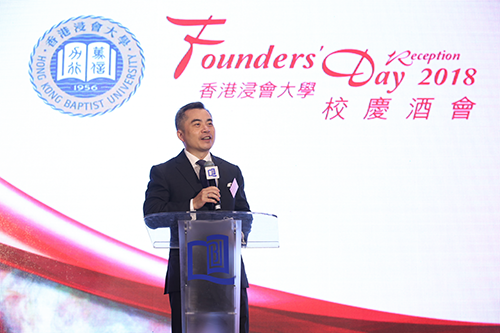 Guest of Honour Senior Counsel Mr. Wong Yan-lung gives an inspiring speech.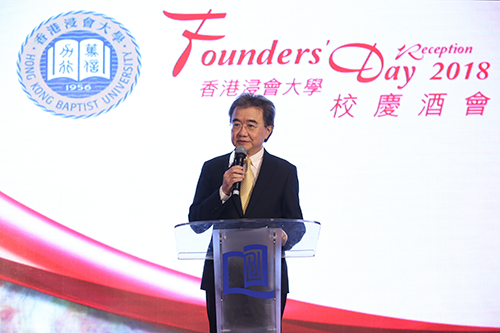 President Chin commends the four distinguished alumni as role models possessing HKBU DNA.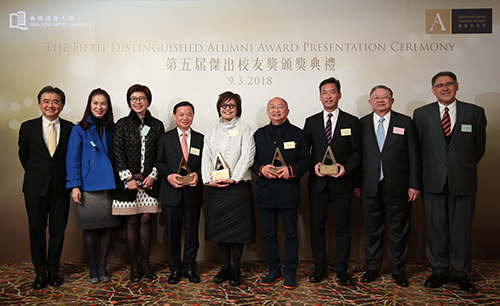 Selection Committee members and distinguished alumni pose for a group photo at the Presentation Ceremony.
(From left) President Chin, Ms. Viola Man, Ms. Quince Chong, alumni Dr. Eddie Chui, Kitty Lun, Patrick Siu and Ronnie Cheng, Chairman Cheng Yan-kee and Mr. Lester Huang.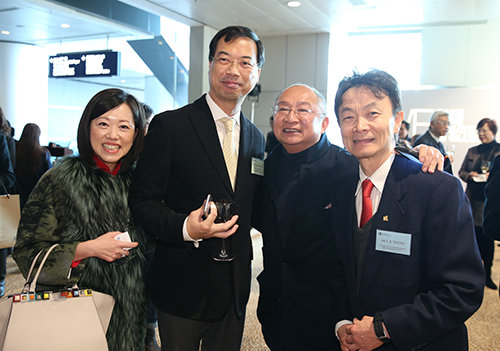 (From right) Associate Vice-President (Engagement) Mr. CK Yeung, alumnus Patrick Siu, Head of Department of Marketing Dr. Henry Fock, also nominator of Patrick Siu for the Award, and Director of Alumni Affairs Dr. Melanie Lee.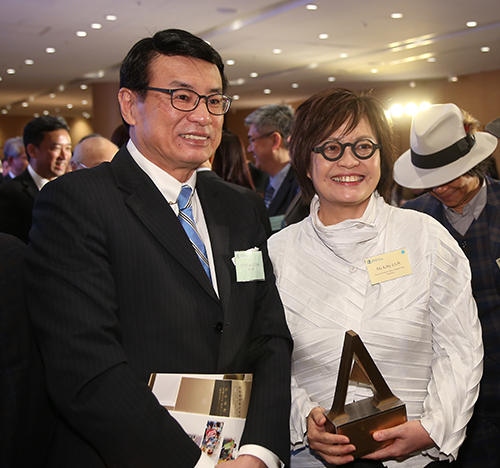 The First Distinguished Alumni Award recipient alumnus Dr. William Leung (left) is the nominator of alumna Kitty Lun (right).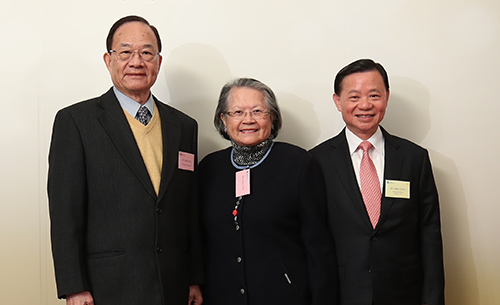 Dr. Eddie Chui (right) is grateful for guidance from President Emeritus Dr. Daniel Tse (left) and Mrs. Kitty Tse (middle) over the years.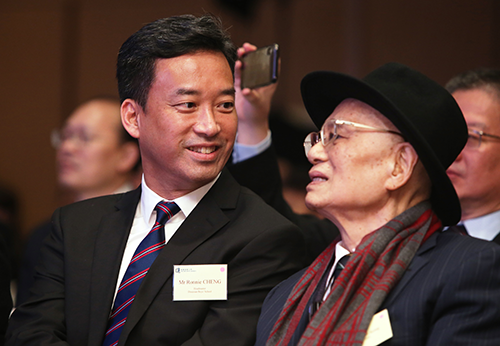 Alumnus Ronnie Cheng (left) has learnt music from Dr. Yip Wai-hong (right) since young.