"Rowing demands commitment and teamwork. Self-drive goes beyond anything." This is what alumna Vick Yeung (Sociology), President of HKBU Rowing Club Alumni Association, sees this sport activity. Since Vick established the Alumni Association ten years ago, she has been devoting herself in rowing activities, on top of her work and family. From a university student who knew nothing about rowing to a seasoned coach today, this sport has totally transformed Vick, giving her a different life.

The Essence of Sportsmanship

Looking at her tan skin and athletic outlook, you probably cannot imagine Vick was once a girl who did no sport at all. "Before university times, I was rather weak and always got sick. I didn't play any sport at all and not even know there's a difference between rowing and dragon boating!" If so, what made Vick join rowing team at HKBU? She replied with an embarrassed smile, "Because the membership fee was cheap!" "Also it gave me a chance trying water sports and this fascinated me," she continued.

Vick declared that she was once a person who, when facing difficulties, would give up immediately. The training in rowing has developed her perseverance. She shared an experience, "There was once our men's team fell short of one rower for the race, and the team pushed me to join them. We all knew that no matter what, our results wouldn't be recognized; yet the team insisted to compete in the race. I was immensely touched by our team's sportsmanship and felt proud of being one of them. Since then I was determined to grow our rowing team." Motivated by the seniors and team members, Vick, together with some fellow rowers, founded HKBU Rowing Club Alumni Association, dedicating their effort in nurturing new members.

Process is More Important than Outcome

To Vick, teamwork is the core value of HKBU rowing team. She realised that success was a journey, not a destination. Process is instead more important. As a coach, she also acts as mentor and friend of the students. Only with this relationship could she instill these positive concepts to them. "Others often commented me as being tough. Offshore in the racing shell, I am serious; but when we are onshore, I am a friend of my students. If I went too far I would apologise. After all mutual understanding is important." Vick said.

Rowing demands persistence and determination; hence Vick is tough when training the rowers. She said, "Every summer, we have training 6 days per week and most participants are students. They have to show solidarity and check their egos at the door. Togetherness and communication in a team go beyond anything else."

Grateful for the Support from Family

Interestingly, rowing is also the "matchmaker" to Vick and her husband alumnus Sung Wai-kit (Applied Physics) as they knew each other at a training session. Vick recalled, "I was just a Year 1 student and knew nobody. I had to call up some seniors to solicit their help as we were preparing for a race. Kit was the first one to whom I made the 'cold' call. Unexpectedly he said 'yes' without hesitation." Kit said the enthusiasm of Vick had touched him. "As a green-finger her rowing skill was not bad though. This was impressive!" Kit supplemented with a grin.

Later, Kit was busy with his work and quitted rowing; yet up to now, Vick is still much indulged in it. Kit is supportive of her wife's commitment to this activity. He said, "I knew a fellow alumnus, whose wife was discontented about his spending much time in rowing, had progressively skipped practice. Witnessing this, I am more determined to support rowing and the team. As long as Vick wants to pursue, I will stand by her unconditionally."

Aspire to Pass the Torch

Vick is thankful for Kit's support or she could not devote her fullness to HKBU rowing team. She said the backup from the University was also crucial. "HKBU rowing team values the connection with the alma mater. We are especially thrilled whenever senior management and staff come to watch our races." Among others, she recalled that the then President of HKBU alumnus Dr. Daniel Tse (Doctor of Humanities, honoris causa; Sociology), and more recently Vice-President (Teaching and Learning) Dr. Albert Chau, had made visits to the competition venues to cheer for HKBU team. "Their support has given extra energies to us!" Vick said blissfully.

Vick wished that the positive team spirit of HKBU rowing team would sustain. "When I was studying at HKBU, there was a banner outside the Library stating 'Pass the Touch'. This is exactly what our rowing team has been upholding. I have received much from HKBU, it's now the time to give back."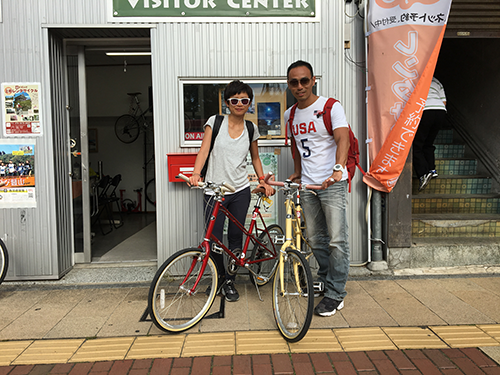 Kit (right) and Vick (left) love to do sport activities during leisure trips. They went cycling when they visited Japan.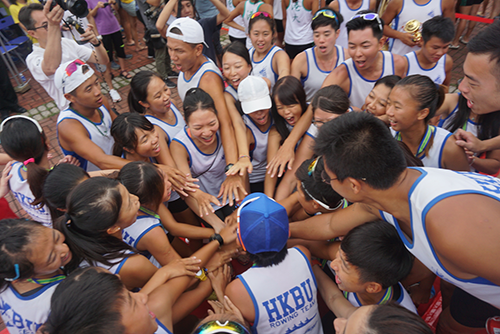 HKBU rowing team cheer for winning the overall 1st runner up award at the Hong Kong University Rowing Championships 2016.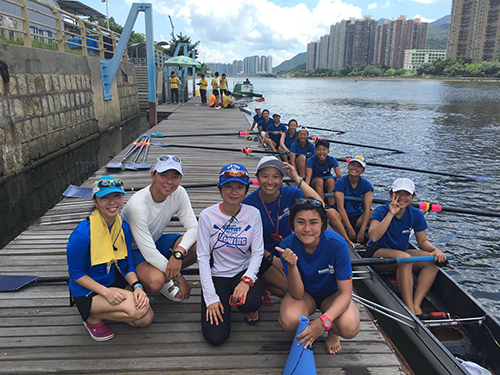 Vick (3rd from left), coaches, alumni and the women coxed 8 team pose for a photo at Hong Kong University Rowing Championships 2016.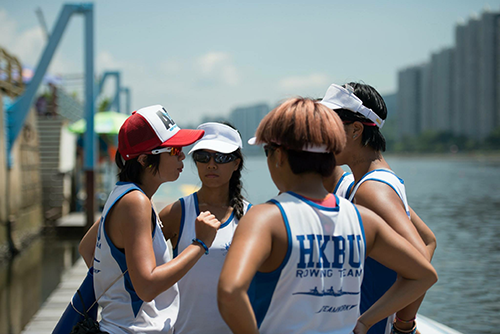 Vick (left), coach of HKBU rowing team, gives a final briefing to rowers before race.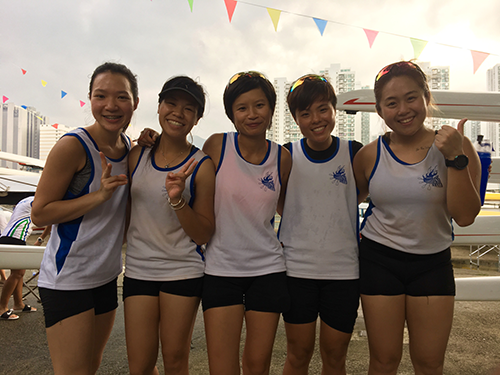 As a coach and as a friend, Vick (3rd from left) maintains good relationship with team-mates.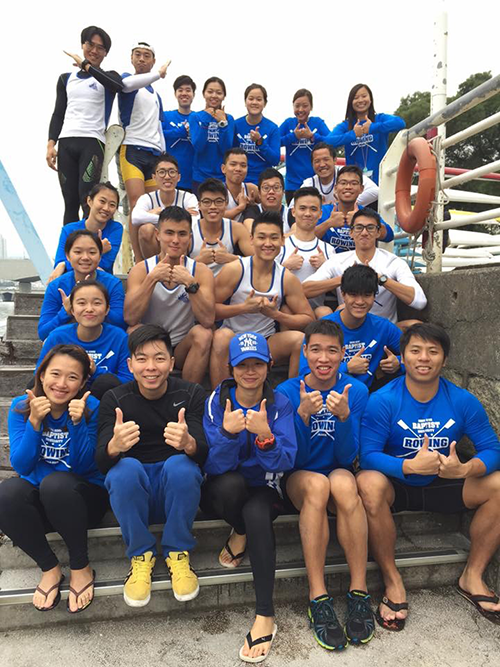 HKBU rowing team at the Inter-Universities Rowing Alumni Regatta 2016.