Organised by HKBU School of Business Alumni Association (SBAA), the one-month Simulated Investment Competition 2015/16 was successfully held last October, with more than 200 students from HKBU and BNU-HKBU United International College participated and operated the trading platform provided by Interactive Brokers (IB). Students were given US$ 1 million paper cash with a simulated trading account. They were allowed to trade global financial products, such as options, futures, warrants, and forex.

The Champion Gong Shi-yun (Master of Science in Applied Economics) and the first runner-up James Wang Ming-zan (Financial Journalism) received their award certificates from SBAA's President Alumnus Franklin Fong and Interactive Brokers Asia Pacific Managing Director Mr. David Friedland at the award presentation ceremony on 19 January. Apart from the certificates, both winners will be offered an internship.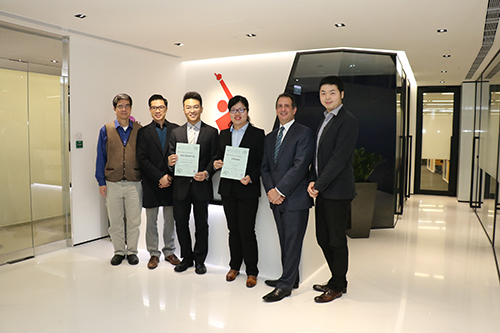 The certificate presentation ceremony is officiated by Alumnus Franklin Fong (2nd from left) and Mr. David Friedland (2nd from right).