Wealth and asset management have become vibrant sectors of the financial industry. To be a successful practitioner in the finance industry providing well-arranged investment plans, you first need to know how to equip yourself. To help graduates equip themselves, the Alumni Affairs Office arranged an Alumni Sharing Forum on 3 March where three experts were invited from the financial industry to share with students their insight on how one may invest in themselves and pave their career path. The three successful alumni are Mr. William Leung, Ms. Agnes Wong and Ms. Janet Chong.

The Insurance Industry, a self-employed profession

Life of an insurance agent can be quite enjoyable as you are literally self-employed. It is quite suitable for young people who are industrious, enterprising and willing to meet with people from all walks of life. For a fresh graduate, it might be hard to tell if the insurance industry is the right place to start your career. At the sharing session, Agnes advised students to do some research so as to better understand the background and operation of insurance companies. If students are interested in the insurance industry, she suggested them to start with being an Assistant to Senior Practitioners to better understand the operation of the industry and to see whether they can cope with the environment. One of the key success factors for an individual engaged in this industry is to maintain good relationships with clients. Other than frontline positions, students may also consider joining other departments such as underwriting, compensation, customer services, compliance etc.

Opportunities that lie in the Banking Sector

If students are interested to work in the banking sector, Janet who has been working in the banking industry for years, shared that many banks would recruit graduates from universities in Hong Kong, Mainland China and overseas to join their management trainee programs every year, which provide great opportunities for graduates to engage in many different positions in the company. William, who has extensive experience in the banking sector, elaborated that management trainee programs provides new graduates with a short-cut to get familiar with different types of jobs in a financial institution. However, the competition is keen and it is not easy to get a place. William encouraged students to work hard and build their confidence. He also advised that new graduates may start with backend positions in market analysis, compliance, marketing, corporate communication and the like, as front line jobs normally require candidates to have strong customer networks.

Standing out in an Interview

As suggested by Agnes and Janet, students should set their goal and try to attain it. They both opined that perseverance is an important quality for facing challenges and getting professional qualifications well ahead could definitely help. They also recommended young people to develop soft skills such as communication skills, presentation skills, interpersonal skills which could help them build a stronger social network.

When it came to interview tips, all three alumni agreed that job interviews are quite tough in the finance industry. They advised students to get well prepared for their interviews by doing researches to learn more about the company background, its market positioning and other market information beforehand. Many interviewers will intentionally keep asking difficult questions which may make an interviewee feel uncomfortable. The purpose of employers using such tactics is to find out whether the interviewee can really cope with unreasonable situations.

To sum up, all three alumni advised students to dedicate themselves to their work and work hard. Punctuality is also important. Having high emotional intelligence can help you engage better with others and communicate more effectively so as to develop stronger relationships. If time allows, it would be useful to take up courses to enhance your knowledge. Finally, William adds "Do remember that opportunities will always lie with one who is well prepared!"

Speakers' Biography

Alumnus Leung Wing-cheung, William, BBS, JP (English Language & Literature)
Chief Executive Officer, Sun Hung Kai Financial Limited

Alumnus Leung has more than 30 years of management experience in the finance and banking sector. He is currently the Chairman of Employees Retraining Board, Chairman of the Council of the Hong Kong Academy for Performing Arts and Chairman of Estate Agent Authority. Apart from his involvement in public services, he was appointed the Justice of the Peace in 2005 and was honoured with a Bronze Bauhinia Star in 2009 by the HKSAR Government.

Alumna Wong Lai-chun, Agnes (Business Management)
Premier Senior District Director, AIA International Limited

Alumna Wong has been working at AIA International Limited for 35 years, since her graduation. During 1983-1995, AIA awarded her the Hall of Honour five times for her distinguished achievements, as well as the Hall of Fame in 2001. Continually striving towards personal enhancement and team development, she expanded her team into a regional one in 1996.

Alumna Chong Hey, Janet (English Language & Literature)
Executive Director & Chief Operating Officer, Consumer Banking Group and Wealth Management, Hong Kong, DBS Bank (Hong Kong) Limited

Alumna Chong has over 18 years of wealth management experience. Prior to joining DBS in 2000, she worked for Belgian Bank and HSBC as Product Manager. Currently she is responsible for Consumer Banking, Treasures Private Client and Private Banking at DBS.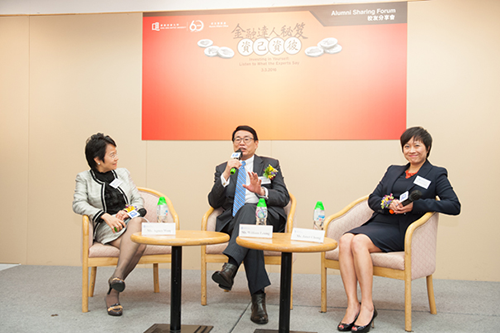 (From left) Alumni Agnes Wong, William Leung and Janet Chong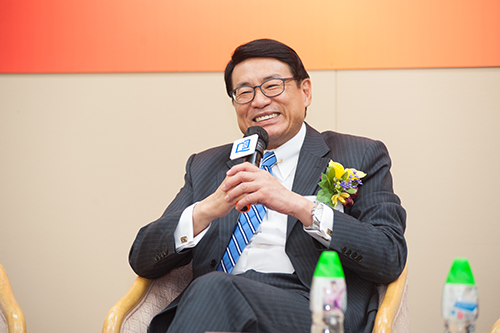 Alumnus Leung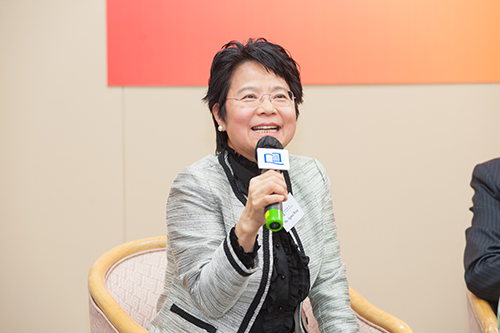 Alumna Wong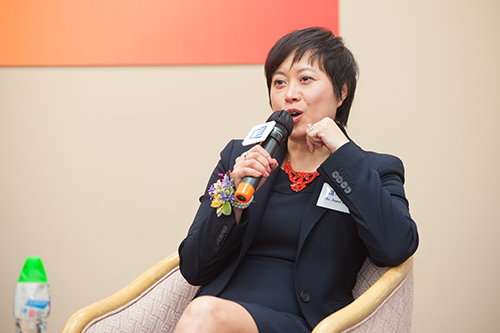 Alumna Chong