Exploring New Frontiers, Be A Pioneer





An Interview with Alumni Dr. Vincent Ho and Samuel Lam



"Opportunities only come to those who strive for them. New frontiers have to be explored through one's own efforts." These words of wisdom are thoroughly reflected through our two alumni, Dr. Vincent Ho (Communication) and Samuel Lam (Business Administration), members of the Alumni Committee of the HKBU Foundation. It is always challenging to start one's own business but it is even more so to set foot in the Mainland market. The two alumni have both succeeded in doing so because of their business acumen, which led to tremendous growth in their business. Furthermore, they are both willing to share, through the HKBU Alumni Association of the Greater Bay Area (HKBUGBAAA), with fellow alumni their experiences in conducting business in the Greater Bay Area (GBA).

Dare to be A Pioneer of Innovation

Alumnus Ho studied Film and Video at HKBU. Unlike his fellow classmates, he resolutely took the road of, and made a successful career out of the new media. Before starting his own business, alumnus Ho worked in a big telecommunications company, responsible for the development of internet platform, mobile content creation and advertising. These experiences allowed him to understand the trend of the new media. When mobile phones just became popular, he seized the opportunity to set up his own company specialising in mobile phone content and new media development. He also envisaged the potential of microfilm and in 2004, produced the microfilm In pursuit of love, 123, the first microfilm ever released on the mobile platform. The film earned him the popular nickname "Father of Microfilm in Hong Kong". As the mobile phone market expanded rapidly, his company was acquired in 2008, at the price of RMB200 million. In recent years, the internet platform has continued to grow tremendously. Amidst the immense market opportunities on the Mainland, alumnus Ho started producing HK-style web movies which were released on prominent online video platforms such as iQIYI, attracting a sizable number of viewers.

As for his reason to go into the new media industry, alumnus Ho said, "At the beginning, I purposely chose mobile phone as the broadcasting medium. No one then had any idea that a mobile phone could become a TV set, and everyone thought it was risky to jump into such a new industry." The road of a pioneer is always thorny and lonely, and demands faith and courage to march on. "I was then on my own and no one really understood my work at that time, indeed this inspired me to hold on to my belief and concentrate on my work." Alumnus Ho successfully blended movies and TV with the new media into a brand new platform. Besides his discernment of the new trend, alumnus Ho regarded a well-knit social network the pre-requisite for successful entrepreneurship. He said he has benefited a lot from the Whole Person Education of HKBU as he realised the importance of interpersonal relationship during his undergraduate studies. "At that time I needed to cooperate with classmates for numerous projects, so I got to make a number of friends. Furthermore, many internship opportunities were available for students of Communication, and these opportunities were often referred by friends, which meant that you would get more opportunities through a more extensive network." As a Christian, alumnus Ho believes that willingness to help others is essential for building a relationship, such that others will also give you a helping hand in times of need. .

Moreover, alumnus Ho is thankful to HKBU for broadening his horizons, which was beneficial to his career development. In 1991, he was one of the 10 students selected to join the "Elite Training Scheme" organised under the guidance of the then Director of Student Affairs alumnus Dr. Eddie Ho. That year, he was sponsored by the University to join the study cum cultural exchange tour to the U.S. and Canada. While stopping over at Washington, D.C., he had a chance of paying a home visit to President Prof. Alexander Wai, who was then conducting research in the US.

Establishing Competitive Edge by Grasping Market Opportunities

While studying at HKBU, alumnus Samuel Lam got a number of student exchange opportunities, which were all eye-opening experiences. He stressed that one has to keep a lookout for opportunities, thus he actively participated in student activities during his undergraduate years. He was Vice-President (External Affairs) of the Student Society of the then Department of Human Resources Management, Acting Chairman of HKBU Students' Union Council and Chairman of the Organising Committee of Joint-Universities Academic Exchanges. In those days, alumnus Lam once organised, in the history of the student societies of HKBU School of Business, the biggest study tour ever to Korea. In addition to all these wonderful exchange experiences, alumnus Lam was thankful to his alma mater for the internship opportunities in Disneyland in the US and Turkey, giving him a chance to broaden his horizons.

Alumnus Lam came from a grassroots family originated from Chiuchow. He has inherited the virtues of Chiuchow people, hardworking. While he is willing to start from the bottom and strives hard. he dares to snatch the right opportunity to invest and make a fortune. During the 2008 financial crisis, he grasped the golden opportunity to purchase his first domestic property. In 2012, he realised that the HK retail industry was greatly benefited by the Individual Visit Scheme, but there was no company assisting HK goods to develop in the Mainland retail market at that time. He understood that most HK businessmen knew the importance of developing retail business on the Mainland market, but were worried about the risk involved. To alumnus Lam, what they needed was a professional business partner who is willing to guide and support them throughout their business endeavours on the Mainland, the chance of success will then be heightened. Alumnus Lam perceived this as a golden opportunity for business development, thus he decided to sell his property and put all the money into setting up the X Social Group, a cross-border digital solutions agency which helps HK brand names enter into the Mainland market. Due to his acute market sense, professional knowledge and sincere service attitude, alumnus Lam's company successfully secured numerous business partners, and soon became one of the leading companies in the market.

Last year, the retail market suffered a terrible setback due to the pandemic, yet the pandemic has propelled the development of new retail sales channels on the Internet. Capitalising once again on his exceptional market sense, alumnus Lam grasped the initial opportunity to establish an e-commerce platform. By means of promotion through Internet celebrities, cross-border e-commerce and one-stop logistics services, the platform succeeded in attracting 500 merchants to join in a year. Alumnus Lam explained, "In the past, the HK retail market mainly relied on the Mainland individual visitors and physical stores. Not until the pandemic bars the visits of tourists and thereby adversely affects the sales of physical stores, the retail industry then realises that cross-border e-commerce is their opportunity for survival and their way out."

This year, alumnus Lam has set up Hong Kong Quality Brands, an online shopping platform, in collaboration with China Broadcasting Network and the Shenzhen Duty Free Group so as to drive the sales of HK branded products in the GBA. He hopes that the new platform will, through the proclaimed national policy on the GBA development, help promote HK enterprises and products into the region by providing professional advice and network support. Alumnus Lam anticipates that Hong Kong Quality Brands will bloom into an all-compassing "HK Enterprise for HK people" platform in the near future.

Contributing to Alma Mater, Helping Fellow Alumni Explore Mainland Opportunities

On graduation, both alumni Ho and Lam accomplished in establishing their own business. Grateful to HKBU, they are committed to giving back to their alma mater. Besides serving in the Alumni Committee of the HKBU Foundation, both are respectively the Founding President and committee member of the HKBUGBAAA, through which they provide advice and assistance to fellow alumni who are interested in exploring opportunities in the GBA. Besides, the HKBUGBAAA has plans to collaborate with the Big Four auditing firms to provide, through the incubation centre on the Mainland, resources and opportunities for alumni, to help them set up their business and open up new frontiers on the Mainland.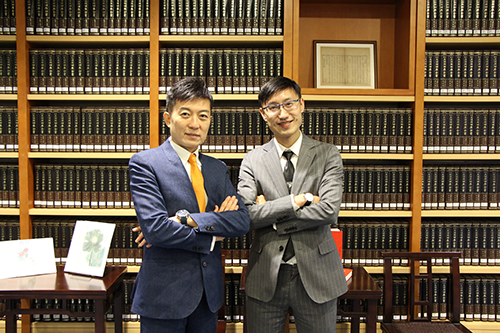 Alumni Dr. Vincent Ho (left) and Samuel Lam (right) have both captured the market trend and seized business opportunities on the Mainland, thereby successfully establishing their own business.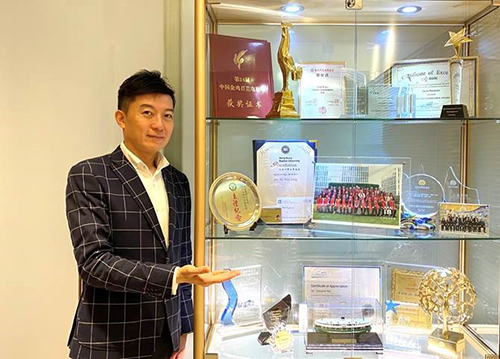 Alumnus Ho has attained various awards, which are showcased in his office, including the Golden Rooster Award and achievements at HKBU in which he takes pride.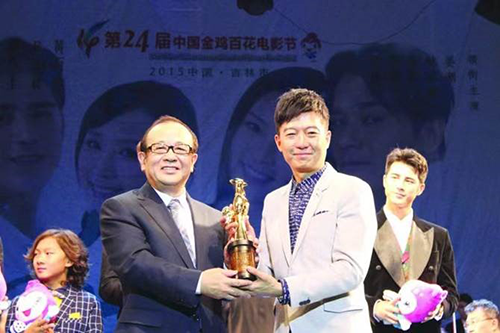 Alumnus Ho receives the Golden Rooster Special Contribution Award and National Award from Mr. Kang Jianmin (left), the Vice Chairman of China Film Association.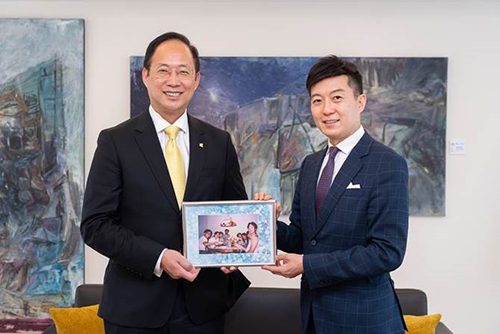 At a lunch gathering, alumnus Ho shares with President Prof. Alexander Wai happy memories of his visit, during one of the stops of his then cultural exchange programme in the U.S. and Canada, to the latter's residence at Washington, D.C.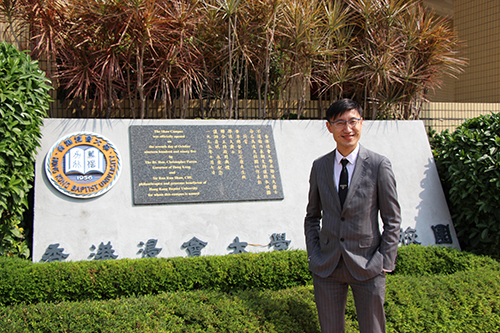 Alumnus Samuel Lam is thankful to HKBU for offering him ample student exchange opportunities, and the valuable exposures gained definitely facilitate his career development. Therefore, he is committed to making the utmost contributions to his alma mater.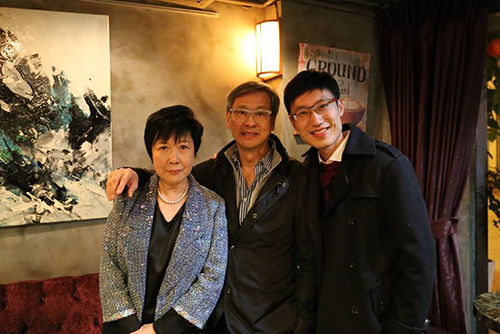 Alumnus Samuel Lam expresses his gratitude to his two mentors, Dr. Susanna Lo (left), a retired staff from HKBU School of Business and her husband, Mr. Michael Wong (middle), both of whom had continuously pointed him in the right direction during his undergraduate studies and throughout his career.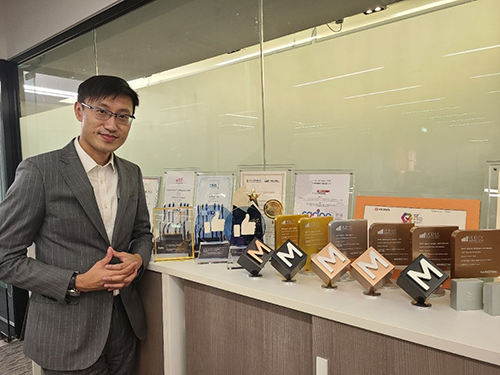 For his acute business acumen, alumnus Samuel Lam has led his business team to win a number of Asia Pacific awards, including the "Greater China Outstanding Entrepreneur Award 2021" presented by the Hong Kong Commercial Daily.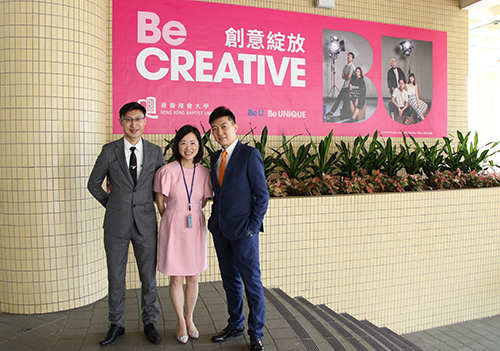 (From left) Alumnus Samuel Lam, Director of Alumni Affairs Dr. Melanie Lee and alumnus Dr. Vincent Ho.