Chairman Dr. Clement Chen has led an illustrious public service career. Being a distinguished industrialist, Chairman has over the years made relentless contributions to the industrial and business development in Hong Kong. He has previously been Chairman of the Vocational Training Council, Chairman of the Hong Kong Productivity Council, Chairman of Federation of Hong Kong Industries, Chairperson of the Youth Education, Employment and Training Task Force, an ex-officio member of the Education Commission, as well as a member of the Council of the Open University of Hong Kong, to name but a few.

Taking the helm of HKBU since January this year, Chairman Chen has been greatly impressed by its harmonious culture. "HKBU is running like a big family. Colleagues, students and alumni alike are nice and friendly. In fact this culture is our great asset. I am truly honoured and delighted to join HKBU, a caring and compassionate University. "

Alumni Have Much to Offer

Talking about his impression towards our alumni, Chairman Chen mentioned a few times that HKBU is blessed to have a group of loyal and committed alumni. "Many HKBU alumni has been deeply involved with the University and they care about their alma mater tremendously. I am impressed by their passion for HKBU!" Alumni indeed have much to offer to the University. "The alumni and their affiliated network is a great source of support for our young alumni and students in the job market. By leveraging on our alumni network, our students would be able to benefit from the recommendation of their senior fellow members when they land their first job after graduation. I, therefore, count on the support of alumni in providing training and job opportunities for our young alumni and students."

An Advocate of Collaboration

Chairman Chen has extensive network with the business sector and he calls for closer collaboration between the University and the business sector. "Closer collaboration with the business sector is important because the latter can provide not just job opportunities but also experiential learning or internship opportunities to students," shared by Chairman.

Tips for Young People – Stay Competitive

To Chairman, having a can-do spirit is the first step toward success. In the fast-paced and ever-changing world of intensified globalization, opportunity awaits students who are adaptive to change and willing to go the extra mile. Chairman added, "Business leaders tend to hire those who have the right and positive work attitude, but not necessarily those who have the best academic results." Chairman reminds young people to never stop learning after graduation.

The Tough Time in Career

The true grit of a leader is not how they perform during the good times but rather how they display courage and professionalism during the tough times. As Chairman of the Hong Kong Productivity Council, Chairman Chen kindly shared with us that he had once attended a hearing at the Legislative Council and was critically challenged on some issues arisen from the audit report. This was a valuable lesson. He reminded us that in the face of challenges, conducting a thorough review of the situation is the essential step. "After doing some fact-finding, I thought that it was important to be transparent and to acknowledge our mistakes."

Another Face of Chairman

On a personal front, Chairman is a fan of vintage cars. "Aston Martin DB6 is my dream car." Being a former chairman of the Classic Car Club of Hong Kong, he led the club to join numerous classic car races. "Modifying old vehicles to enable them to run on the road is a truly fascinating experience", shared by Chairman Chen who majored in mechanical engineering in the University.

Looking Ahead

As a final note, Chairman would like to pay tribute to his predecessor Mr. Cheng Yan-kee. Humble as always, Chairman concluded that "HKBU has tremendous strengths, starting with its people. I am fortunate to be able to work with highly capable staff and a team of brilliant and committed Council and Court members. I look forward to working together with everyone in the HKBU community to take HKBU forward and upward."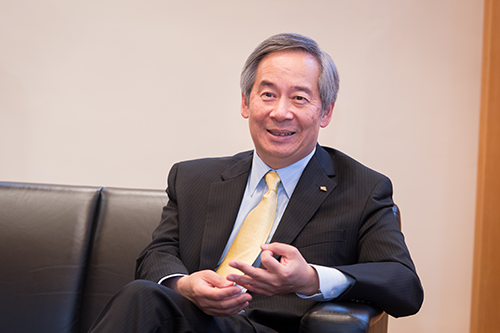 Chairman Chen has ample experience in public services and thorough knowledge in the post-secondary education in Hong Kong.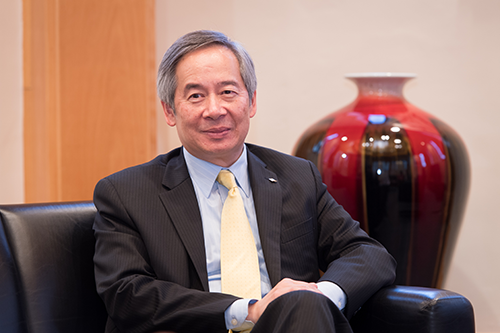 Chairman Chen is deeply grateful for the unwavering support rendered by HKBU alumni.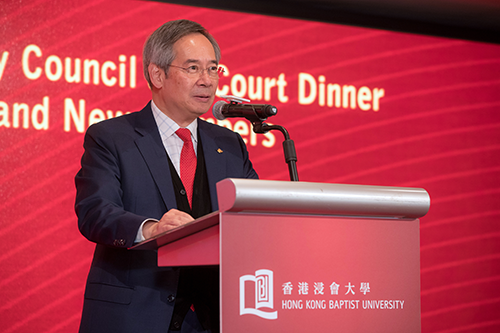 Chairman Chen introduces the new Council and Court members at the HKBU Council and Court Dinner in honour of Retired and New Members.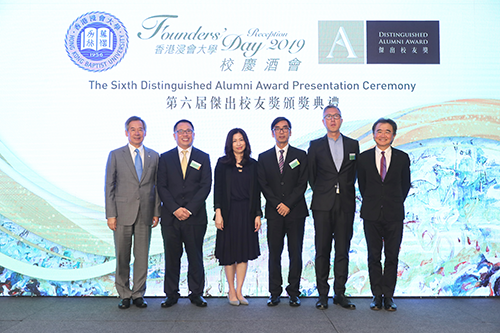 Chairman Chen (left) and President Roland Chin (right) present trophies to four distinguished alumni at The Sixth Distinguished Alumni Award Presentation Ceremony.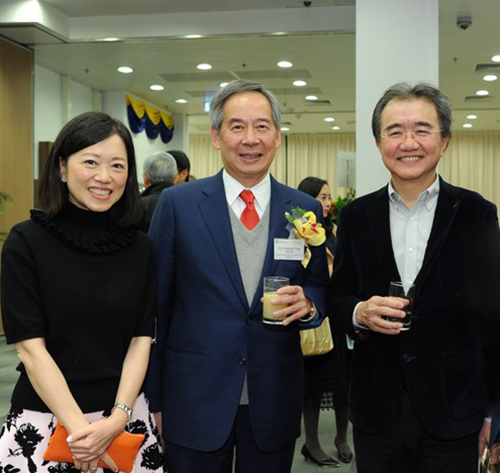 Chairman Chen (middle), President Roland Chin (right) and Director of Alumni Affairs Dr. Melanie Lee (left).