Alumni Committee 2018-2020 of the HKBU Foundation held a dinner gathering on 29 May, which was joined by President Prof. Roland Chin and former Chairman alumnus Dr. William Leung and members of the Alumni Committee.

During the dinner, President Chin and Mr. C.K. Yeung, Associate Vice-President (Engagement) shared with members the recent achievements of the University's academic staff and students. Everyone had a good time and looked forward to the next gathering.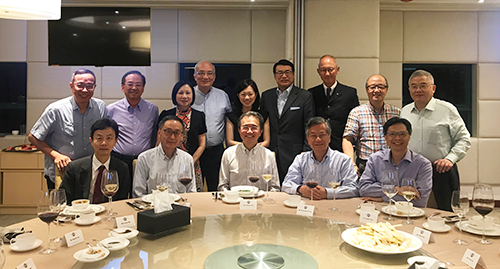 (Back row from left) Alumni Peter Kwan and Alex Leung, Director of University Advancement Mrs. Lily Chan, alumnus Stephen Yau, Director of Alumni Affairs Dr. Melanie Lee, alumni Dr. Willam Leung, Philip Tsai, Tyrone Siu and Dickson Shang.
(Front row from left) Associate Vice-President (Engagement) Mr. C.K. Yeung, alumnus Sunny Wong, President Roland Chin, alumni Wong Nga-chung and Dr. Gordon Tsui.