Sometimes we may not be able to pursue a career that follows our interest. However, if you could study and work in a field which you are most interested in, naturally you would be more devoted to it regardless of any difficulties. Alumnus Prof. Raymond Fung (Communication) is an example.

While taking course in Communication, he found his interest and endowment actually lied in the area of architecture; hence after two years of study at Hong Kong Baptist College, he went to the States to study architecture. His achievement has proved that he has picked a right path for himself: not only is he a renowned architect, but also an awardee of Ten Outstanding Designer's Award and Ten Outstanding Young Person's Award. He has also won numerous awards from his architecture works including five HKIA Annual Awards, an award highly regarded in the industry. Yet, Raymond said that his road to become an architect was not an easy one. So, what is the key to his success? His inherent talent? Or maybe hard work? Boldly, he said, "it's perseverance, determination, the willingness to communicate and ability to read people's mind."

The Art of Architecture is Communication

Before retirement, Raymond was the senior architect of the Architectural Services Department of HKSAR Government. He has handled many public architecture projects, of which some well-known ones are Hong Kong Wetland Park, Sai Kung Waterfront and Tsimshatsui Waterfront. Some of these projects have received high recognition and brought him many awards. Yet Raymond emphasised that the job of an architect is not simply on design, walking people through the design process in a way that they understood and appreciated the end result was equally important. The awards therefore represent a rewarding conclusion of the tiring communication process.

Over his some 30 years working as an architect, to design the Government VIP Lounge at the Hong Kong International Airport is one of the most unforgettable one. In what is described as a "nightmare" project, Raymond said he had to give endless rounds of presentation, explain in details the design concepts, seek recognition and also approval from the permanent secretaries and heads. As different people have different standards and views on a "good" design, the process of reaching consensus was far more complicated than one could imagine; hence "you need to be extremely patient and have high EQ," Raymond added. It was such a relief to Raymond that the one-year project could be finally completed on time. "Lucky enough," he said, "the outcome was complimented as a 'good design' ".

Put Yourself in Others' Shoes

On top, respect and understanding needs are also critical to get consent from others. Raymond quoted another example of his works. "At the beginning, my thoughts on the design of Sai Kung Waterfront Park and that of the stakeholders were poles apart," said Raymond, "and I had to pay tremendous effort to convince them. What's more I have tried to think from their angle." Hence making adjustment to the design is necessary so that he could "engage" the stakeholders more and get their "buy-in". The "paper-folded boats", now landmark of Sai Kung, well display his delicate thoughts: The boats, wrapped by old newspapers covering news on Chinese people's resistance to Japanese aggression, are remembrance of the involvement of Sai Kung residents during this period. On the other hand, "boats" symbolise Sai Kung as a fishing village in the past, and also represents the popular windsurfing sport. Lastly, folding paper boats recalls memory of childhood and this appeals to many people.

More Appreciation Less Critique

Architects always put endless effort to pursue perfection in their works. Yet, nothing is perfect and things do not always go your way. Raymond said, "Very often, the final outcome of my design is just 70% of my initial plan. Though being questioned by my senior and colleagues, I am however happy with this, as it is the consensus achieved through mutual understanding." After all, architecture has to cater to people's needs, certain degree of compromise is unavoidable. Hence, "able to achieve 70% is already quite gratifying." Insistence will not help to solve problems, while compromise does not mean giving up principles. Raymond advised our alumni and students to stay open and positive when facing conflicts. "Appreciate more, then you will be able to see the wits of others and learn from them."

Anecdote

Other than an architect, Raymond is also a well-known ink painter. He is interested in drawing since childhood. When he was 8 years old, his talent was fully shown by his sketch of the landscape of Central District which was published in his school's bulletin. In the admission interview at Hong Kong Baptist College, the late Prof. Timothy Yu, founding Head of Department of Communication asked Raymond if he had any special talent. He said he was fond of drawing and sketched Prof. Yu's portrait on site. The sketch not only received appreciation from Prof. Yu but also helped him to be admitted to Hong Kong Baptist College.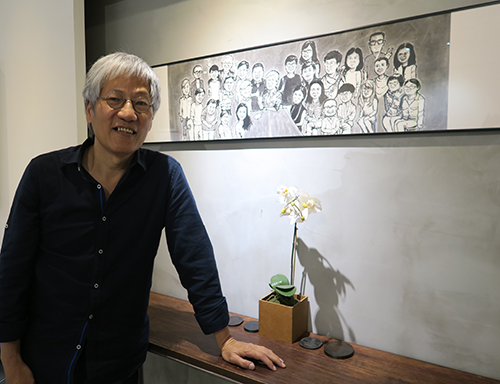 Photo taken in alumnus Prof. Raymond Fung's studio.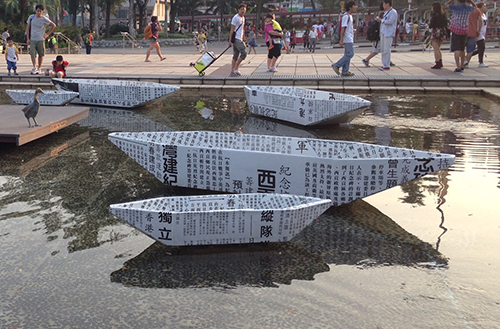 The "paper-folded boats" designed by Raymond are landmark of Sai Kung.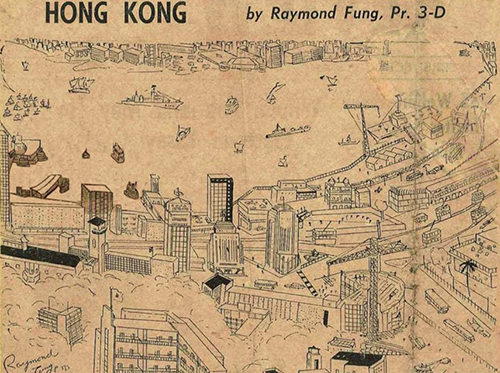 Raymond's drawing of Central District at his age of eight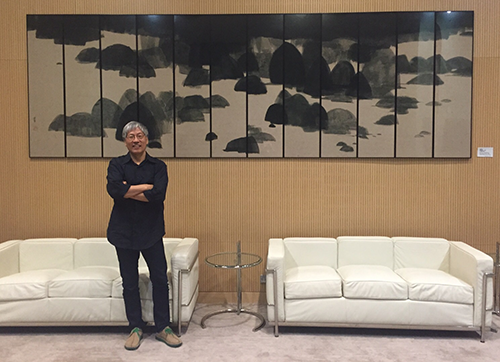 Raymond's painting at the HKSAR Central Government Offices