Organised by the Alumni Affairs Office, The Third Distinguished Alumni Award (DAA) High Table Dinner was held at Mr. and Mrs. Lau Chor Tak Multi-Purpose Hall of Madam Kwok Chung Bo Fun Sports and Cultural Centre on HKBU Campus on 26 May. The dinner, which presented a golden learning opportunity for class representatives and young alumni of HKBU, was a great success with a record breaking attendance of over 200 participants and the presence of the University's senior management.

In his welcoming remarks, Chairman of the Council and the Court Mr. Cheng Yan-kee expressed his appreciation to the Awardees for their time and effort spent to impart their knowledge and experience to fellow students. Chairman Cheng also encouraged members of the HKBU community to contribute to the betterment of society and be good citizens.

This year, there are five DAA recipients. Amongst those three had attended the High Table Dinner to share with audience the challenges they encountered in their career and the beliefs and values that they upheld in their pursuit of success. They are Dr. Dennis Au Cheuk-wing (Chinese Medicine and Biomedical Science); Ms. May Chan Suk-mei (Communication) and Mr. Ronald Chiu Ying-chun (Communication). The other two DAA recipients Mr. Chan Hung (China Studies / Education Studies) and Dr. Liu Chak-wan (English Language and Literature) could not attend due to prior engagement.

On top of everything is a sense of responsibility
The dinner was unfolded with a dialogue between the DAA awardees and participants on the topic "Dialogue with Distinguished Alumni: Transformation from Student Leaders to Community Leaders". Mr. Chiu, a media veteran, began by sharing that the prior condition for becoming a community leader is a strong sense of responsibility. He recalled his sense of responsibility was nurtured from childhood when he was nominated as a prefect to help maintain a disciplined environment at school. The awareness to be accountable to others continues to propel him forward nowadays.

Have faith in your calling
At the floor were a dozen of Chinese medicine students who are preparing themselves to be practitioners after graduation. They were excited to hear the success story of their big brother Dr. Au. When asked what inspired him to make today's achievement and the future outlook of Traditional Chinese medicine (TCM) practitioners, Dr. Au pointed to a commitment to follow his heart and choose his own path regardless of the consequences. Despite a lack of support from family and grim outlook of the economy at the time of graduation, Dr. Au chose to honour his desire to open his own clinic and at the same time, give back to society by providing free consultation to the needy. He is also one of the pioneers to use Chinese medicine to help drug abusers to quit their addiction and deliver Chinese medical aid worldwide to people who are deprived of health care. Given the Government's effort to promote TCM both locally and globally and the wider recognition of TCM practitioners in the mainstream society today, Dr. Au believes that future TCM practitioners will have a promising prospect.

Professionalism, dedication and passion
A class representative asked Ms. Chan about her view on the future landscape of Hong Kong news media. Ms. Chan reckoned that Hong Kong enjoys unfettered press freedom. The fact that Hong Kong people could have a world of news reported in different angles and standpoints at our fingertips should be cherished.

As for the responsibilities and obligations of news media to the public, Ms. Chan summed up with three vocabs: professionalism, dedication and passion. On top of that, journalists and media practitioners should always come with only one agenda: to make sure reporting is fact-based, accurate and objective.

The right attitude to setbacks
Certainly anyone who wants to achieve a certain goal in life will suffer from some setbacks on his or her way. The DAA recipients are no exception. Dr. Au recalled that he graduated at a time when the SARS outbreak dealt a heavy blow to the Hong Kong economy. He had little choice but worked at a private clinic earning a meager salary of no more than HKD7,000 per month. However, the community's low recognition of and distrust about young TCM practitioners at that time urged Dr. Au to make a difference. Ms. Chan also came across frustrations. She recalled she once broadcasted inaccurate information of which she still could not let go today. However, the lesson learnt is "mistakes are forgivable, if one has the courage to admit them". She also constantly reminds herself of the importance to assume full responsibility to her mistakes, if there is any. Mr. Chiu, on the other hand, shared that the biggest challenge faced by media practitioners today is when the values and principles learnt at school clash with the reality, such as commercial or political interests. Using himself as an example, Mr. Chiu likened the stress he has been facing as a "quatrilateral squeeze", with pressure coming from the bosses, frontline journalists, resource limitations and different stakeholders of the society. While there is no panacea to every challenge, Mr. Chiu sees the importance of finding a middle ground between management and frontline staff through communication and professional judgment.

In accordance with a recent survey by Hong Kong Journalists Association which reveals a high turnover rate of local media practitioners due to low pay and burnout of employees, Mr. Chiu, in contrary to the mainstream opinion, sees the phenomenon from a positive perspective. The fact that many past media practitioners having a very bright career in other industries after accumulating several years of experience in the news industry speaks for itself. He told students who are interested in joining the news industry to be rest assured that their prospect is promising.

Hong Kong's education policy
Another award recipient Mr. Chan Hung, though could not attend the dinner, shared his thoughts in response to some students' questions on Hong Kong's education policy in his written reply. He is of the view that today's teachers bear a much heavier burden than twenty years ago. During the past two decades, a number of different education reforms had imposed additional administrative work on educators. Many teachers have been inevitably overloaded with non-academic duties and get increasingly frustrated when professional support, time and resources are insufficient. Mr. Chan admits that Hong Kong education has made big strides forward in terms of hardware. Nevertheless, it leaves inadequate room for educators to perform their teaching roles. He points out that there is much room for improvement in this area.

In closing, the three awardees encouraged students to be open-minded and equip themselves for future challenges. The evening ended in a round of applause as students and young alumni thanked the DAA awardees for their insightful sharing of their practical experiences and wisdom.

The Annual High Table Dinner aims to provide a platform for students and young alumni to gain insights from the wisdom and experience of DAA recipients. It has become a tradition of the University to pass on the spirit of HKBU alumni.

To view the profiles of the Third Distinguished Alumni Award recipients, please click here.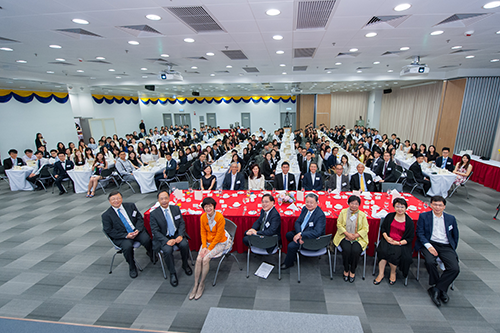 The dinner has a record breaking attendance of over 200 participants.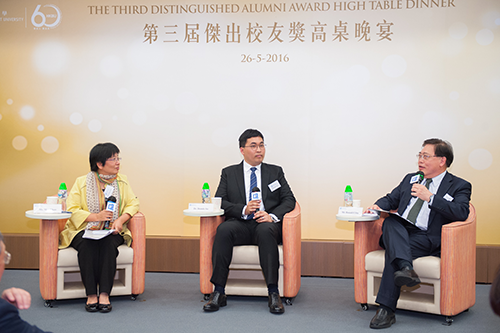 The awardees share their experience and wisdom with the participants.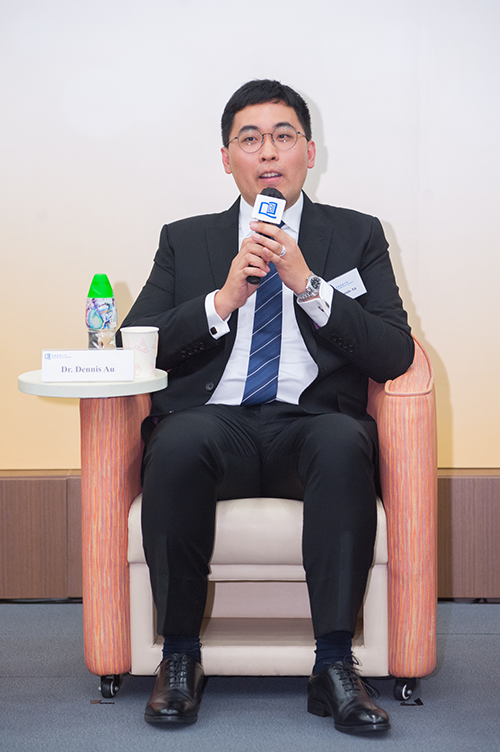 Dr. Dennis Au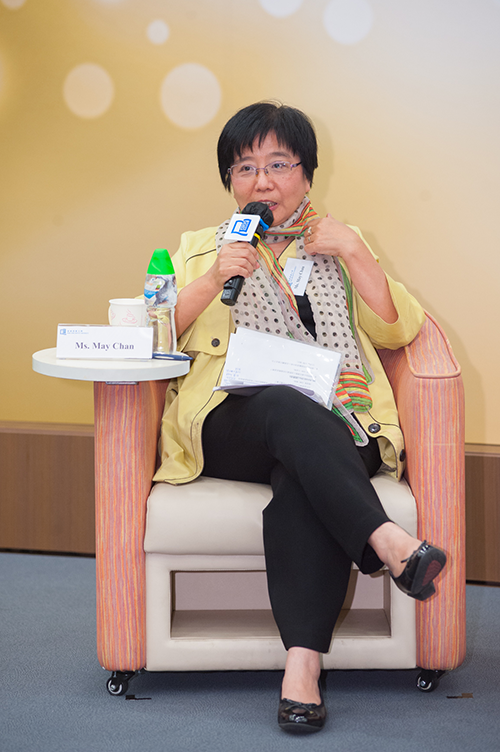 Ms. May Chan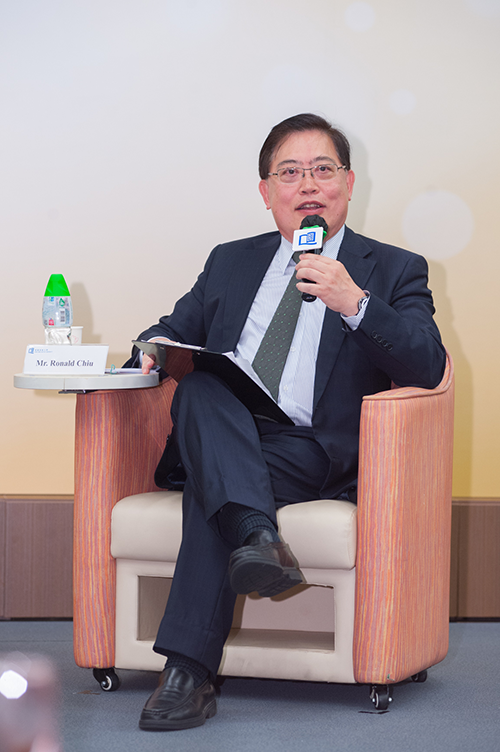 Mr. Ronald Chiu