HKBU General Education Office successfully held its "General Education (GE) Outstanding Students Award Presentation Ceremony" on 19 March 2015. Alumna Marianna Tsang Wai-chun, recipient of HKBU Distinguished Alumni Award, Past President/Ex-officio Director and Patron of HKBU Century Club, was invited to attend as the honourable guest. Four out of the five awardees shared their multifaceted experiences with over 200 fellow students. For more information and photos of the presentation ceremony, please visit: http://ge.hkbu.edu.hk/students/2015/award-ceremony/.

Sponsored by HKBU Century Club, the "GE Outstanding Students Award Scheme" is designed to award the students who have excellent academic results in GE courses, active participation in GE activities and enthusiastic community services. A maximum of 5 students are awarded every academic year. Each of them is granted a scholarship of HK$5,000 and a certificate. For more information about the Award, please refer to http://ge.hkbu.edu.hk/students/award/.

With the aim of rendering continuous support to the University's betterment and sustainable development, HKBU Century Club launched the Century Club Sponsorship Scheme in 2008 to provide financial support to academic and student development projects. For more information about the Scheme, please refer to http://aao.hkbu.edu.hk/en/networks/century_club/sponsorship_scheme/ index.php.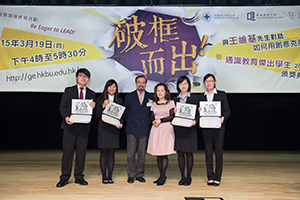 Recipient of HKBU Distinguished Alumni Award, Past President/Ex-officio Director and Patron of HKBU Century Club alumna Marianna Tsang (3rd from right) and Director of GEO Prof. A. Reza Hoshmand (3rd from left) present certificates to the four awarded students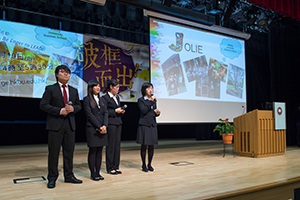 The four GE outstanding students encourage participants to think out of the box and strive for excellence in all-round development