HKBU's Academy of Film Celebrates 5th Anniversary
The Academy of Film of the School of Communication held a gala dinner on 5 June 2014 at Royal Plaza Hotel to celebrate its 5th anniversary. About 300 guests attended the dinner, including HKBU staff, the Academy's teachers, students and alumni as well as friends from the film and television sectors.
The officiating guests were Mrs Pamela Chan, Deputy Chairman, HKBU Council and Court; Mr. Ng See-yuen, Honorary President, Hong Kong Film Directors' Guild and Honorary Consultant, Academy of Film, School of Communication, HKBU; Dr. Simon Suen, Chairman of SML Group Limited, and Mrs. Mary Suen; Prof. Albert S.C. Chan, HKBU President and Vice-Chancellor; Prof. Ng Ching-fai, Former HKBU President and Vice-Chancellor and President, HKBU-Beijing Normal University United International College; Prof. Franklin Luk, HKBU Vice-President (Academic); Mr. Andy Lee, HKBU Vice-President (Administration) and Secretary; Prof. Lee Tain-dow, Professor of University of Shih Chien, Taiwan and Honorary Consultant, Academy of Film, School of Communication, HKBU; and Prof. Cheuk Pak-tong, Director of Academy of Film, School of Communication, HKBU.
In his speech, Prof. Albert Chan said the Academy of Film, established to cultivate excellent film talent for Hong Kong and the Greater China region, has experienced rapid development in the past five years. He expressed his thanks for all the support given to the Academy. On behalf of the University, Prof. Chan also expressed gratitude to The Hong Kong Jockey Club Charities Trust, the Film Development Fund, the Simon Siu Man Suen Foundation, the Jackie Chan Charitable Foundation and the late Dr. William Mong for their generous donations to support the development of the Academy of Film.
Prof. Cheuk Pak-tong thanked all sectors and the University for their concern and support to the Academy of Film which has enabled the smooth development of the Academy and its ability to offer various programmes. He said the Academy has given the film industry new vitality and won the recognition of society.
Programmes at the dinner included a multimedia presentation on the Academy of Film, the Academy of Film Outstanding Award Presentation Ceremony, alumni sharing, magic performance and the "AF's Got Talent" competition.
A total of eight awards were presented to short film competition winners. Lu Chuan (Master of Fine Arts in Film, Television and Digital Media, Year 3) won the Judge Award for his work The Buddha and Carpenter. The AF's Got Talent competition championship went to Professional Programme in Film (Higher Diploma) students for their Beatbox, Rap & Guitar performance.
Alumni who shared their experience with guests included Ms. Gloria Lo, Radio Host of RTHK; Ms. Sherry Tse, Marketing Director, LeTV; Dr. Sunny Chen, PhD graduate and part-time lecturer of Beijing Film Academy; Mr. Zhao Qichen, Creative Director, Beijing Bojing Company Ltd; and Mr. Vincent Ho, CEO of 3GTV.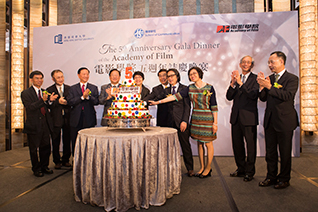 Honourable guests officiate at cake-cutting ceremony to celebrate the 5th anniversary of the Academy of Film of the School of Communication, HKBU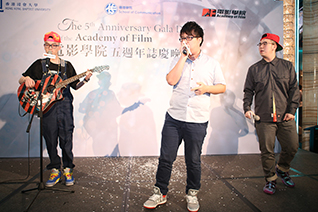 Professional Programme in Film (Higher Diploma) students win the "AF's Got Talent" competition championship