A Dialogue with Distinguished Alumni:





The Way to Surf and Serve



The Seventh Distinguished Alumni Award Sharing Forum organised by Alumni Affairs Office was held on 15 June at Madam Kwok Chung Bo Fun Sports and Cultural Centre on the HKBU campus. The four Award recipients, namely Mr. Albert Au Sui-keung (Communication), Dr. Cathy Lui Nga-ping (Applied Biology), Mr. Louis Yan Chak-kuen (Marketing) and Mr. William Yeung Chu-kwong (History), shared with the audience during the Forum their fascinating career stories and insights on professional experiences, personal development and serving the community.

Willing to Take the First Step and Explore Your Potential

Nicknamed "Prince of Folk Songs", alumnus Albert Au shared that although he had discovered his singing talent during his secondary school years, he did not intend to make music his lifetime career, but simply took it as his pastime. Then, he got invited to sing in a TVB programme Enjoy Yourself Tonight. His sonorous voice drew the attention of a renowned producer, and landed him the positions of programme hosting and voice-over work. After a while, he joined Radio Television Hong Kong as disc jockey (DJ), and also had chances to release his own albums and make appearances in both movies and drama series. Alumnus Au stressed that he has never confined himself to the role of singer or musician, as he believes that everyone has his/her own potential to be unleashed, thus there is no need to limit one's career potential too soon. "At the beginning, I just wished to try my luck in music. To my surprise, I found myself being able to take up various roles in performing arts. When you make your way through the undergrowth, you will discover that there are in fact many ways out in this world. However, you must be willing to take the first step." He also has a word of advice for students: When you move towards the career goal, you shall inevitably encounter some obstacles, simply keep your faith and move on, also get ready to make sacrifice whenever needed.

Turning Uncertainty into Motivation

Alumna Dr. Cathy Lui, Co-founder and CEO of OPER Technology Limited, is a scientist nurtured by HKBU. Alumna Dr. Lui frankly admitted that the road for science and technology is beset with various difficulties. While finance is the main stream of industry in Hong Kong, Dr. Lui's passion for a science-related career made her continue her postgraduate studies in the science discipline. Noticing that there was no treatment for Alzheimer's disease at that time, she wanted to contribute with her expertise and bring a ray of hope to the patients. Thus, she focused her postgraduate research on neuroscience, trying to develop novel treatments for neurodegenerative diseases. Her then research efforts, however, drew scepticism regarding the efficacy of such treatments. When asked how she faced scepticism, Dr. Lui said, "I was working on biotechnology startup that nobody has ever succeeded before. Obviously, no one would recognise and support what I have done. This gave me impetus to strive to become the first one to invent a treatment for neurodegenerative diseases to prove the practicality of my research." For Dr. Lui, other people's scepticism towards her work is the best motivation. Subsequently, she actively published research outputs in various academic journals and applied for patents for her inventions. She also utilised limited resources to conduct clinical trials to prove the practical effectiveness of her research. She shared with students that since she has kept her faith and strived tirelessly, her work could then successfully bring hope to patients of neurodegenerative diseases in the end.

Get Control of the Outcome of Your Endeavours

Alumnus Louis Yan, an acclaimed professional magician, is the Honorary President of HKBU Magic Club. His predestined connection with magic originated at HKBU. When studying in the College of International Education (CIE), alumnus Yan came across the student magic club which was not commonly known. Driven by curiosity, he joined the club and started to get involved in magic. Since then, he has thrown himself into magic performance, and strived to make breakthrough in performances. In the past decade, he has won numerous international awards and gained global recognition through tour of worldwide magic shows. Alumnus Yan's journey of magic seemed to be going smoothly, however he frankly admitted that due to the pandemic, his magic shows have halted for over a year. He shared with audience, "There are surely ups and downs in one's life. Only when you staunchly uphold what you love to do, and always keep a positive attitude, you shall find a way out in the end." When asked how he faced awkward situations of having a slip in a magic show, alumnus Yan said that he would actually practise beforehand ways to deal with such situations. Furthermore, every step in a magic show should be in control of the magician. The magician should manage to subtly adjust the performance even when there is a misstep. Near the end of his talk, alumnus Yan performed a magic to convey his hope that all HKBU alumni will forever have their alma mater in their hearts.

Pursuing a Career is Like Running a Marathon

Co-owner and Executive Vice-chairman of the HKBN Group, alumnus William Yeung shared that though he majored in History, it did not inhibit him from pursuing a career in business, as he thinks History gives us lessons learnt in the past so that we can better deal with the present. During his undergraduate years, alumnus Yeung often participated in extracurricular activities, which helped train up his leadership, organising and decision-making skills. All these experiences contributed to his subsequent career development in business. In addition, he proactively expanded his knowledge base to keep up with new technology. In 1999, when e-commerce was not quite the trend yet, he enrolled in the first local master's degree programme in e-commerce, thus providing him a strong foundation for digital marketing. With reference to his own experience, alumnus Yeung encouraged non-Business students not to think that they are at a disadvantage position. "I do not agree that certain disciplines are clearly advantaged in job-hunting. To speak the truth, pursuing one's career is like running a marathon. Business-related graduates might have a head start in the business world in the first few years. However, if you give your best at work, keep improving your skills and add values to yourself, you will catch up in no time. Moreover, you need to be proactive in seeking and seizing opportunities as they come along, and be receptive to new things and embrace changes. In such a way, you will in the end achieve satisfying development." Heartily attached to HKBU, alumnus Yeung expressed that his company would provide job opportunities for HKBU graduates.

During the Forum, the four distinguished alumni shared with the audience their valuable life experience, giving them thought-provoking enlightenment. The Forum ended amidst a round of warm applause from the audience.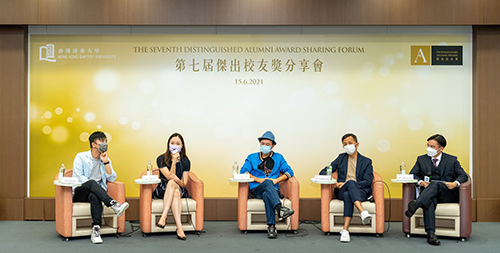 Four distinguished alumni share their valuable experiences and wisdom with participants.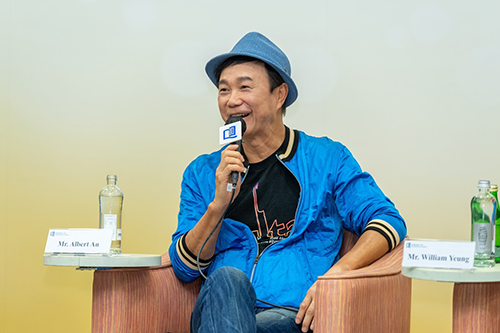 Alumnus Albert Au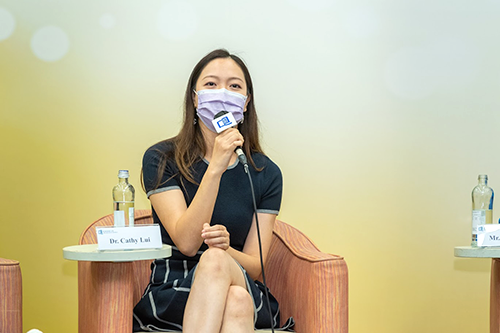 Alumna Dr. Cathy Lui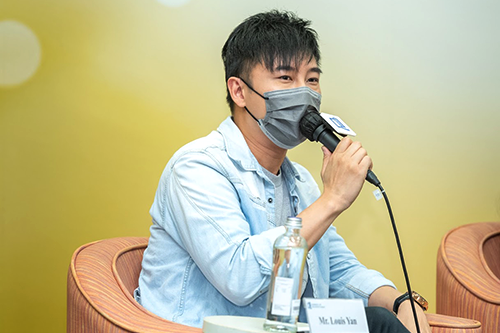 Alumnus Louis Yan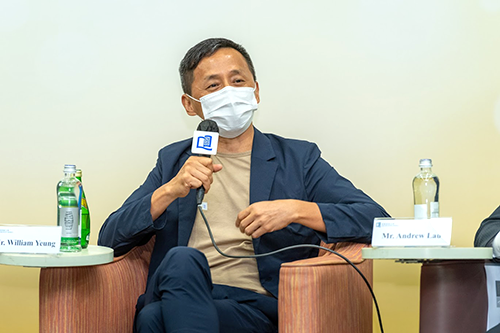 Alumnus William Yeung